Knights' Taylor working hard to hopefully reach the top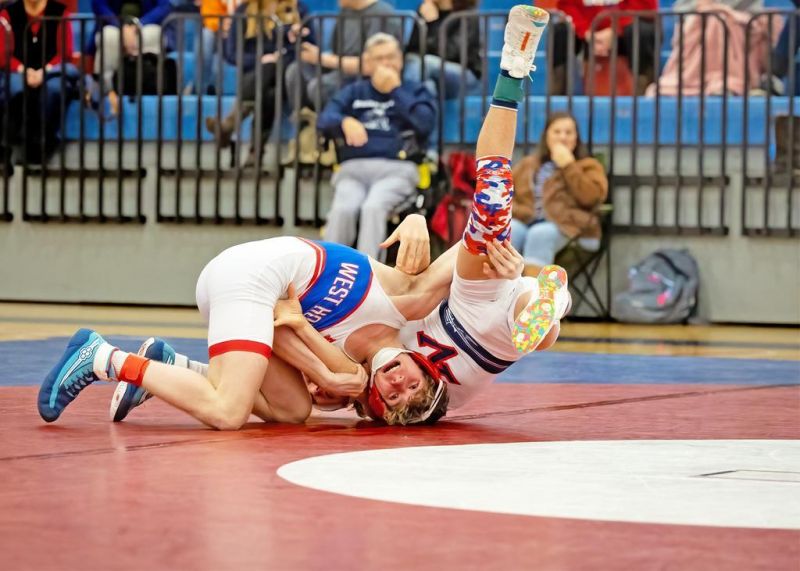 After finishing second in his weight class at last year's Div. II state wrestling tournament, West Holmes senior 113-pounder Mason Taylor entered this season with a specific purpose.
Win a state title.
"I've been pushing myself every day in practice and trying to break new levels every single day and just keep climbing the ladder," Taylor said.
Taylor got a preview of what might be in store for him at this year's state tournament when he faced Buckeye's Colyn Limbert at the Knights Invitational on Jan. 21. Limbert, ranked No. 1 in their weight class, earned a narrow 3-2 win over No. 3 Taylor in the championship match.
Facing Limbert in January is beneficial for Taylor's continued growth.
"I just have to rewatch the matches, like the match (with Limbert), and figure out what I need to do to improve and hopefully beat him later on in the season," Taylor said. "I don't want to put myself down too bad right now just because it's a loss. That's a match that could have gone either way. I just have to keep working hard."
Knights coach Scott Vaughn viewed the match as a positive, even though Taylor came up just short.
"We talk as a program and a team about how we want to face the best competition because we want to be prepared when we see that competition come tournament time," Vaughn said. "Seeing the No. 1 kid in the state in January is going to prep us and give us confidence that we're right there come March (at the state tournament)."
Taylor, who won his 100th career match earlier this season, has put in more hours after practice this year than in previous seasons. He said he's mainly working on his conditioning during those extra sessions.
"Your conditioning can always improve," he said. "In my opinion, 75% of wrestling is about who can go the farthest without quitting."
One area Taylor is still working to improve on is between his ears.
"You have to be strong physically, but you also have to be strong mentally," he said. "Wrestling is a tough sport, so mental is a big part of wrestling."
Vaughn has seen him make strides in that area compared to last season.
"I can tell this year he's not as worried about the person who's lining up across from him," Vaughn said. "He's more worried about what he's doing, and he truly feels that he can beat anybody this year. That's certainly the difference in Mason this year (compared to last year)."
Taylor is a two-time state placer, also having finished eighth at 113 in 2021 as a sophomore. Getting on the podium twice already has him prepared for whatever is going to come at this year's tourney.
"(The previous state experiences) definitely help a lot," Taylor said. "The first time it's a little bit shaky seeing the crowd and all of that. Now that I have experience, I know what I need to do, and I just need to go out there and do it."
Taylor, a two-time captain for the Knights, has proven to be a true senior leader by investing in the younger wrestlers in the program. Vaughn said Taylor has taken freshman 106-pounder Peyton Martin under his wings this season.
"I've really seen Peyton grow throughout the season because he'll work out after practice with (Taylor)," Vaughn said. "He's his drill partner. He does all of that extra stuff with Mason. That's huge because now Peyton sees what it takes to become that level.
"It's been huge for Mason to be a leader and show the younger kids what it takes to be at that level."
Vaughn said Taylor is the perfect example of what a team leader should be.
"I have to say that on top of him being a really, really good wrestler, he's a great kid," he said. "You never have to worry about him getting in trouble. He gets great grades. He's taking (College Credit Plus) classes. He's just an overall good kid.
"You can't ask for a better human being and a better kid to have on the team and be a leader for all of the other kids on the team."
Because it's his senior year, Taylor has some extra incentive to finish the season strong. But his main goal would be the same regardless of his grade.
"Senior year or not, the goal is to win state, so that's what I'm going for," he said.