Knights use pitching, defense to get past Titans, Redbirds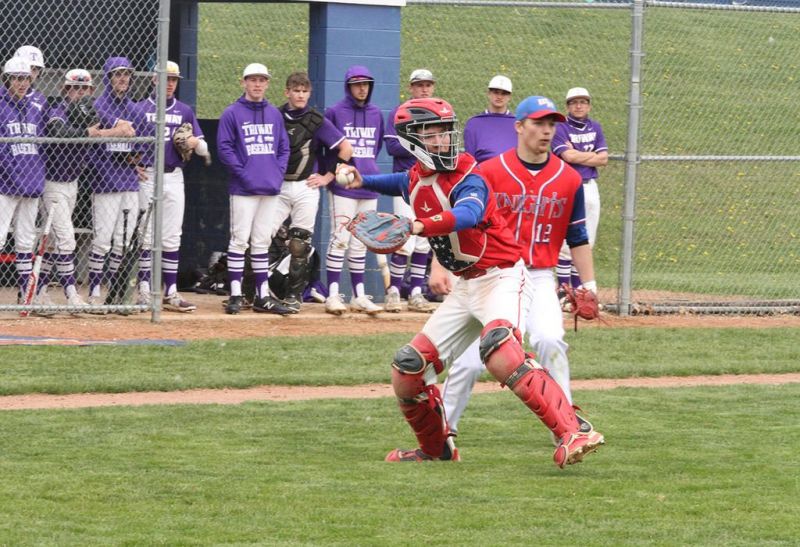 West Holmes second baseman Addison Yates ranged far to his right, went horizontal and pushed his glove out to its limits. The ball, seemingly destined for centerfield, nestled softly into his glove. He rolled over and flipped the ball to shortstop Nick Ginsburg, who stepped on second base for the force out, thus ending the Knights nail-biting 2-1 victory over Triway on Saturday, April 17 at West Holmes High School.
That's the kind of game it was from start to finish. With great pitching from WH's Noah Clark and Triway's Griffin Braun and a bunch of solid defense around the field, this one was destined to be a classic pitcher's duel. It wasn't until Yates put the finishing touches on the low-scoring gem that the game was finally decided.
"I actually was thinking to myself about making a play like that when I went out to the field in the last inning," Yates said. "It's a fun way to end a game, and it was a really great game."
The Knights struck first in the second inning, taking advantage of Triway's lone error. Tyler Gallion reached on an infield single to start the inning, and after a wild pitch, Rudy Hershberger singled home Gallion for a 1-0 lead. After Dylan Robinson grounded out, Nate Ginsburg singled Hershberger to third, and Yates' sacrifice fly gave the Knights a 2-0 lead.
Both pitchers then settled in and threw extremely well. Braun sailed through the next three innings by retiring all nine batters he faced while Clark was equally as impressive, using a mix of pitches to keep Titans hitters off-balance.
Clark stranded a pair in the second inning, and the Titans loaded the bases in the third inning with the aid of the lone West Holmes miscue in the field, but they worked out of trouble each time. The Titans finally got through to Clark in the fourth, getting a lead-off single from Brock Tisko. Colton Snyder's swinging bunt looked like it would go for a hit, but Knights' catcher Gallion made a sensational play from behind the plate, jumping out and pegging a strike to first to nip Snyder on a bang-bang play. Kain Weaver then lashed a single to center to put the Titans on the board, but again Clark worked out of further trouble.
Triway went quietly in the top of the sixth, and the Knights put together a strong threat in the bottom of the inning when Brady Smith led off with a fabulous bunt single. Pinch-runner Gino Dinardi then stole second, and after Micah Martin crushed a line drive right at the leftfielder, Luke Vess drew a walk. Gallion then uncorked a vicious liner down the line at third base that glanced off the third-baseman's glove, loading the bases with one out. However, Braun wriggled out by inducing a lazy shallow fly to center and a groundout to give the Titans one more shot trailing by a single run.
Clark got two quick outs before lead-off man Snyder singled sharply to right, setting the stage for Yates' game-ending highlight play.
Clark never looked tired and said he was not going to come out of the game.
"I felt like my stuff was all working, and I really didn't feel like coming out of the game," Clark said. "I wanted to finish what I started, and the defense was there for me all game. The guys played awesome."
For WH head coach Bill Pim, it was, as usual, a homecoming game for a coach who spent the bulk of his teaching and coaching career at Triway, Pim saying this contest is always special.
"That's my family — that's where I come from — and they always will be, so it's weird," Pim said of playing Triway.
As for the game, he said everyone expected a low-scoring affair.
"Noah threw well. He mixed up his pitches, and the defense played really well," Pim said. "They are a really good team. They are well-coached, and we knew we would have our hands full with two really good pitchers going."
Triway skipper Justin McDowell said this game always seems to come together like this, and he said his team certainly had chances against Clark but couldn't produce the big hit when they needed one.
"We knew Clark was a really good pitcher, and I didn't think we took bad swings," McDowell said. "We got better as the game went along. We hit the ball right at them, and then they made some nice defensive plays, and that's the way it goes sometimes."
McDowell said Braun threw a spectacular game, allowing just three hits while striking out four. Clark picked up the win, giving up just four hits. Oddly, after striking out the first two batters of the game, the hard-throwing righty did not pick up another strikeout.
The Knights then took on Loudonville, and Payton Eads was just as effective as Clark, twirling a one-hit shut-out in the 5-0 victory. Eads struck out 10. Offensively, Martin produced two hits including a double, driving in three runs, with Nick Ginsburg adding an RBI single.
Pim said while the Knights improved to 10-4 on the campaign, there is still work to do for this team.
"We're still working on some things, especially at the plate," Pim said of his team. "The pitching has been great, and the defense has come around, but we need to hit better. We can never be satisfied."