Knights wrestling team, Smith, Taylor all Academic All-Ohio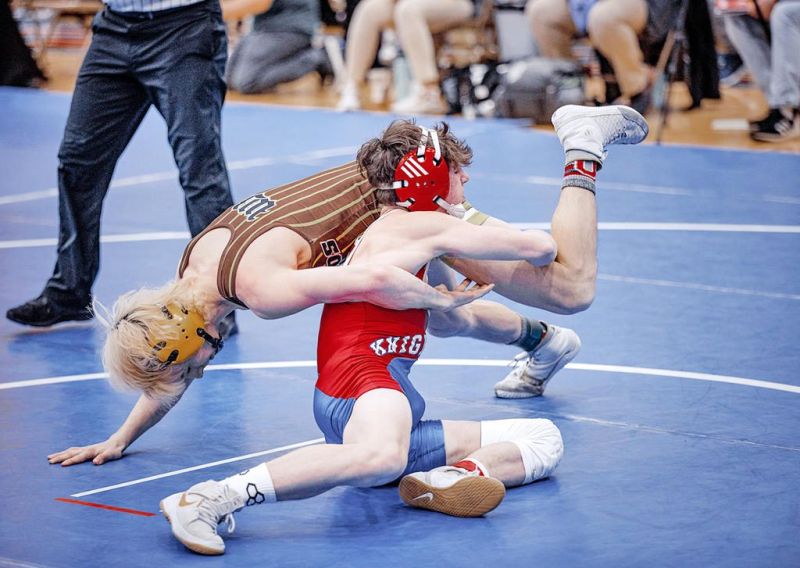 West Holmes wrestling recently completed a fine season, and topping it off was an honor that went beyond the mats to the classroom.
For the third-consecutive year, the West Holmes High School wrestling squad earned Team Academic All-Ohio recognition for posting a cumulative 3.3 or higher GPA. State qualifiers Brady Smith and Mason Taylor were honored as Individual Academic All-Ohio selections as both carry a 3.5 or higher GPA.
In addition, the Knights wrestling program recently handed out season awards for varsity, junior varsity and middle school wrestlers.
High school
Fourth-year varsity letter winners: Gavin Greer (senior) and Jack Welsh (senior).
Third-year varsity letter winners: Skylar Anderson (senior), Colt Cox (senior), Tucker Kaufman (junior), Dylan Strouse (junior) and Conner Varnes (junior).
Second-year varsity letter winners: Collin Gardner (sophomore) and Mason Taylor (sophomore).
First-year varsity letter winners: Elisha Baldridge (sophomore), Corbin Miller (senior), Grant Miller (freshman), Dakota Patterson (sophomore), Brady Smith (junior), Noah Tish (junior) and Grady Toye (freshman).
Junior varsity award winners: Gabe Averbukh (freshman), Kalan Bowling (freshman), Cylie Couch (sophomore), Hunter Eberhard (junior), Caleb Larimore (sophomore), Dillon Miller (sophomore), Blake Norman (sophomore), Ashton Raber (freshman), Blake Strouse (freshman) and Logan VanSickle (freshman).
Individual honors included Most Takedowns, Tucker Kaufman (103); Most Near Fall Points, Tucker Kaufman (115); Most Escapes, Grant Miller (65 and new school record); Most Tech Falls, Mason Taylor (two); Most Pins, Tucker Kaufman (37 and new school record); Co-Most Improved, Brady Smith and Mason Taylor; Junior Varsity Wrestler of the Year, Blake Norman; and Varsity Most Valuable Wrestler, Tucker Kaufman.
Middle school
Ohio Cardinal Conference champions: Peyton Martin (seventh grade, 86), AAJ Roberts (eighth grade, 92), Macin Miller (eighth grade, 98) and Cole Porter (eighth grade, 160).
Ohio Athletic Committee state qualifiers: Peyton Martin, AAJ Roberts, Macin Miller, Mac Miller (eighth grade, 108), Hunter McCluggage (eighth grade, 114), Louden Dixon (seventh grade, 120) and Cole Porter.
Individual awards included Most Pins, Peyton Martin (19); Most Improved, Hunter McCluggage; Coach's Award, Cole Porter; and Most Valuable Wrestler, AAJ Roberts.
"The season was a success in that many of our wrestlers had about 30 matches," WHMS wrestling head coach Jeremy Dombrady said. "As a team we were unable to compete in many tournaments but made up for it by competing in 20 duals. I think we showed tremendous improvements from the beginning of the season to the end."
Sponseller named G-MAC wrestling Coach of the Year in rookie season
West Holmes wrestling legend Colt Sponseller, who just completed his first season as head coach at Ashland University, was recently named the Great Midwest Athletic Conference wrestling Coach of the Year.
In an AU press release, Sponseller said, "It is a great honor to be named G-MAC Coach of the Year. This year was a very different-looking season than any we have seen before, both as a wrestler and a coach. All the credit goes to our student-athletes who showed trust in the coaching staff and a new system. They showed great perseverance this year to overcome the many obstacles we faced in order to have the success that we did. Also, the support staff has to be commended on being willing and able to meet the needs of our student-athletes throughout the pandemic."
In his first year as a head coach, Sponseller led the Eagles to the G-MAC championship and had five of his six national tournament wrestlers earn All-American honors at the 2021 NCAA DII National Championship Tournament. As a team the Eagles placed seventh in the nation at the tournament, the third top-10 team finish by AU in the last five seasons.
The 2007 WHHS graduate, a three-time state champion and two-time high school national champion for the Knights who later earned All-American honors (fourth in 2011) at the Ohio State University, was named in November as the Eagles new head coach. Sponseller started his collegiate coaching career as an assistant at Edinboro University (2013-15) before coaching as the first assistant coach at Ohio University from 2016 through last fall.