Knights XC advance to regionals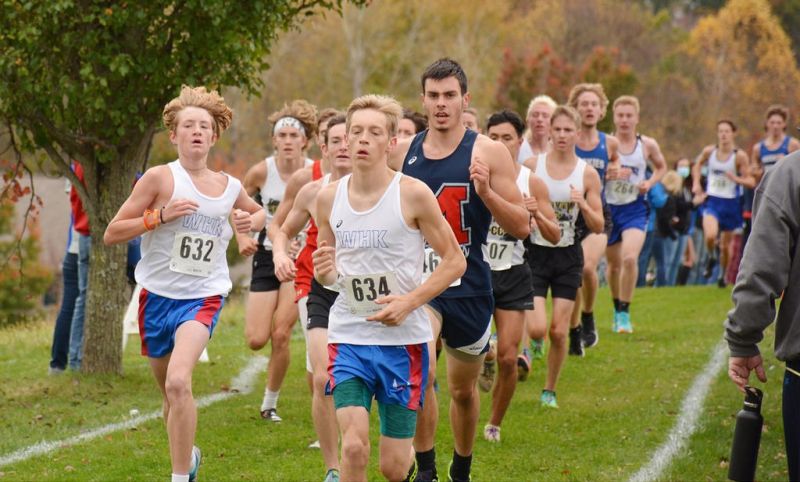 A season of hard work and teamwork has paid off for the West Holmes Knights cross country team, with both the boys and the girls advancing to Div. II regionals at Pickerington North.
West Holmes took on a solid field at the Div. II Cambridge districts, and as they often have in the past, West Holmes ran well in advancing both teams to regionals.
The West Holmes boys cross country team emerged as the East District Div. II runner-up with another stellar all-around team performance. River was dominant in winning the boys race, placing four runners among the top 10 in totaling just 36 points for the win. WHHS was a distant second at 99, just one point ahead of third-place Martin's Ferry. John Glenn was fourth at 117 while Minerva's 130 points rounded out the top five in a team field of 15.
On a day in which every single position was crucial to claiming a runner-up trophy and on a team in which any runner might emerge as the top dog on any given day, on this day it was Caiden Carter, who led the team with a fourth-place finish in 17:04. Zeke Galbraith was 15th, followed by Cade Wagers in 16th, qualifying both as individuals along with Carter. Haeden Wolfe placed 26th while Caden Zeigler rounded out the scoring in 57th. Matthew Young finished 66th.
The West Holmes girls cross country team ran to a fifth-place finish at the Div. II East District race, which qualified the Lady Knights for regionals at Pickerington North.
A very talented Minerva won the girls event with a meager 28 points, with all five of their scoring runners placing among the top 10. Sandy Valley was second at 122, Tuscarawas Valley was third with 127, Carrollton was fourth at 138 and the Lady Knights placed fifth at 176, easily getting by sixth-place Indian Valley's score of 202.
Brenna Myers led the way with a 17th-place finish in 21:43, which qualified her individually. Emily Truax also qualified individually in 30th place with a 22:18. Carolyn Miller finished in 36th with a 22:44, Brogan Steimel finished in 41st and Sayler Miller in 52nd to round out the scoring. Olivia Sampsel finished in 80th.