Lady Hawks accept challenge, roll to pair of CitC wins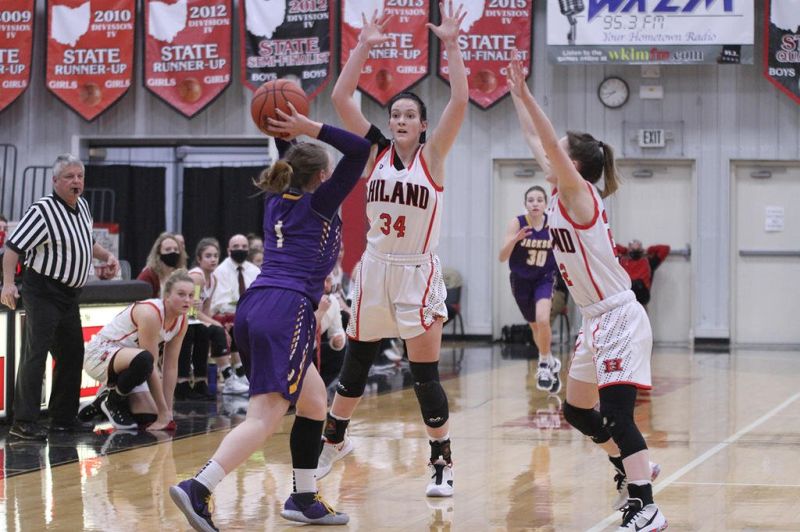 When it comes to competing at Classic in the Country, Hiland Lady Hawks head coach Dave Schlabach assembles a pair of opponents that are likely to be challenging in ways that make his team better.
Schlabach got just what he wanted for his undefeated Lady Hawks in hosting Centennial Las Vegas in game seven of the 20-game extravaganza at Hiland High School on Saturday, Jan. 16 and then again in the showcase's 20th and final nightcap of what was a fantastic weekend of high school girls basketball.
In facing an athletic Las Vegas team, Hiland was able to carve out a 59-55 victory in a very exciting contest while the Lady Hawks took down Jackson in the finale with a strong 62-35 win that showcased the Lady Hawks' depth.
"We always try to make sure we get the most athletic teams in case we play a really athletic team down the road, which seems to always be the case," Schlabach said. "We knew Vegas would be that. Jackson has great length, and they are well coached and play a little different style. We are always excited about stepping up to the challenges that we face in the Classic. I think our fans expect us to schedule some really great, bigger teams that are more than capable of beating us."
In the Hiland opener, the two teams never got far away from one another in an epic struggle to take command. Hiland was able to turn a tie game through one period into a four-point advantage at the half, and that was exactly where the lead stood at the end as the two juggernauts battled evenly the rest of the way.
The game saw six lead changes and eight ties, and when Hiland went on an 11-3 run, the Bulldogs answered with a 10-3 run of their own. In the end it was too much Zoe Miller for Centennial to handle. The powerful Lady Hawks forward scored a game-high 21 points and hauled down 13 rebounds in a terrific CitC effort. Kyli Horn added 14, and Morgan Yoder and Brynn Mullet each scored six. The Bulldogs were paced by Addison Melone's 14 points and Taylor Bigby's 12-point, seven-rebound effort.
In the finale Hiland bolted to a 16-3 lead as six different players scored and Kelsey Swihart tallied six of her 12 points. Horn's trey gave Hiland a 19-5 lead, and it looked like a route, but Jackson settled in and rode the powerful play of Emma Dretke to stay within shouting distance.
Dretke's play inside drew the Polar Bears to within 37-25 midway through the third period, but Mallory Stutzman canned a 3-pointer for Hiland, and after a Jackson free throw, Hiland went to work, taking advantage of a tired Polar Bears crew.
A 19-5 Hiland run put this one away with a Brynn Mullet triple starting it and Jenna Troyer's 3-pointer ending the run.
Schlabach was weary of a letdown after his team fended off Las Vegas, a team that has won six-straight state championships, but it was not going to happen as both Horn, who scored 14, and Swihart paved the way to an easy win.
"We were so excited to play," Horn said.
Schlabach said a letdown could have happened, but the experience helped his team get better, even though he felt his team didn't have a ton of energy to start the game against Jackson. He said while Jackson turned its attention to stopping Zoe Miller, Horn and Swihart led the rest of the charges to victory.
The pair said a rise in confidence has led them to much bigger roles and impressive performances this season compared to last.
As for the entire CitC experience, Hiland has had so many lopsided victories that it cherishes a chance to face top teams.
"It's a lot of fun," Swihart said of the Classic. "We love competing and to be able to compete against the best."
Schlabach said depth has become a key to victory for his Lady Hawks. Against Jackson, six different players hit 3-pointers including freshmen Stutzman and Ashley Mullet, who only added to the depth Schlabach is able to run in and out of games. Miller ended the Jackson game with 10 points and six rebounds while both Yoder and Brynn Mullet scored eight apiece, Yoder adding an impressive eight assists.
Schlabach never hesitated in throwing his two freshmen into the CitC fray, and each proved they could handle the pressure.
"One great player will never beat us," Schlabach said. "You've got to have balance. We had tough games, and we played the freshmen. We know we are going to need those underclassmen down the road, and we need them to hit shots and make plays."
Hiland, a Div. III powerhouse, has now played six Div. I teams over the past couple of weeks, and Schlabach said that kind of challenge is only going to pay off as they move down the tournament trail.