Lady Hawks end a record season 1 point away from a lifetime dream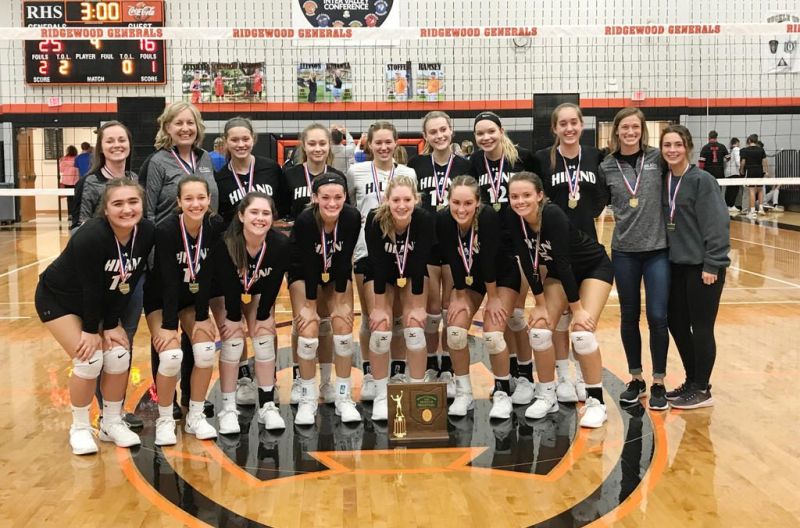 The Hiland Lady Hawks were so close to capturing the school's first-ever state tournament volleyball bid that they could literally smell Dayton.
Up two games to none over undefeated Wheelersburg in the Div. III regional contest at Logan High School on Saturday, Nov. 2, the Lady Hawks had a 24-23 lead and were serving for the win. That point never came. Hiland fell 26-24, and Wheelersburg used its tall and talented front line to bang its way to state instead.
The agony of getting that close only to see it fade away is something head coach Andrea Miller said will not disappear soon.
"Heartbreaking is the word," Miller said. "It's something that will take time to get over, and once we dropped that game, it seemed to close in on us so quickly. It's the hardest loss I've ever suffered, and the girls feel the same. You tend to think about what you could have done differently, how you could have changed that one point. It was a cruel loss."
However, at some point in the future, the girls will look back on this campaign in which they carved out a school-record 26 wins and realize what an accomplishment this season was.
From a program that was 4-20 four years ago, this team has come leaps and bounds from where it was. It has rewritten the school record book. Four-year starting setter Kim Miller leaves the program with a school-record 2,617 career assists including a record 857 this season, a season which saw her break her head coach's record. No other Hiland player has ever accumulated 2,000 assists before. Add in that her 873 career digs is second in Hiland history and she leaves as perhaps the most prolific player the school has ever had.
After earning two All-Ohio Honorable Mention bids the past two seasons, Miller deservedly was named First Team this year in Div. III. Joining her as an All-Ohioan was senior do-everything star Madison Yoder, who was named Honorable Mention.
Coach Miller said the huge turnaround in the program was twofold. First, she said when Adri Bryk came in to coach and brought with her the experience of assistant Carrie Jones, they were able to bring a work ethic yet still had a lot of fun. She said the biggest reason was because of the kids.
"They were the ones who had to make the decision to buy into what we as a staff wanted to do, and they did, wholeheartedly," Miller said. "I think our staff when Adri came in really knew the game, and the girls knew exactly what was expected of them despite the record early on."
Now, despite losing four major players in the two All-Ohioans along with Nikki Keim and Adri Miller, the Lady Hawks return a strong cast of members who should carry on the tradition that is being made right now.
"With kids like Annika Schneider and Sara Schlabach and Amanda Troyer, we have some true potential to be really good again, but losing those four seniors will be hard to replace because of the way they played the game," Miller said. "But it feels as though we have developed a program, and the expectations now are so much higher than they ever were. This loss hurts. It really hurts, but hopefully this is something that we can learn from and grow."
Hiland opened up their huge contest with Wheelersburg by stunning a team that was not only undefeated, but also had not lost a single set all year, meaning it had won all of its 27 games in three sets.
After Hiland dealt it a pair of 25-19 losses, Wheelersburg was able to respond, reeling off three straight wins of 26-24, 25-20 and 15-5.
In the loss Keim served for 14 points while Troyer added 13. Schneider racked up 19 kills, and Adri Miller added 13. Kim Miller dished up 45 assists while Adri Miller and Troyer each collected 22 digs and Yoder had 23 digs.
In the regional semifinal tilt on Thursday, Oct. 31 in Logan, the Lady Hawks took no prisoners in disposing of Huntington in three games.
A commanding performance in game one that saw them bolt to an early lead and pound Huntington 25-13 set the stage for a Halloween night that was incredibly frightful for the Huntsmen in what became a 25-13, 25-10, 25-17 victory.
The Lady Hawks showcased the same balanced attack they have displayed all season. Floor general Kim Miller was able to use the whole court to set up teammates and made it tough for the Huntsmen to gravitate to any one spot on the floor where they could double up on a hitter.
Yoder had a tremendous game, notching 20 service points, four of which were aces, while collecting 11 kills. Kim Miller chalked up 27 assists while adding 10 points and eight digs, Adri Miller had 13 digs, Keim added four blocks, and Schneider slammed eight kills.
Meanwhile, Hiland's defense continued to display an uncanny ability to cover the entire floor and to defend the net, where Keim, Yoder and Schlabach made life difficult for Huntington.