Lady Hawks find the right answers to top Cambridge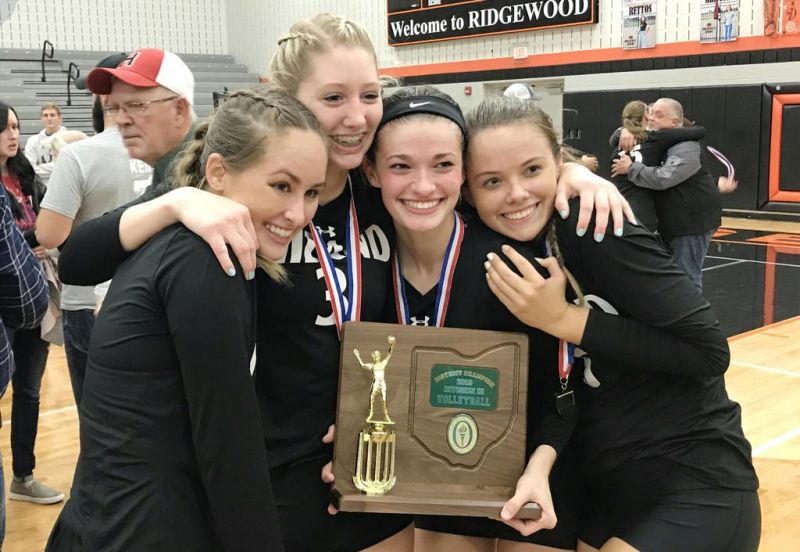 The Hiland Lady Hawks volleyball team has not been pushed too hard all season. Coming into the Div. III tournament, the 25-1 Lady Hawks had been taken to four games just twice this year, and their trail of dispatched opponents in tournament play came with ease as they won each of their first three matches in three games.
Thus when a talented and athletic team from Cambridge punched them in the mouth with a game-one loss, it was going to be interesting to see how Andrea Miller's crew responded.
It responded with experience and poise, coming back from five-point deficits in both games two and three before putting the finishing touches on a 24-26, 27-25, 25-20, 25-16 win.
"We needed this. We needed to get tested by a quality opponent because we haven't seen anything like them this season," Miller said of Cambridge, which bowed out at 18-7 on a season that featured a tough schedule in the East Central Ohio League. "We weren't sure how our kids would respond after getting beat in the opening game, but they responded by playing their hearts out, and they showed that they can handle anything with poise and confidence."
Hiland dropped the opening game in extra play, coughing up a 21-17 lead as the Bobcats sent the game into extra play and then captured the win, stunning the Lady Hawks, who seemingly don't ever give up leads once they get them. Oddly in a game that close, two of the Cambridge points came courtesy of mental mistakes when Hiland's players moved too quickly to get into position on a Bobcat serve.
Things went from bad to bleak when Cambridge built a 20-15 lead, and the blue side of the gymnasium was in an uproar as their team was on the verge of going up 2-0. However, led by Amanda Troyer and Madison Yoder's back-row play, they simply didn't let anything hit the floor, and Hiland fought back.
With senior captain and setter Kim Miller leading the Lady Hawks, Hiland took one point at a time to crawl back into the game and force a second straight game that went beyond 25, and this time Hiland emerged victorious.
In a pivotal game three, Hiland again fell behind early 5-1, then spent much of the rest of the game chasing. Again it would be Kim Miller and Yoder paving the way to a comeback, this time from a 15-10 deficit. By the time the teams got to 20, Hiland held a one-point edge. Then when it came down to the brass tacks, Kim Miller turned to sophomore Annika Schneider, who put the finishing touches on the win by drilling three straight kills, all of which were traveling at a pretty good speed.
"I like the fact that everyone trusts me in those situations, and I love to be in those types of positions, but we have a lot of players who can come up big when it matters the most, and it took a total team effort for us to win this game tonight," Schneider said.
Schneider had to battle through a significant concussion early this season and was eased back into the rotation by coach Miller. She isn't easing anything anymore, providing a huge weapon at outside hitter for Hiland.
In game four, another senior who had played so solidly all night long stepped up and delivered perhaps the best game of her career.
Unheralded Adri Miller, a mere afterthought last year, began taking charge and delivering in every aspect, from playing the back row to digging, serving points and making kills at the net.
Adri Miller led the Lady Hawks out to an early lead, and Hiland won the final game, getting out to a big lead and taking the air out of the Bobcats faithful.
"She has been a really nice surprise for us this season," coach Miller said of Adri Miller. "The last few years the numbers have been high, and she didn't get a chance, but this year she has gotten that chance and has taken advantage and shown up every night."
Coach Miller said they believe they will see this type of competition from here on out, giving Cambridge huge praise for their effort in challenging her number-one-seeded team. She said getting challenged like that was something they didn't necessarily want but needed in order to feel the pressure of what is sure to come down the road.
"This group is such a veteran group that they don't let anything fluster them," coach Miller said. "I am a nervous wreck on the sideline, and I don't know how they do it, but they are all calm and simply go about their business out there, no matter what the score is."
Adri Miller ended the night with 26 digs, 11 kills and 12 service points, three of them being aces. Yoder was brilliant all night too, hammering 17 kills and producing 25 digs. Kim Miller was the same floor general she always is, delivering 49 assists and adding 23 digs. Troyer tacked on 21 digs, and Nikki Keim recorded 11 service points.