Lady Hawks get a double dose of tough competition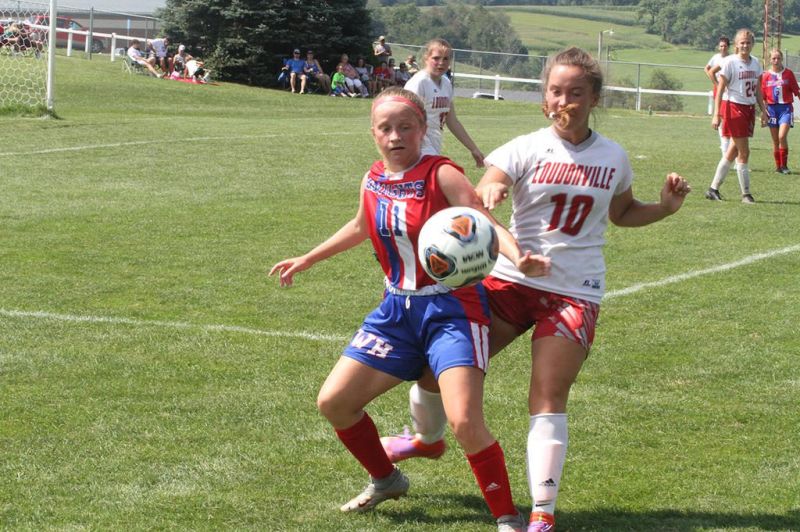 The Hiland Lady Hawks got another stiff challenge in the early season, this time traveling to face a talented Mansfield Christian team on Sept. 3. Hiland came away with a 1-1 draw, in a wonderful defensive battle.
Paige Gertz got Hiland on top just after a scoreless first half, pouring in a goal in the 45th minute. Hiland's defense played a great game, but it would see Mary Golias find the equalizer with just less than nine minutes to play in the contest, and neither team could connect on a game-winner down the stretch.
"It was a good result, but we would have loved to keep the shutout," Hiland head coach Conner Lee said. "Mansfield Christian is a good team, so we can't complain about the result."
Itzelle Guzman made eight stops in goal for the Lady Hawks. Hiland stands at 2-1-1 while MC is now 2-0-1.
On Sept. 6 Hiland squared off with a tough Wooster team, and the two squads battled to near the end of the game before Wooster's Gabriella Signorio punched in a free kick to give the Generals a 1-0 win.
"It was tough to lose on a free kick in the last five minutes, but overall, it was a good game against a tough Wooster squad," Lee said.
The game stats showed how even this contest was, with each team taking five shots on goal and five corners.
The Lady Knights of West Holmes felt the wrath of state-powerhouse Mansfield Madison, dropping an 8-1 decision to the Rams, who scored five second-half goals. The lone tally for WHHS came off the leg of Avery Arnold while Mia Halverson notched 11 saves in net.
WHHS returned to its winning ways in the follow-up game, pounding Philo 7-2. The Lady Knights poured in six first-half goals before setting things on cruise control. Allie McMillen and Averee Troyer each hammered home a pair of scores while Arnold, Kenzie Fair and Natalie Rohr all added single tallies. Halverson recorded five saves, and Bri Parks added one in goal.
The West Holmes boys team found itself in a 7-0 half-time deficit to Tuscarawas Valley, and despite a much better second-half effort, they fell 8-3. Ethan Feikert netted a pair of goals for the Knights while Brody Schaad added another. Hunter Eberhard recorded a dozen saves in goal for WHHS.
Volleyball
In a bit of a strange game, Garaway took down Minerva in four games on Sept. 4, but the final score of 25-11, 25-15, 27-25, 25-9 shows a dominating effort by the Lady P's in three games, with the loss in game three being a major anomaly.
In victory Morgan Schlabach produced seven service aces and eight kills, Shelby Gerber recorded five aces with 24 assists, Meghan Petitte recorded nine kills, and McKenzie Miller added three blocks and 16 digs.
West Holmes picked up its first win of the season by routing Mansfield Senior 25-10, 25-11, 25-12. At the service line, West Holmes was led by Avery Yoder with 15 points and four aces. Ally Baker also finished with 13 points and an ace. Allie Snyder had 12 points and seven aces. At the net Yoder also led the team with seven kills, followed by Casey Norman and Harmony Mast each with six kills. On the defensive side, Mast came away with seven digs; Baker had six; and Allie Snyder, Yoder and Peyton Carathers had five each. Brynlee Reed finished with 28 assists.
The West Holmes Lady Knights battled hard against the Wooster Generals on Sept. 2 but couldn't quite come up with a win, falling in three 25-20, 26-24 and 25-22. Zaylie Shultz led WHHS in serving points with nine points, followed by Mast with seven. Reed recorded three aces with Shultz and Yoder each recording two. At the net Mast finished with nine kills while Shultz added seven kills. Defensively, the Lady Knights were paced by libero Baker with 13 digs, followed by Mast with 12. Daphne Alexander had four blocks, and Reed finished the match with 26 assists.
Hiland kept racking up wins, getting a 25-19, 25-17, 25-23 win over Loudonville to move to 7-0. Hannah Schrock racked up four blocks for Hiland while teammate Haley Yoder added 10 digs and seven kills. Gracie Keim notched 25 assists, Ava Troyer hammered 13 kills, Maddy Miller added eight service points and two aces, and Grace Schlabach had seven points.
Cross country
In a field of 16 teams at the Highland Flying Scots CC Invitational on Saturday, Sept. 4, the West Holmes Knights boys placed 14th while the Lady Knights fared better, placing eighth out of 15 teams.
Zora Starner led the Lady Knights, placing 19th overall in 21:35. Lexy Starner placed 21st in 21:40, Brenna Myers was 31st in 22:06, Carolyn Miller placed 74th in 24:31, Olivia Sampsel was 87th in 25:42 and Autumn Conner was 102nd in 27:28 in the field of 116 competitors.
Zeke Galbraith had a terrific day for the boys, placing sixth overall in 17:13, while Mac Miller was 97th in 20:30, Jacob Miller was 98th in 20:32, Brayden Lemon placed 100th in 20:35, Nathan Young ran 115th in 21:31, Slade Turney was 116th in 21:40 and Hunter Uptain was 117th in 21:41 in a field of 135 runners.