Lady Hawks motivated to kick off new season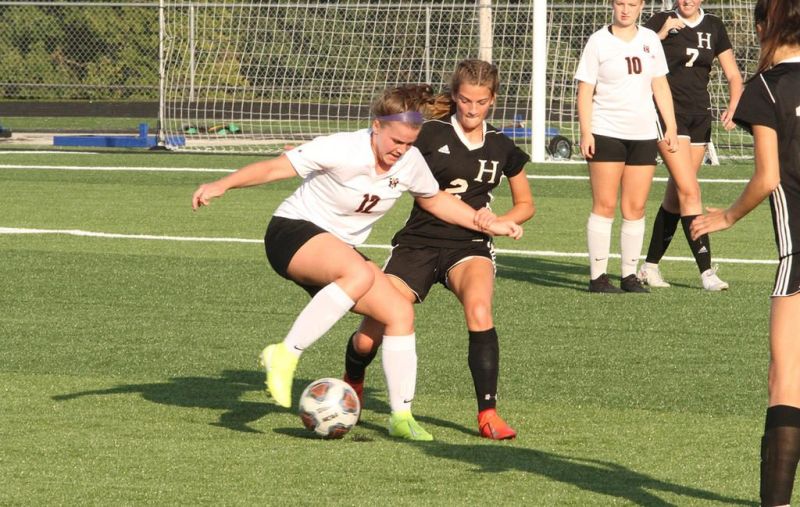 Sometimes the very best motivation doesn't come from some inspirational speech, but rather from experience.
For the Hiland Lady Hawks soccer team, a deep core of returning talent has them thinking big, but according to head coach Conner Lee, what really has his team motivated isn't what is in front of them, but what is their last memory of the 2020 campaign.
While the Lady Hawks were flying high after the school's first-ever regional appearance, the bitter taste of a regional semifinal loss to Columbus Academy that saw the two teams play to a 0-0 draw in regulation and overtime only to see Hiland fall 3-1 in the shootout has been more than enough to inspire and drive this team to pursue greater goals.
"We were thrilled to finally get over that hump and reach regionals, but the way we lost was just about the most excruciating way a team can lose a soccer game," Lee said. "Knowing how close we were and then watching Columbus Academy easily move into the state tournament was tough to watch, but it has definitely driven our girls to attack this off-season and prepare for what we think can be a really great year."
While Hiland only lost three key cogs from last year's team, those pieces of the puzzle were significant. All-Ohioan Gabby Schlabach provided leadership and scoring while Braylee Coil was a lynchpin on the defensive end. Add in stalwart Sam Mast, and there are holes that need to be filled.
"Gabby just did it all for us, and her leadership will be tough to replace," Lee said. "And Braylee was probably the best defender I've ever coached. She single-handedly almost won that Columbus Academy game for us."
Finding leadership and scoring hasn't been an issue thus far. Speedy scoring threat Kate Kaufman, the team's Offensive Player of the Year last year, leads a talented crew up front, but she isn't alone. Joining her up front will by juniors Paige Gertz and Maci Money, both of whom can deliver assists and hammer home goals. Together, that trio made up a large chunk of the team's offense last year, and Lee said they are only getting better.
He said having a talented trio like that makes it difficult for teams to concoct a defensive scheme.
"It seems like so many of our defensive goals end up being trying to stop one main player, but we have three talented kids here who can do it all, and that makes us dangerous because teams can't just focus on one player," Lee said. "That group is going to produce a lot of goals."
Add in senior Kate Bodiker, whom Lee called "one of the most intelligent players he has coached," along with Lydia Weaver, Alex Weaver and Emily Gingerich, and the Lady Hawks should have all cylinders rolling on offense.
A loaded defensive squad returns three-fourths of its starting backfield including Kylie Lapp, Mallory Stutzman and Brynn Coil, along with starting keeper Itzelle Guzman.
"It's a strong group," Lee said of his defense that brought shutouts on a regular basis last season. "I think Mallory could really make a big impact this year. She will play middle-back, and I don't think I've coached a harder worker than her. She is strong and gifted."
All of that talent, on top of what Lee called a deep and quickly improving freshman and sophomore group, has the Lady Hawks more than ready to get this season under way.
While not wanting to look too far into the future, Lee said a conference championship and another deep run are both topics the team has discussed already.
"They've gotten that taste of regionals and know what it takes, and they were so close to making it to state last year that they understand what they have to do in terms of working hard and playing together to get where they want to be at the end of the year," Lee said of what could be another record-breaking season for a team that pushed the program to new heights last season.