Lady Hawks' win over TV 'more important' than Classic games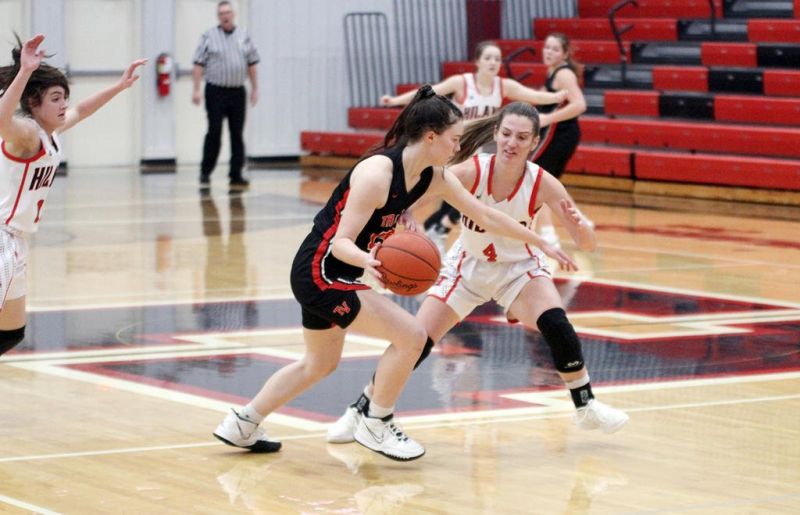 Earlier this season the Tuscarawas Valley Trojans dealt the Lady Hawks a 40-35 loss, ending Hiland's string of Inter-Valley Conference game wins at an even 100. It also put in jeopardy a state record string of 26-consecutive IVC titles.
Thus, Hiland had plenty of incentive coming into the rematch on Saturday, Jan. 22. With the fate of the string of IVC championships in the balance, Hiland delivered a 44-19 thrashing of the Trojans that evened the score in the IVC South, the two teams each now having one blemish in league play.
Hiland struggled to even get a shot off in the early going, TV taking a 5-1 lead, but while Hiland didn't muster a bucket until Ashley Mullet drove for two exactly halfway through the quarter, the Trojans couldn't take advantage.
Then came a 21-minute stretch of play where Tusky Valley barely scored and Hiland took control. From the 4:30 mark in the first quarter to the 7:00 mark of the fourth period — a span of 21 minutes of game action — Tusky Valley managed one score inside and single free throws in the second and third quarters. That was four points in 21 minutes as Hiland's defensive pressure was an absolute clinic.
Meanwhile, Hiland's offense finally got on track courtesy of its defense. Mullet dropped a trey to give the Lady Hawks a 7-5 lead, and Mallory Stutzman made a steal and fed Teagan Harris, who made a perfect dish to Mullet. Mullet then made a steal and fed Stutzman for a lay-up to spot Hiland to an 11-5 lead through one period.
Hiland then had every opportunity to take complete control of the game, but Tusky Valley's defense stepped up, and only Aila Miller's long 3-pointer at the buzzer allowed Hiland to go to the half sporting an 18-8 lead.
However, Hiland was about to leave no doubt, and it would be Jenna Troyer who would deliver the goods.
After Miller made two free throws to begin the second half, Troyer hit a triple from the left side, and after Hiland's defense made another stop, Mullet found Troyer at the exact same spot, and she produced the exact same result for a 26-8 lead.
That really got the Lady Hawks going, and Stutzman drove for two and Mullet knocked down a triple to extend the lead to 31-9. Miller then hit two free throws to end the quarter at 33-9, and when Troyer drove for two and Miller nailed a three-ball from the corner to start the fourth quarter, Hiland held a commanding 38-9 advantage.
Tusky Valley would finally find some late offense when it mattered little, and the Lady Hawks collected the win they so desperately wanted.