Lady Knights earn thriller over NW to headline area sports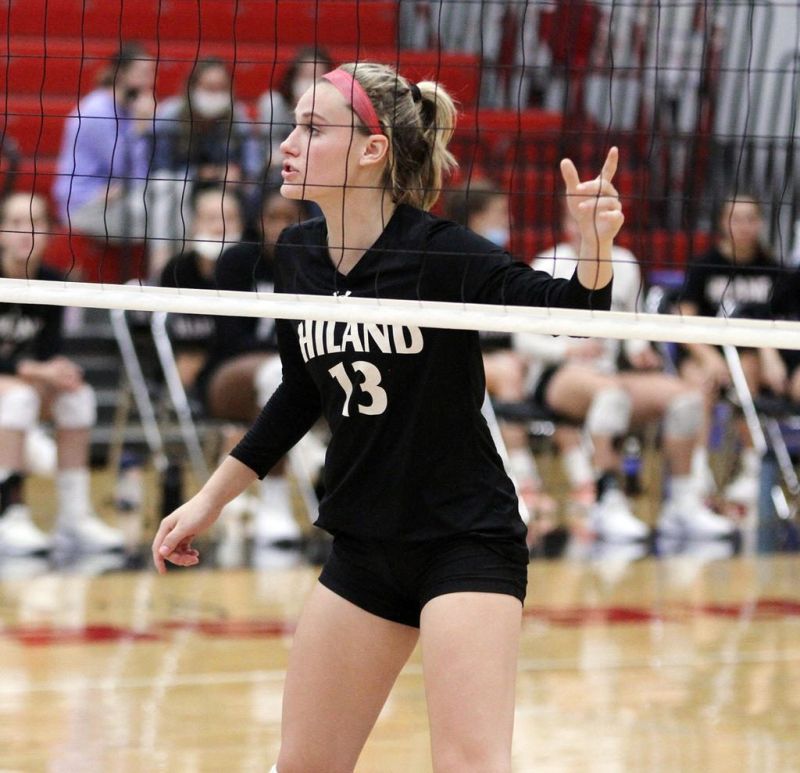 West Holmes went through the wringer to earn a five-game volleyball thriller over Northwest to highlight last week's local sports action.
Volleyball
West Holmes had no trouble with Mansfield Senior, delivering the Tygers a 25-15, 25-8, 25-17 loss that saw the Lady Knights getting contributions from everyone. Zaylie Shultz led the Lady Knights in serving, finishing with 14 points, nine of which were aces. Megan Jones followed with nine points and three aces. Megan Jones led the offense at the net with nine kills followed by Shultz and Ella McMillen with five kills each. Megan Jones also led the defense with 10 digs and McMillen ended with four digs. Lauren Jones and Brynlee Reed combined for 22 assists on the night.
WHHS then willed its way to a win over Northwestern in a tough five-game match that saw it emerge victorious 29-27, 20-25, 23-25, 30-28, 15-11. Shultz led the Lady Knights in serving with 17 points and four aces while Jerzey Morris followed with 14 points. At the net, Shultz also led the charge along with Megan Jones, both finishing with 15 kills each. McMillen chipped in 13 kills. Defensively, the Lady Knights were led by Megan Jones with 23 digs. McMillen finished with 19 digs and 4.5 blocks. Dani Miller contributed 18 digs. Lauren Jones finished the night with 42 assists.
Garaway got off to a rocky start in its volleyball game with Claymont Thursday, Oct. 8, but the Lady Pirates eked out game two and then roared to victory in a 14-25, 25-23, 25-15, 25-13 win.
Garaway was led by Brooklyn Frey's huge performance. Frey hammered home 25 kills, adding a pair of blocks, while Meghan Petitte added 13 kills and two blocks, Lizzie Mullet served up 28 assists, 16 digs added three service aces, Laiken Wallick drilled 11 kills and added two aces and Jordyn Fearon had 21 digs.
The Lady P's then fell to Ridgewood25-27, 25-14, 25-14, 25-16. Mullet recorded 22 assists and 14 digs, Frey added 14 kills and two blocks and Fearon had 14 digs.
The Hiland Lady Hawks pounced on the Redbirds of Loudonville and rode to a decisive 25-9, 25-17, 25-19 win that improved Hiland's record to 11-7.
Ava Weaver rolled out 35 assists and 12 service points, including three aces, Annika Schneider and Ava Troyer each recorded a dozen kills, while Amanda Troyer and Schneider produced 16 and 11 digs, respectively.
Hiland dropped Sandy Valley in three games, winning 25-23, 25-17, 25-11. Schlabach served up 17 points and four aces, adding six kills. Weaver added 21 assists and Amanda Troyer notched 16 digs.
Cross Country
The West Holmes boys' cross country team ran to a victory at its home meet on Saturday at the Nanny Goat Invite. Cade Wagers finished second overall to lead the Knights, followed by Caiden Carter and Zeke Galbraith in third and fourth, respectively. Haeden Wolfe finished sixth and Matthew Young seventh to round out the scoring, which led the Knights to an easy victory, with its 20 points far ahead of runner-up Indian Valley.
Wayendale's Jonathan Varner roared to victory, his time of 17:17 almost a full minute ahead of the field.
The West Holmes girls' cross country team placed second behind Waynedale out of six teams at its home invite. Brenna Myers lead the way with a sixth-place finish. Brogan Steimel (10th), Emily Truax (14th), Carolyn Miller (22nd), and Araceli Kandel (23rd) also scored for the Knights.
Waynedale was led by Kylee Gray (third), Alyce Yoder (seventh) and Kylie Adams (eighth).
Soccer
For years, the trek to Hudson to take on Western Reserve Academy has been a challenge to say the least for both the Hiland boys' and girls' soccer teams, and their trip Thursday, Oct. 8 proved to be no different.
The Hiland boys fell to WRA 3-1 while the girls struggled to a 0-0 tie.
"This game was a tough pill to swallow," said Hiland boys coach Scott Bodiker. "We dominated the game for the final 65 minutes. Unfortunately, we dug ourselves too big of a hole at the start. It's a long bus trip and we weren't quite ready to play at the start. Overall, this was actually one of our best games and I believe we did enough to deserve a better result."
Orion Mills put WRA ahead for good just five minutes into the game, then duplicated his feat six minutes later, and the Hawks were looking at a struggle to come back.
When Callum Brooks scored in the 50th minute, the Hawks were done, but not before Collin Lowe put in Hiland's lone score in the 65th minute.
The Lady Hawks tie was actually one of the better outcomes for Hiland in this league rivalry. The statistics were about as even as the score would indicate, with WRA outshooting Hiland 11-8 and each team firing off five corner kicks. In net, Itzelle produced seven saves for Hiland, which moved to 5-5-4, while WRA stands at 2-2-3.
Football
The 7th-grade Knights finished out the season on a winning note beating the Red Riders of Orrville 50-8. The win puts their record at 7-1. Scoring on the evening was Lynn Cline with three touchdowns, Chance Jackson had two receiving scores, Brock Gallion had a rushing score and Lincoln Snow rounded out the scoring with a receiving touchdown.
Golf
West Holmes underclassmen Hunter Ellis and Trey Baker didn't advance through their district tournament match at Eagle Sticks Golf Course in Zanesville but got some quality experience. Hunter fired an 89 to place 23rd overall and Baker shot a 92 to tie for 31st.