Lady Knights take steps, Lady Pirates get on roll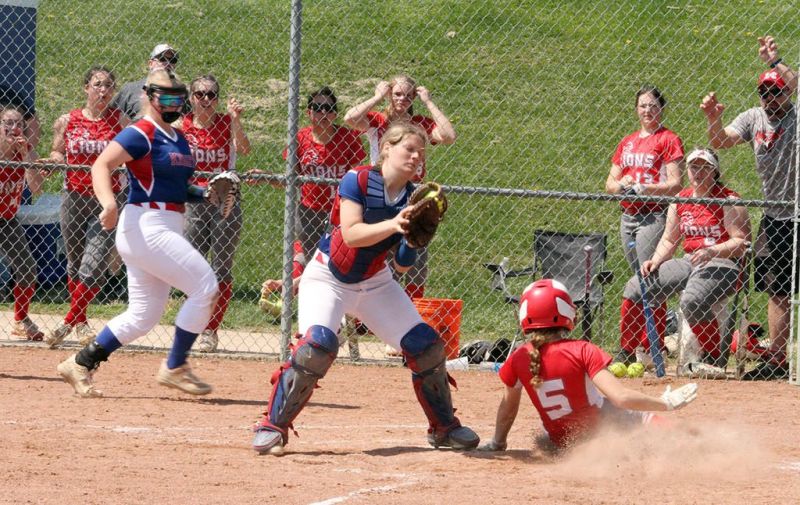 When facing an opponent who is very similar to yourself in style of play and talent, one big advantage is to put the pressure on your opponent to see how they respond.
That was the strategy West Holmes girls softball coach Steve Frank shared with his girls Saturday, April 23 when they hosted Minerva.
Twice West Holmes pushed across a run to take the lead, and both times the Lions responded, the last time with a four-run sixth inning that paved the way for a 6-3 Lions win over the Lady Knights, who fell to 5-9 on the year.
"When it was tied at zero for a couple innings, we talked to the girls about being the first team to get something going," Frank said. "We scored in the fourth; they matched in the top of the fifth. We scored another run in the bottom, and they put up four runs in the sixth. They found a way to produce that one big inning we were looking for, and it won them the game."
West Holmes struggled to get anything going offensively throughout the game, never being able to sustain any type of big inning that would truly put pressure on Minerva.
Maddie Clark (4-4) took the loss for West Holmes on the mound, going six innings and giving up four earned runs. At the dish Addison Yoder doubled among her two hits and drove in a run while Peyton Caruthers singled home a run and Kenzie Woods and Avery Yoder added a double apiece.
At 5-9 Frank said with the way the Lady Knights played ball in close losses to Minerva and a strong Mt. Vernon team and a huge rout over Orrville, he feels confident his team is taking steps in the right direction.
"I feel pretty confident in where we are headed right now, and I've seen the potential these girls possess these past few games," Frank said. "We played some pretty strong softball recently. Unfortunately, that didn't turn into a win today, but we did a lot of things well today. We did some small ball things well against a pretty comparable team in Minerva. I thought this was two young, solid teams who are improving, and this was a good softball team for us to play."
Frank said following the game he told his kids the coaching staff saw plenty of things that were encouraging, adding they simply needed to tighten up a few very fixable issues that prevented them from getting a win. He said it's all a matter of tightening up those loose ends as they prepare for tournament play.
"It's been encouraging to see us taking steps," Frank said. "I told the girls we were on this rung of the ladder and we've climbed up a couple more rungs. We were right there. We just didn't score runs and get key hits when we needed them today, and they didn't give us anything today. They earned that win."
Lady Pirates explode
offensively in pair of wins
The bats are alive and well in Garaway.
One minute the Garaway Lady Pirates and Ridgewood Generals were in a scoreless tie through three innings. A half-inning later, Garaway boasted an 11-0 lead and went on to post a 12-0 victory in a road win in West Lafayette on April 25.
The Lady Pirates posted their fourth win in a row and have won five of their last six. Isabelle Tetreault started in the circle for the Lady P's and posted a two-hit, nine-strikeout gem on the mound.
Offensively, Jordyn Keim had a great game, pounding out three hits including a home run and three RBI. Meghan Petitte slammed a pair of hits including a double and scored twice while driving in a pair. Amia Proper, Grace Yoder and Tetreault each added two hits and two RBI while Shelby Gerber added an RBI single.
Two days earlier the Lady Pirates dismantled Malvern 17-0 in a game that featured plenty of offensive fireworks from the Lady Pirates.
Petitte highlighted the explosion, smoking a double before stepping to the plate in the fourth inning and hammering a mammoth home run that cleared the left-field fence by a wide margin, even into the wind. Petitte said she knew it was gone the moment the ball left the bat.
Proper collected two hits to go with a pair of RBI and three runs scored; Faith Swindle added two hits, three RBI and two runs; Gerber added a pair of hits, two runs and drove home a pair; Keim scored twice; and Ava Troyer walked three times, scoring a run and driving in another.
Tetreault went three innings to get the win, striking out seven while not allowing a hit. Lexy Troyer tossed the final two innings, allowing a pair of hits while striking out one.
Garaway kept up the assault in a 9-0 wipe-out of Tuscarawas Central Catholic. Eight different girls collected a hit as the Lady Pirates banged out a total of nine hits.
Tetreault got the start in the circle and went all seven innings. She ended with 10 strikeouts, allowed zero runs and gave up just three hits. Petitte led the offensive output with a pair of triples, two RBI and two runs.