Lady P buzzer-beater highlights area hoops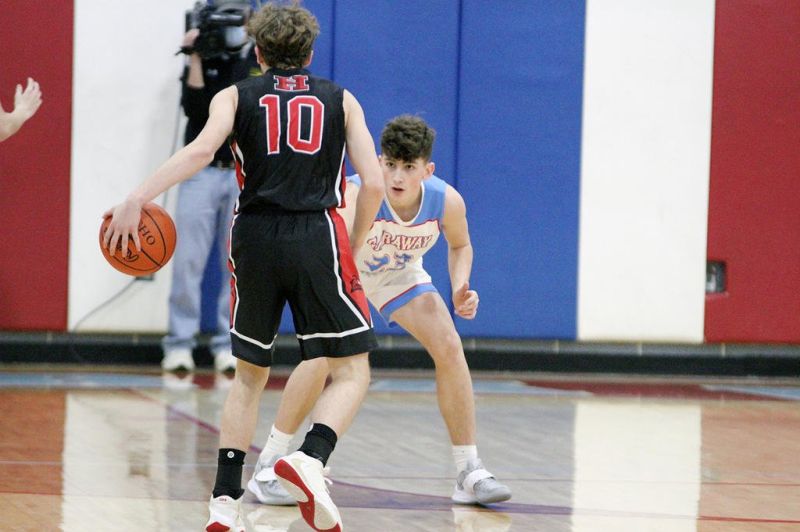 As the regular season winds down and the season of tournament basketball approaches, area teams are continuing to play the game at a high level, competing hard to gear up for what they hope will be a long tournament run.
Girls basketball
Garaway 43, Fairless 41
Another tight game for the Garaway Lady Pirates, another buzzer-beater. This thrilling end-game success for Garaway came at the expense of the Fairless Falcons, and the net result was a 43-41 victory for the Lady P's in a road win at Fairless High School on Feb. 13.
Fairless forged an early 8-5 lead through one quarter and saw Garaway trim one point off of that deficit, leaving the Falcons with a 21-19 halftime lead. Fairless pushed that lead to four at 32-28 through three quarters, setting the stage for a wild finish.
The Lady Pirates rallied to tie the score with little time left, and Fairless held possession under Garaway's bucket, having to go the length of the floor. Lady Pirate Rylee Putt stepped in and made a steal after Fairless had inbounded, quickly whipping a pass to Marley Metzger under the bucket, who popped her short shot up and in at the buzzer to give the Lady Pirates a stunning victory.
Grace Lyon scored 12 points to lead the Falcons, Kam Kondrach adding nine. Putt had a sensational game in leading Garaway, scoring a game-high 16 points, adding four assists, four steals and three rebounds. Brooklyn Frey scored nine points and tore down five rebounds, Chloe Hershberger added nine points and eight boards, and Lizzie Mullet added five points.
Hiland 40, Laurel 37
Sometimes taking a loss is the best thing a team can experience. That may have been the case after Hiland's undefeated season came to an end after a loss to state-power Napoleon. On the heels of that loss, the Lady Hawks forged a thrilling 40-37 win over another state powerhouse in Laurel.
"I really think this team needed that loss to Napoleon," Hiland head coach Dave Schlabach said. "It felt like we were getting a little too complacent, like everything was going to come so easy for us. It refocused us, and I thought this win over Laurel was one of our best games of the year. It was definitely our best defensive effort."
In a battle of titans, Hiland pushed out to a 31-22 lead through three quarters, only to see Laurel's rally attempt be too little too late. In a very odd game, Hiland only had two players score in the entire first half, with bigs Zoe Miller and Kelsey Swihart doing all the dirty work in the paint. Senior guard Brynn Mullet finally gave them some help with a couple of treys in the second half, and the defense did the rest of the talking for Hiland, which held Ohio State-bound star center Haley Thierry to 13 points on just 4-of-18 shooting from the field.
Hiland got 17 points and 15 rebounds from Miller, Swihart scored 13 points with four boards, and Mullet added six points and four assists.
Boys basketball
Hiland 53, Strasburg 39
After going at it toe to toe for three quarters, the Hawks got a fantastic final eight minutes of play, lifting Hiland to a 53-39 victory over Strasburg.
Grant Miller knocked down five points in the first quarter for the Hawks, spotting Hiland to an 11-8 lead through one quarter. Wade Hostetler and Dylan Walker both dropped treys in the second quarter for Strasburg, pulling the Tigers to within two at 22-20 at intermission.
More tight play ensued throughout the third quarter, which saw Ryan Miller's six points and Will Schlabach's triple inch the Hawks out to a 33-28 lead after three periods. Then came a foul-marred fourth quarter that saw both teams making constant treks to the charity stripe.
The Tigers would go 9-of-10 in the quarter, accounting for nine of their 11 points, only to see Hiland hit 10-of-11 free throws. Oddly, the Hawks had not made a free throw up until that final period. The big difference was a pair of offensive efforts from Isaac Slabaugh and Dylan Weaver. Weaver hit a trey on his way to five points, but Slabaugh, who came into the quarter with two points, scored 10 points including four free throws to carry the Hawks to victory.
Strasburg got balanced scoring, getting eight apiece from Tayshawn Curtis and Cole Hutchinson, seven apiece from Walker and Christian Miller, and five from Hostetler.
Hiland was paced in scoring by Ryan Miller's 14. Both Slabaugh and Grant Miller added a dozen while Schlabach added seven and Weaver pitched in with five.
In the season finale on Tuesday, Feb. 16, the Hawks couldn't contain Dalton's Jalen Wenger, who went off in the second half for 24 points, the majority of his game-high 32, as the Bulldogs sent the Hawks home with a 75-62 loss.
A big second quarter that included two Schlabach 3-pointers helped Hiland inch back into the game, trailing 32-28 at intermission, but Wenger cut loose on his monster game with a 16-point third quarter that pushed the lead to 58-44, and the Hawks never recovered.
Schlabach led Hiland with 20 while Ryan Miller added 13 and Slabaugh scored 12. Aside from Wenger's huge night, Dalton got 12 from Ezra Miller and 10 from Jack Steiner.
Garaway 51,
Buckeye Trail 42
Garaway improved to 7-10 on the campaign with an Inter-Valley Conference road win over the Warriors of Buckeye Trail. Brady Roden led all scorers with 18 points while Pirates teammate Matthew Beachy added 14. Franko Rome led Buckeye Trail with 17. In a 53-40 loss to Tuscarawas Valley, Zach Bickford was Garaway's high scorer with eight points.
Fairless 56,
West Holmes 52
The Knights fell to 12-5 with a tough four-point loss to the Falcons that saw West Holmes falter in the final quarter, squandering a nine-point lead in the process.
The Knights bolted out to a 15-7 lead after one quarter and led 30-24 at the half. West Holmes then pushed the lead to nine at 46-37 through three before a furious late rally by the Falcons led Fairless to victory.
A balanced Knights' offense saw Blake Morrison and Payton Miller score a dozen each while Peyton McKinney added 10 and Zach Stair chipped in with nine.