Miller's bat, glove and arm help propel Hiland victory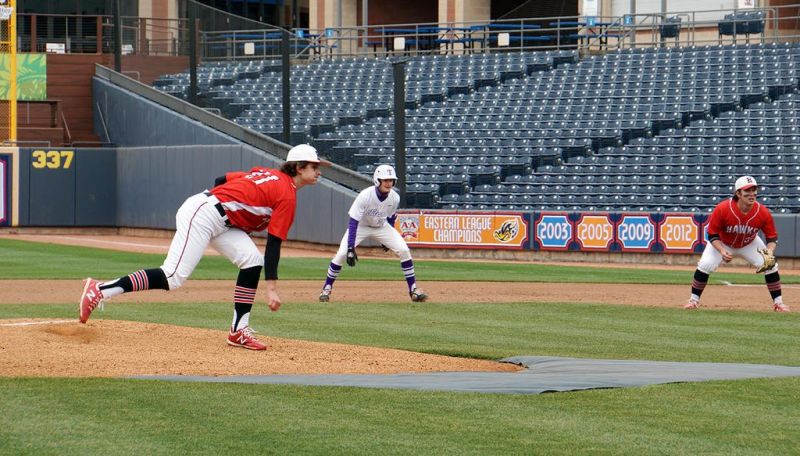 Isaiah Miller saved his best for last.
With Hiland trailing Triway by one run in the bottom of the seventh inning, the senior catcher launched a two-out, two-on double into Canal Park's right field on Tuesday night. Miller's blast scored Casey Lowe and Reece Schlabach — who both had singled earlier in the inning — to give the Hawks a 7-6 victory.
Miller's game-winning hit capped a two-hit, five-RBI game for him.
But that wasn't all.
Miller gunned down Triway's Billy Mast, trying to steal second, to end the fourth inning after the Titans had rallied for two runs earlier in the frame. Miller, Lowe and first baseman Dakota Miller also collaborated on a 9-3-2 fly-out, tag-out double play to end the first inning.
Triway threatened to begin the game with an offensive barrage. A hit batter and an error helped plate one run, and at one point in the first, the Titans had the bases loaded with no outs. But Lowe caught a one-out fly in right and hit cutoff man Dakota Miller perfectly, who fired a strike to Isaiah Miller to tag Triway runner Kain Weaver, who was trying to score on the play.
The score remained 1-0 until the bottom of the third inning when the Hawks' offense ignited. Isaiah Yoder began the frame with a walk, followed by a Tony Yoder sacrifice bunt and a single from Jared Hostetler. Isaiah Yoder came home on an error after Hostetler stole second. Lowe then hit a single, and Schlabach reached base on an error, loading the sacks. Miller then cleared them with his first double, also to right, putting Hiland in charge 4-1.
Triway's best offensive effort came in the fourth inning when it tallied four singles and scored two runs to pull within one of Hiland at 4-3. But the rally ended with Miller nailing Mast in the steal attempt.
An uncharacteristically weak Hiland defense almost led to its demise. Two of the Titans' runs were unearned, and porous gloves also led to an unusual fifth for Triway when it scored three runs. A walk, a hit by pitch, two errors and a wild pitch/dropped strike three combined with just one hit — Kade Whitman's RBI single — gave the Titans a 6-4 lead. It stayed that way until the bottom of the final inning.
Titan pitcher Karin Weaver went the distance for the visitors, striking out seven while walking only one batter. Mast and Griffin Braun also plated RBIs, along with Easton Barnard's sacrifice fly. Whitman paced Triway with two hits.
Derrick Troyer pitched the first four innings for Hiland, yielding just three hits. Lowe moved from right field to the mound for the final three frames, allowing only one earned run while striking out five and walking two batters. Lowe also had two hits and an RBI in the game. He picked up the victory, thanks to Isaiah Miller's heroics.
Triway dropped to 8-6 overall with the loss. Hiland's victory, its fifth in a row, raises the Hawks' record to 11-2.