Mishler produces a course record with 30 at Fire Ridge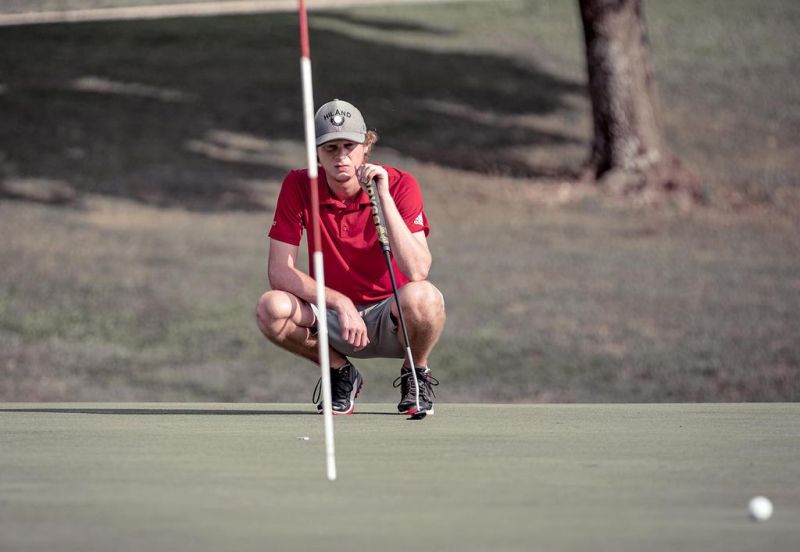 It wasn't long ago that Hiland senior Brookston Hummel fired a record-setting score of 31 on the front side of Fire Ridge Golf Course in Millersburg.
That record didn't last long, and the new record of 30 came courtesy of fellow senior Carter Mishler, who fashioned eagles on both par fives and came home with birdie-birdie on eight and nine to break the record and lead the Hawks to an incredible 140-232 win over Tuscarawas Valley on Tuesday, Sept. 7.
The evening started when Mishler's drive hit the cart path on the first hole and bounded far down the fairway, setting up a winding 25-foot eagle putt. He rolled from there and finished strong.
"I had a good line on that first eagle putt, but I hit it too hard," Mishler said of the start. "But I also missed my line, and it found the hole, so I felt like it might be my night."
The eagle on six put him four under par, and he hit an iron onto the fringe at the par-4 eight, where he calmly rolled in a 30-footer for birdie and five under. He smashed a perfect drive to within 40 yards on the par-4 ninth, and on the walk up the hill to his second shot, he gave himself a pep talk.
"I'm not going to lie. When I saw I had 40 yards in, I started thinking about the course record," Mishler said. "I didn't want to just tie it. But after being in these types of situations many times before, you learn how to adapt and deal with the pressure and push it aside and live in that moment."
He calmly pitched his ball up tight and sank the putt for the record.
He said he and Hummel have pushed each other their entire careers, and that has made both better players as they partake in a friendly game of "can you top this?"
The Ashland University-bound Mishler's score led the Hawks to a very low score of 140. Hummel added a 36 while Garret Shoup and Kenny Weaver each tacked on 37s. Nathan Kline's 38 got tossed out.
In other golf action, a strong field participated in the Dover Invitational on Saturday, Sept. 4, and it would be the Hiland Hawks emerging victorious at Oak Shadows Golf Course, firing a 310, fending off runner-up Lake's 317. Hoover placed third at 321, Hoban was next at 325, followed by Marietta (331), Dover Crimson (334), Granville (340), GlenOak (347) and Garaway (350) rounding out the top 10 in the field of 18 teams.
Hiland had a strong day individually, with Hummel chalking up a one-under-par 71, three strokes ahead of Lake's Camden Horning and Jack Armstrong. Mishler was low one-man with a 75, and Lucas Yoder was low five man with a score of 85. Rounding out Hiland's effort was Shoup with a 79 and Weaver with an 86.
Charles Beachy led Garaway with a 77 while Trace Gibson added an 81 and Carter Miller and Caleb Meek shot 99 and 93, respectively.
Dover was led by Dover Gray's Nolan Kellicker, who shot a 76, while Dover Crimson's Jacob Hanner and Zach Dale recorded 80 and 81, respectively. New Philadelphia, which shot a 351 and placed 11th, was led by Louie DeVore's 82. Tusky Valley got an 83 from Connor Gardner, and Indian Valley was led by Austen Gunn's 83. Strasburg was paced by Trevor Bitikofer's 95.
The Garaway Pirates fired off their best nine-hole score of the season in squaring off with Dover two nights earlier, but unfortunately, the Crimson Tornadoes were a tad better, downing the Pirates 152-155.
The Pirates were led by Gibson, who fired a two-under 34, an impressive round for the freshman in posting his career low for the Pirates. Following Gibson was Beachy with an even-par round of 36. Behind them were Emmet Royer with a 42 and Carter Miller with a 43.
In defeating Indian Valley 149-178, the Hiland Hawks got a 39 from one-man Mishler, and that score got tossed out. Six-man Nathan Kline shot a blistering 36, a score matched by four-man Shoup. Hummel added a 38, and Weaver carded a 39 in the victory. Yoder added a 43. Daniel Gruwell and Isaac Stokey paced Indian Valley with 42 and 44, respectively.
In a match against Claymont, Garaway continued its consistent play, beating the Mustangs 157-208. Beachy shot a one-under-par 35, with Nick Maust adding a career-best 39. Gibson and Royer both added 42s.
While Mishler was posting a course record, the West Holmes Knights also were having some fun at Fire Ridge that same night, handing rival Wooster a 159-176 defeat.
Brice Hunter led all scorers with a 38, Trey Baker carded a 39, Hunter Ellis scored a 40 and Brody Allen posted a 42 in victory for the Knights, who continue their strong campaign.
Earlier, the Knights fell in a tight loss to Mt. Vernon, falling 163-165. Ellis fired a strong 37 to lead WHHS while Grady Toye and Baker each shot 42 and Kenzie Woods added a 44.
The Garaway Lady Pirates squeaked by key rival Tusky Valley Trojans at Black Gold Golf Course 162-164. The Lady Pirates were led by Sammi Miller with a 38. Sydni Prysi added a 40, and they got a pair of 42s from Brooklyn Numbers and Olivia Immel. Tusky Valley's Kylie Rohr shot an incredible two-under 34, followed by Susan Thompson with a 36, Teegan Philips with a 46 and Leah Wright with a 48. Garaway remains undefeated in the Inter-Valley Conference.