MMA Honor Fighter Championship does not disappoint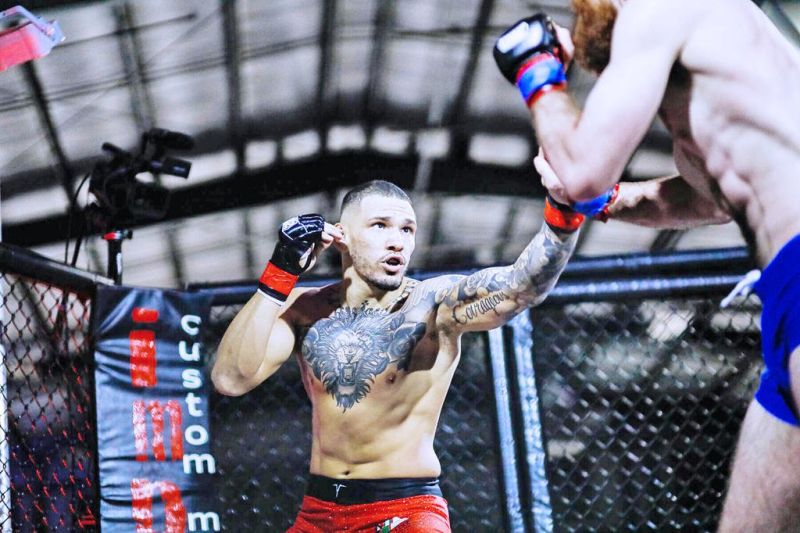 When the Harvest Ridge facility in Millersburg was built several years ago, the concept was to create a venue that could host myriad events aside from the Holmes County Fair that would keep the venue busy, productive and economically viable for Holmes County year round.
While Harvest Ridge has been busy hosting events ever since, one of the wilder events to grace the grounds took place Saturday, Jan. 11 when Honor Fighter Championship Mixed Martial Arts MMA stepped into the steel cage and delivered on a night of hard-hitting action and excitement for what was dubbed "A New Year's Revolution."
With five area fighters from Common Ground Grappling Club Martial Arts School in Nashville, Ohio, there was plenty of interest generated, and tickets soon became scarce.
Event promoter Jeremy Caudill was more than amped up about the turnout and said he is excited about returning to Millersburg soon.
A packed house of 3,000 spectators witnessed an evening of high-energy entertainment.
Caudill and his crew did not disappoint, adding plenty of lights, smoke and music to the main event in the octagon cage.
While many might not see mixed martial arts as a Holmes County staple, Caudill said he is looking forward to a return date and is already planning ahead to return later this year.
"I absolutely love, love Millersburg, love it," Caudill said. "This is the tightest-knit community I have ever been to. This is now the home to Honor Fighting Championship. These people come together and rally around everyone. I met so many wonderful people tonight. It was incredible."
Caudill said he hopes to return in May, where his initial plan is to create a day-long venue featuring an outdoors summer show, complete with several bands, plenty of food and a night of Honor Fighting Championship action under the lights.
The process of setting up the venue for the event is a monumental undertaking. Caudill was in town for three days prior to the event, getting everything ready to put on a show that entertains fans beyond the action in the octagon.
"There is so much involved with a four-hour event," Caudill said. "But I love it when it comes together like this and we get the kind of response we got from this community. Our production is top-notch, and we work hard to create an energized atmosphere."
Many of the fans on hand were there to see local fighter Lucas Mast making his professional debut. Others were there to support a number of local fighters from Common Ground, and many more were simply interested in taking in the action as a whole.
Common Ground's club members included several who were making their mixed martial arts debuts. Former Hiland basketball star Scott Troyer made his debut against Preston Bowman, where Troyer wowed all of his friends and fans with a quick victory.
Big John Miller of Fredericksburg also made his debut and made quick work of Dylan Hennebert in the heavyweight division. Brian Cadle of Uhrichsville also earned a win, defeating Jonathan Wood, and Wooster's Eddie Flinner finished out the amateur night with a win over Alec Price.
"The nerves were starting to build up," Troyer said before his inaugural fight. "I wasn't nervous until the day of the fight, but I was able to calm myself down and focus. I felt a big rush when everyone was cheering for me and my name was called out. I felt like the whole place was here for me."
Troyer said many people view him as a quiet young man, so he believes some would be surprised to see him in the octagon battling in such a physical way. However, he said MMA fighters are far from violent. He said it takes great discipline to join the MMA world.
"Most of these guys are just regular guys," Troyer said. "There is just a lot of respect among all of these guys."
The 33-year-old Miller loomed over his opponent. Having picked the sport up at an older age than Troyer, who graduated two years ago, Miller said the sport provides a way for him to keep in shape. He built a relationship with Common Ground through his children, who participate in the jiu-jitsu there as a way of learning self-defense. He saw Mast fighting and found it intriguing.
To have his personal debut become a success was exciting for Miller.
"My coaches and teammates gave me a lot of confidence that I could get this done," Miller said. "I heard the crowd roaring, but you block that out, but it wasn't easy because I didn't expect there to be so many people. It feels unbelievable to step in and win right away."
The seven amateur bouts led up to the two professional bouts, the first one featuring a quick-strike knockout punch thrown by John De Jesus that sent Josh Rohler to the mat in a fierce rematch that De Jesus won by decision several months ago.
The night culminated in the main event, featuring former Hiland graduate Lucas Mast, who was making his professional debut after a highly successful amateur career. Mast's first professional match would not be easy, squaring off against Bryan McDowell, who brought a lot of experience into the ring.
The two battled through three five-minute rounds. Mast took the first round, McDowell won the second and had Mast on the ropes, and after changing positions on top throughout the final period, McDowell gained the upper hand late and went to work, opening up a large gash on Mast's forehead. Mast would make it through the round, but McDowell would score the victory via unanimous decision.
McDowell was especially respectful following the match, one in which he said he was going to "stop the hype train" that Mast had built coming into the event. After doling out classy words of praise for Mast and his effort, the fans' jeers turned to cheers as he left the octagon a winner.
For Mast it was a disappointing debut but one he felt would help him learn and grow as an MMA fighter.
"This is my first pro fight, in just my third year fighting," Mast said. "I'm not going to make any excuses. He was more experienced than me, but I should have been more disciplined than I was with angles and striking, but I'll be back. The last time I lost a fight I won seven in a row."
As for the way the community rallied around him and turned out for the event, Mast said it was an unbelievable experience as the crowd chanted his name throughout the three rounds and energized the place.
"It was incredible," Mast said, "just amazing. I can't thank everyone enough for coming out to support me and the guys from Common Ground."