Ohio Mennonite Relief Sale raises $300,000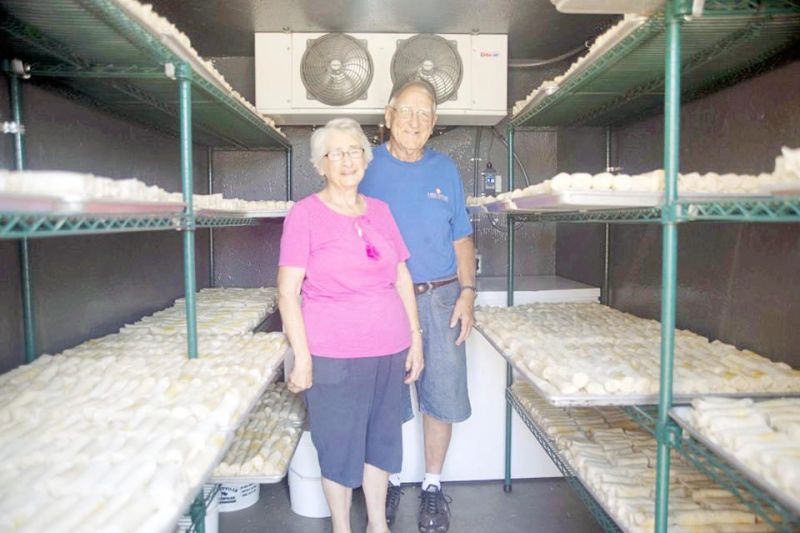 The Relief Sale executive board met recently to go over the results from the 2019 event that took place Aug. 2-3. Although funds are still coming in, it appears as though it was another banner year for the Ohio Mennonite Relief Sale.
The 54th Ohio Mennonite Relief Sale raised $300,000 this year for the relief and community development work of Mennonite Central Committee.
There was a bit of sadness in saying goodbye to a pair of longtime volunteers for their many years of work.
After serving as Relief Sale chair and wood auction coordinator, Rich Horst of Orrville is retiring from the sale after 30 years. He and his wife, Laurel, have worked to collect and catalog hundreds of items every year.
Through Joe and Ruby Shrock of Massillon, the long tradition of authentic Laotian egg rolls has been preserved. After taking over for Khamphanh Phaphouvaninh, Joe and Ruby Shrock coordinated the preparation of the labor-intensive dish beloved by so many. For the last time this year, they supervised the three-day process of preparing the egg rolls. This year nearly 40 volunteers helped roll the 5,500 egg rolls, all of which sold out Saturday afternoon.
With quilt auctions cropping up everywhere, the board decided this year to try something different, and it appeared to be a great decision.
Due to the many other benefit sales in the area and changing tastes, quilt auction prices had declined in past years. To add more opportunities for remote bidders, online bidding was added to this year's quilt auction. In addition a select number of quilts were given an eBay-style "Buy It Now" option where the quilts could be purchased at a set price before the auction.
Out of 169 donated quilts, three sold through the "Buy It Now" method while 13 sold online, going to California, Texas, Massachusetts and Ohio. Approximately 40 remote bidders registered to buy. The entire quilt auction totaled over $65,000.
The live auction featured plenty of items and brought in a strong following. Selling in the wood, tool and general auction were more than 400 items. Among them was a 2016 Dodge Caravan Mini Van that was donated by Kidron Kars. Purchased by a local business, the van topped the sale at $15,250.
Along with a variety of tools and Amish furniture, an installed garage door, a five-night stay at Carlisle Inn, a Home Appliance Company gift package worth $4,000, an electric bike and a Ventrac mower deck were sold to raise funds for Mennonite Central Committee.
The total for the wood and tool auction was nearly $61,000. Online bidding was not available for this auction.
As always, small change added up to some big fundraising through the annual My Coins Count program, proving that spare change can make a difference. The Ohio My Coins Count program continues to be successful, especially due to donor matches set up at various churches.
Of special note is the friendly competition between Maple Grove Mennonite Church and Evermore Church in Hartville. The churches continue to compete to see which church can donate more funds for Mennonite Central Committee's water projects.
A water pump trophy is on the line, and the winner gets to display it in their church for the year. Over the years hundreds of thousands of dollars have been raised by these two friendly rivals.
Funds and matches are still coming in, but the 2019 My Coins Count total is anticipated to be more than $140,000.
For the past several years, the Ohio Relief Sale has made an effort to "go green" and recycle most of the trash generated. Through the efforts of Craig Mast and Terry Shue, the carbon footprint at the event has been reduced significantly. Trash is collected via bicycle and needs to be sorted afterward. Previously the trash used to fill an entire dumpster and now is only a fraction of that amount.
More information about the Relief Sale can be found at www.OhioMccReliefSale.org or www.mcc.org. For additional questions, call board chairperson Sandy Miller at 330-464-8867.