Pirates come up big late in downing Knights 59-55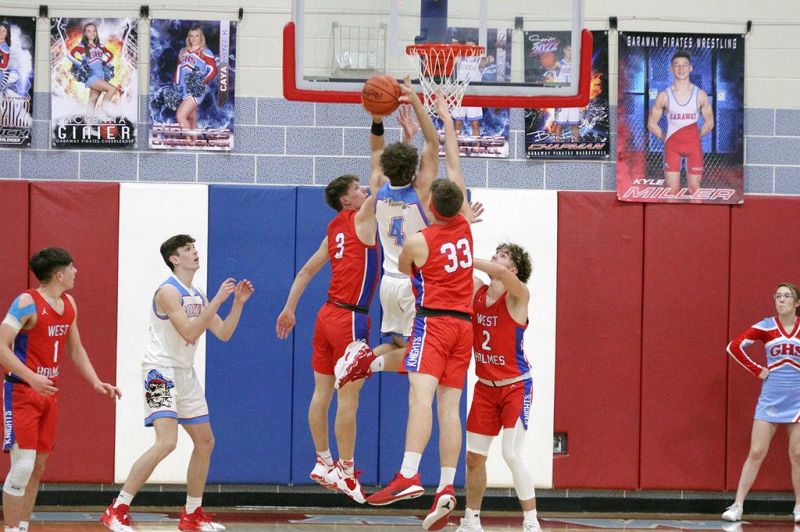 Tournament hoops in December? That was exactly what the Garaway Pirates hosting the West Holmes Knights boys basketball team felt like in what would turn into a 59-55 Garaway win on Dec. 23.
"What a game," Garaway head coach Terry Rowe said. "That felt like a tournament atmosphere with a very quality opponent with two extremely quick guards. We had to play really well, and we will definitely take the win. It didn't come easily."
West Holmes coach John Miller, filling in for head coach Don Hall, said while his team lost, he couldn't say enough about the effort they put forth against a great opponent.
"We played so hard start to finish," Miller said.
The four-point loss was the third game out of three played by a Knights team this season that had its first seven games rescheduled because of its football playoff run. Miller said his team isn't going to use that as an excuse, noting their kids have worked hard and will find ways to win those tight contests in the future.
"We're not using that as an excuse," Miller said of the delay in real games.
Led by Channer Wells, the Knights forged a 14-7 lead through one quarter. However, things were about to flow in favor of the Pirates, who produced a nearly flawless second quarter.
Brendan Chapman's and-one and Drew Mullet's triple quickly got the Pirates to within two. Wells hit a jumper, but Garaway responded by tying the game on four points from Alexander Roden. Then came a game of threes with West Holmes getting two from Wells and Blake Morrison and Garaway getting a pair from Mullet and Logan Yoder.
Garaway eventually pulled ahead 27-25 on Gabe Amicone's put-back, then went up 30-26 on Alexander Roden's and-one. The two teams traded free throws before Wells hit a long buzzer-beating 3-pointer to draw the Knights to within 32-31 at the half. Garaway had produced a 25-point quarter, a quarter in which it barely missed a single shot.
Chapman hit two jumpers to start the second half, and Yoder hit two free throws, but Morrison drove for a pair of scores. Brady Roden's lay-up and another Mullet trey gave Garaway its largest lead at 43-35, but over the final minute of play, Morrison hit two free throws and Wells followed suit, and when Wells made a steal and knocked down a lay-up as time expired, it left Garaway leading 46-44 heading into what would be an exciting final period.
The two teams literally traded scores and misses most of the final period. Trailing 54-51 with 2:55 left, West Holmes' Brock Zimmerly found Schultz with a terrific pass to trim Garaway's lead to 54-53. When the Knights got a stop and Wells split two free throws, it was knotted at 54.
Coming out of a time-out, Garaway ran a perfect play for Mullet in the corner, his 3-pointer finding home along with a foul. He missed the free throw, but that lead would stick, not without all kinds of excitement, starting with one of the wildest plays any fan could imagine.
With Garaway leading 57-55 with 1:05 to play, Morrison's driving lay-up rolled everywhere on the rim but in, and Alexander Roden grabbed the rebound. He was fouled but missed his one-and-one, and the Knights flew down the floor, where a lob pass to Zander Schultz at the top of the key at West Holmes' bucket was knocked away by Alexander Roden. What ensued was a frantic scramble to try to gain possession as pretty much everyone who was checked into the game scrambled after the loose ball.
The ball careened toward the scorer's table, where Zevin Proper looked like he might grab it, but instead it was knocked out of his hands to the far corner of Garaway's side of play. Once again Proper reached for the ball, but it was swatted away, scooting across the lane to the other side of the floor, where Proper's great effort to save it from going out of bounds saw him line a pass to, of all people, Alexander Roden, the guy who started it all.
The play took about 20 seconds and left Roden at the charity stripe with 29 seconds to play and Garaway up by two. Roden doubled that spread by sinking both free throws, the teams traded turnovers, and with eight seconds left, Wells' last-gasp drive rolled off the rim, allowing the Pirates to finally claim the win.
"We made enough plays down the stretch to get a win," Rowe said. "I thought we got the ball to Alex and Brady (Roden) late in the game down on the block, and they made some really good decisions with the ball."
Rowe said while this team doesn't have a big-time scorer, it is loaded with close to 10-deep who can score eight to 12 points and even more on any given night, making them tough to defend.
"The difference tonight was they hit big shots down the stretch when they needed them, and we came up just short," Miller said. "Kudos to them. They made some tough shots. Our game is getting to the rim, and we have the guards who can get to the paint. We wanted to attack and didn't get a couple of calls we wanted, but that's basketball."
With 10 days off on the schedule, Rowe said his team could use a break.
"We get a chance to rest up (Garaway was missing center Jarrett Wallick) and work on some fundamentals," Rowe said. "Let's get ready for 2022."