Pirates control Hawks in early boys hoops showdown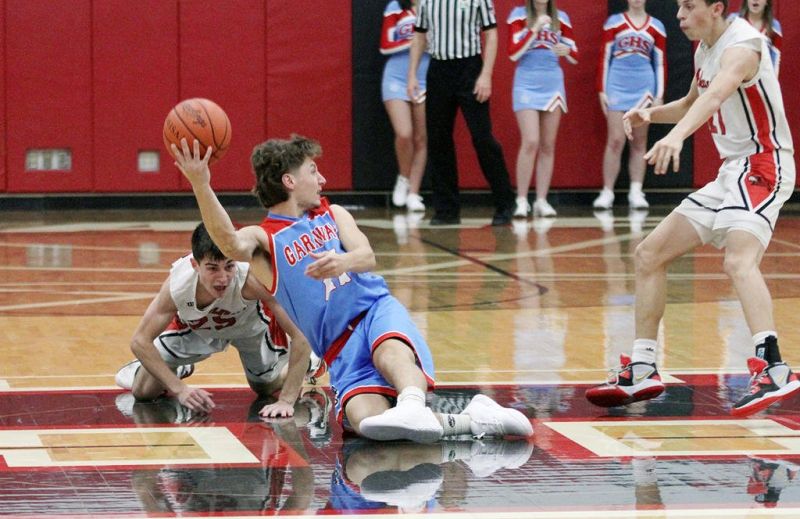 In basketball, it's not how you start, it's how you finish.
The Garaway Pirates found success in both halves of that equation in downing the Hiland Hawks in boys basketball at the Reese Center at Hiland High School Tuesday, Dec. 6.
The Pirates jumped on top early, then played well down the stretch to hold off the Hawks in a 59-42 victory that was owned by Garaway start to finish.
"I thought our kids did a very good job of taking away what they wanted to do on offense, and we were good enough with the basketball to make some plays, and our kids played strong around the hoop and finished when we had to," said Garaway coach Terry Rowe. "It was a good team win and we played 11 guys."
Garaway stormed out to a 9-2 lead in a strong team effort in the early going, taking a 15-9 lead on a Gabe Amicone score in the paint, only to see Sammy Detweiler drill a triple at the horn to end the first half with Garaway up 15-12.
An early quick start to the second quarter helped Garaway rebuild its lead. Drew Mullet hit a trey and then made a steal and fed Alexander Roden for a score. After Detweiler hit a free throw, Jenson Garber's 3-pointer pushed Garaway's lead back to 10 at 23-13.
"We can't afford to put ourselves into a hole like we did tonight, especially against a team that guards as well as Garaway does," said Hiland head coach Mark Schlabach. "We need to use this game to learn how to compete harder for longer periods of time. That was probably the biggest thing. We had stretches where we played well, but we didn't compete for as long as we needed to."
Hiland clawed back with a drive from Carson Habeger and two Detweiler free throws, but Garaway ended the half on a 7-2 tear that included three points from Blaine Raber and a perfectly timed lob pass from Brady Roden to Garber that just beat the horn for a 30-19 lead.
Back-to-back steals and scores from Alexander Roden and Mullet pushed the lead to 34-19 to begin the third quarter, and after Nick Wigton hit a trey for the Hawks, Alexander Roden scored inside again to push the lead to 14. Hiland would fall behind by as many as 18 points in the third quarter, but in the fourth the Hawks would make a defensive push, getting a Habeger triple, two Detweiler free throws, a steal and score from Connor Beachy and a Habeger jumper to trim the Garaway lead to 51-41.
Amicone then made a pair of big plays, scoring on a put-back and making a steal to squelch Hiland's last-ditch effort to make a comeback.
Logan Yoder would give Garaway four late points to extend the lead late and put this one in the win column for the Pirates.
"I thought our bench was tremendous tonight, stepping in and giving us big minutes, maintaining the lead and keeping up strong defensive pressure," Rowe said.
"Once they got the lead late, they did a nice job of spreading the floor," Schlabach said of the Pirates. "They are as talented as anyone we play this year."
Both coaches were diplomatic, neither putting too much emphasis on a game that comes this early in the season despite the magnitude of the rivalry.
Rowe said that while it was a big win, it's simply a step in the season progression and they won't put a lot of emphasis on the win, although he did like the way his team played smart basketball and worked to get good shots in the paint by showing patience.
Schlabach was similar in his view of the game, noting that it is the third game of a long season.
"We've got a meat-grinder of a schedule to begin the year, and this was another good test for us," Schlabach said. "We as a team never overreact to something that happens in the third game of the season, whether it's good or bad. We need to learn and build our toughness on both ends of the floor from this experience."
Rowe said his team still has much to work on having practiced just two weeks following a lengthy football season that chewed well into practice time, but after two games, he said there is much to like about this group.
"We're still in November mode," Rowe said. "We were putting some things in last night that a normal team puts in the first or second week in November."
Garaway was led by Alexander Roden's 19-point night on 7-of-10 shooting, while Garber added nine, Mullet and Jarrett Wallick each scored seven, Yoder and Amicone both pitched in with six and Raber scored five. Detweiler paced the Hawks with 13 points, Habeger added 10 and Wigton chipped in with nine.