Pirates get 2 wins, Lady Knights surge back into OCC lead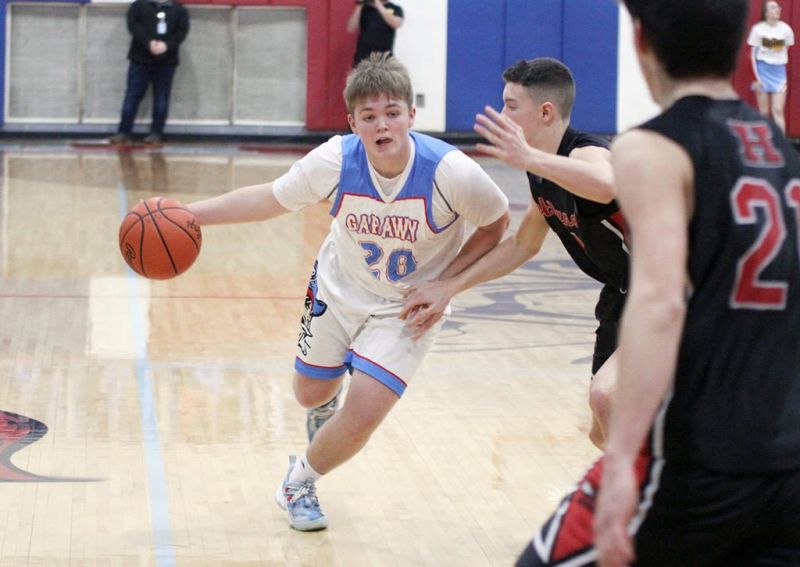 Pirates grab two huge IVC wins over Generals, Trojans
Garaway needed every bit of savvy it could muster in facing Ridgewood on Friday, Jan. 21, especially since it was a road game in a gym that is tough to win in.
The Pirates were able to do so, grinding out a 61-57 win to keep them in the hunt in the Inter-Valley Conference South chase.
Garaway got a great balanced attack, led by Brady Roden's 18 points. Logan Yoder added 16 and Alexander Roden tacked on 14 for Garaway while Ridgewood was paced by Kaden Bradford and Dalton Patterson with a dozen apiece.
On Jan. 24 the Pirates faced another monumental task in trying to tame the Tuscarawas Valley Trojans, another formidable Inter-Valley Conference South foe.
Garaway got a huge effort from Alexander Roden and Drew Mullet, who scored 24 and 31 points, respectively, to down the Trojans 69-55. Logan Stotzer notched a game-high 25 points for TV.
Garaway now stands at 10-3 overall and 6-2 in league play.
Knights keep plugging in OCC
In traveling to Mansfield Senior on Friday, Jan. 21, the West Holmes Knights knew they would have to face an athletic Tygers team looking to stay in a wide-open Ohio Cardinal Conference hunt.
In a back-and-forth contest that saw plenty of twists and turns that featured several lead changes, it would be West Holmes that would find the magic elixir at the very end of play that would help them steal a 58-54 win.
Senior grabbed the early lead at 14-7 through one quarter before West Holmes went on a torrid pace to capture the lead in the second quarter, at one point forging a double-digit lead before heading into the half leading 27-21.
Momentum then swung the way of the Tygers, who pushed ahead 43-39 through three quarters, but West Holmes then got on a roll, moving ahead by eight midway through the fourth.
Then the Tygers came storming back one more time, inching back to earn a tie at 54. After the Knights went back door and threw the ball away with 30 seconds to play, Senior decided to go for the final shot. With time winding down, a drive and pass to the low post were read perfectly by Mason Wolfe, who quickly got it to Blake Morrison, who launched a long pass to a streaking Channer Wells, who banged into a pair of Tygers on his way to the hole, in the process tossing in a spinning runner that fell with 1.3 seconds to play.
Senior tried to go deep but threw the ball out of bounds and was forced to foul Wells, who produced two free throws to seal the win and even the Knights' record at 6-6, 3-4 in league play.
Hawks can't hang with WRA's college team
While the final score of Hiland's contest with Western Reserve Academy on Saturday, Jan. 22 was a nine-point spread, the Hawks truly were outmatched by WRA's nine Div. I college recruits, falling 48-39.
Hiland's Grant Miller hit a couple of 3-pointers early on to give the Hawks hope, but WRA's length and athleticism allowed it to shut that down, and it was all WRA thereafter, as Reserve jumped out to a 13-11 lead after one quarter.
Over the next two quarters, the Hawks managed just eight points while WRA went to work, scoring 12 in the second quarter before exploding for 21 in the third quarter to push out to a huge 46-18 advantage.
With that lead intact, WRA unloaded the benches. But give Hiland credit. They never stopped playing hard, outscoring WRA 20-2 in the final eight minutes to do some cosmetic surgery on the final score.
Sammy Detweiler scored 17 points to lead the Hawks, 13 of those coming in the final quarter, while Miller added eight.
Lady Knights keep their lead in strong team effort vs. Tygers
Now that it has regained the lead in the Ohio Cardinal Conference courtesy of a Wooster loss, the West Holmes Lady Knights delivered a strong 43-37 team win over a pesky Mansfield Senior team on Jan. 20.
West Holmes used a strong defensive effort to push out to a 22-13 halftime lead. Then it was a matter of fending off every challenge Senior could muster, and West Holmes did just that.
The Tygers did draw to within five points to start the fourth period but couldn't ever completely close the gap. The main contributor in keeping the Lady Knights in front was Kinsey Patterson, who hit some big second-half shots.
Patterson ended the evening with 15 points to go with three steals and a pair of assists. Ella McMillen scored 14 to add to her three assists and two steals, Claire Reynolds scored seven, Melanie Fair added five points and eight boards, and Allie McMillen grabbed five steals as West Holmes moved to 14-2 overall and 8-1 in OCC play.