Pirates get huge plays in walloping Mustangs 59-15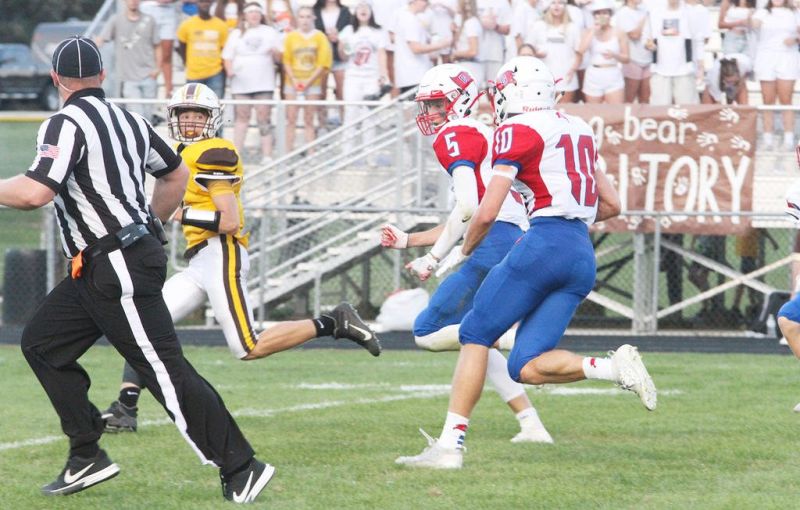 The Garaway Pirates continue to be a first-half football team, mainly because they have been destroying teams early and playing their starters sparingly in the second half. That trend continued Friday, Sept. 24 when Garaway handled Claymont 59-15.
That game saw the Pirates get 39 first-half points in the route.
Quarterback Logan Miller started the scoring less than two minutes into the contest by finding Alexander Roden for a 13-yard scoring strike, and Jayce Wallick's extra point gave Garaway a 7-0 lead. The lead grew to 13-0 when Jarrett Wallick made an interception and roared in for a score, and after Yoder's 1-yard scoring run, Garaway led 19-0. Claymont's Dane Fawcett then took the ensuing kick and raced 78 yards for the Mustangs' first score, closing out the first period with the score at 19-7.
The Pirates took command in the second quarter and never looked back. On the first play from scrimmage of the second quarter, Yoder found J.D. Young for an 87-yard touchdown catch and run. Ethan Miller then plunged in for a pair of 1-yard scores, and the Pirates were in command at the half by a score of 39-7.
A Yoder TD pass to Roden from 9 yards out and Claymont's Alec Terakedis' 74-yard touchdown romp moved the score to 46-14 through three quarters, and the Pirates capped the scoring by getting a Gabe Amicone 5-yard score and Jayce Wallick's 6-yard TD scamper in the fourth quarter.
Garaway gained 479 yards of offense compared to Claymont's 185 yards, with much of that advantage coming from Yoder, who connected on 11-of-14 passes for 289 yards and three touchdowns. Miller ran 16 times for 97 yards, Amicone added 48 grounds yards and Jayce Wallick produced 19 more. Through the air Young caught only two balls, but they went for a total of 120 yards. Roden hauled in four catches for 99 yards while Jenson Garber added 53 receiving yards on four catches. For Claymont, Brady Moreland had one catch for 60 yards.
Defensively for Garaway, Sam Page recorded five solo tackles while Jarrett Wallick added three tackles and a sack. Young also added a sack.
The Pirates currently stand at 6-0 and are ranked at No. 4 in Div. V Region 17, one of six teams still undefeated in the region.
In volleyball play, a short-handed Lady Hawks team took on Ridgewood on Sept. 28 and put up a fight before falling 25-23, 25-19, 25-21. In defeat Hiland got 11 assists. Ava Troyer had seven kills, Anika Schneider and Gracie Keim added seven kills apiece, Maddy Miller had 13 digs, and Troyer had three blocks.
Garaway took Malvern to the cleaner on Sept. 28, delivering a 25-4, 25-14, 25-12 loss. Laiken Wallick recorded 10 kills, Morgan Schlabach added eight kills and 13 digs, Jordyn Fearon picked up 12 digs, Shelby Gerber had 25 assists and three aces, McKenzie Miller added six aces, Nicole Custer had two blocks, and Meghan Petitte had two blocks, six kills and three aces.
Garaway also waxed Newcomerstown 25-10, 22-25, 25-8, 25-7. Petitte recorded six aces, Wallick posted 15 kills and 13 digs, Schlabach had 11 kills, Gerber posted 10 digs to go with 25 assists, and Custer produced six blocks.
West Holmes faced a tough opponent in Wooster on Sept. 28, and the Generals took care of business in three games, defeating the Lady Knights 25-13, 25-22, 25-19.
In defeat, WHHS got eight service points from Jerzey Morris, six points from Ally Baker and four from Brynlee Reed, with all three recording a pair of aces. Harmony Mast collected nine kills, Ella McMillen added eight and Zaylie Shultz added seven. McMillen had 10 digs, Mast and Shultz each had six, and Reed and Baker recorded five and four digs, respectively. Reed and Daphne Alexander had two blocks apiece.
Soccer play saw a potent offensive effort from Crestview Local that led to a 6-3 loss for the Lady Knights. Crestview took a 3-1 halftime lead and was never threatened. Allie McMillen scored all three goals for West Holmes, with Sarah Irwin adding an assist. Bri Parker grabbed a dozen saves in goal while Mia Halverson collected two saves.
West Holmes defeated Zanesville 4-1 in girls tennis. After falling to Zanesville 3-2 earlier this season, the Lady Knights turned the tables in a big way. Winning at first singles was Madison Baker 6-4, 6-4. Second singles also was a win for Arora Chaney, who won 6-1, 5-7, 6-4, while Sydney Rolince took third singles by a count of 2-6, 6-1, 6-4. Cuylee Troyer and Laci Snyder fell at first doubles 6-2, 6-0, but the second doubles team of Brylie Rickley and Addison Christine emerged victorious 3-6, 6-0, 6-2.
A day earlier the Lady Knights topped Kidron Central Christian 5-0. Baker defeated Sadie Miedel 7-5, 6-4. Chaney took down Kaitlyn Peck 6-4, 6-4, and Rolince won by forfeit. In second doubles play, Rickley and Christine defeated Maylee Hummel and Harper Shue 6-2, 6-0, while Snyder and Troyer snuck past Hannah Holton and Kara Jones at first doubles 6-4, 2-6, 7-5.
In golf action the Garaway Pirates advanced to district play by placing second at sectionals with a team score of 315. Charles Beachy fired a 1-over-par 73, Trace Gibson shot a 74, and Carter Miller and Caleb Meek each added 84s. Beachy and Gibson placed second and third as individuals. The Pirates advanced to play districts at Eaglesticks Golf Course in Zanesville with a date to state on the line.