Pirates up to the challenge in knocking off Braves 34-19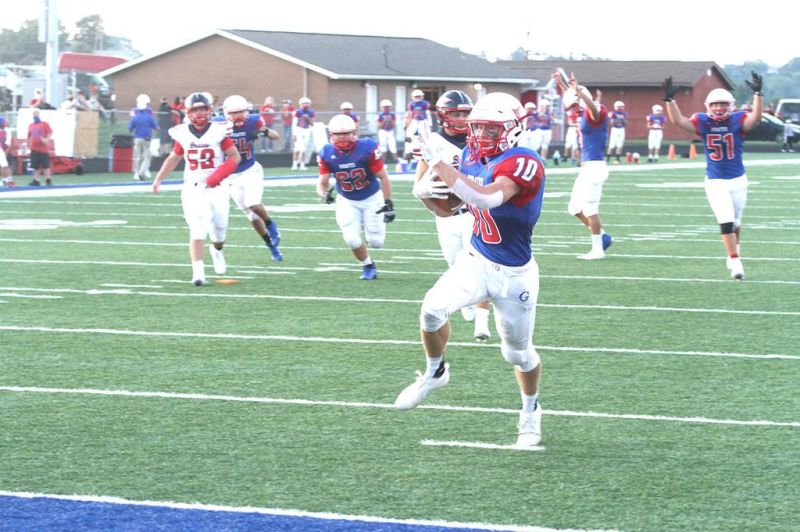 The Garaway Pirates came into week three not having been challenged in a pair of lopsided early-season wins.
Jason Wallick's crew knew that was all about to change when Inter-Valley Conference foe Indian Valley rode into town on Friday, Sept. 11, but a strong team effort led the Pirates to a 34-19 win.
"We made some key adjustments after the half, and our defense really stepped up big the second half," Wallick said. "We had some guys step up and play, and we got a great team win. This was a special win for our seniors, and it felt like some of our young kids grew up some tonight. It's something we can build off of, and it is always special to beat a program that has such a great history."
The two teams cautiously traded possessions early, and after the Pirates converted on a fourth-and-one, quarterback Garrett Newsome found JD Young across the middle for a 17-yard scoring strike to put the Pirates up 7-0.
On the ensuing series, Sam Page earned a sack and forced the Braves to punt, but the punt ended up inside the Garaway 1-yard line, and after Indian Valley forced a quick punt, they took advantage of the short field. Quarterback Mason Love sprinted 21 yards to pay-dirt, but a missed extra point left the Pirates leading 7-6.
Indian Valley's joy quickly turned to frustration when Logan Yoder took the following kick and sailed 87 yards, taking the kick up the right side, scooting across the middle of the field and turning on the jets down the left sideline for a 13-6 Pirates' lead.
After a couple of long runs from Andrix Bowersock, Cole Lancaster plunged in for a score from inches out to draw the teams even at 13-all. The Pirates took the ball to midfield but coughed it up. However, Indian Valley had a long pass completion nullified on a holding penalty and ended up punting it back to the Pirates.
The teams went into the locker room at intermission locked in a tie, but momentum quickly swung Garaway's way when sophomore cornerback Alexander Roden picked off a Love offering on Garaway's 30. Moments later, Newsome roasted the Braves' defense on a 70-yard TD sprint down the left sideline, giving the Pirates a 20-13 lead they would never relinquish.
The two teams buckled down defensively before Logan Yoder would again make his presence felt with another big punt return that had Garaway in business at Indian Valley's 27. Garaway would capitalize when Ethan Miller's 3-yard score put the home team ahead 27-13, giving the Pirates some actual breathing room.
Indian Valley didn't let them breathe too easy with Bowersock powering in from 4 yards, appearing to carry the majority of Garaway's defense into the end zone to trim the deficit to 27-19.
A couple of Newsome chunk-yardage carries and a 10-yard pitch to Ethan Miller moved the Pirates quickly inside the IV 20-yard line, and on third-and-eight, Newsome faked a handoff into the line, rolled left and made a sweet juke move to dance into the end zone to push the lead back to 34-19.
IV's Trevor Myers gave the Braves great field position at their own 44. However, needing a score with time becoming a factor, Love dropped back and had his pass batted up in the air by Jarett Wallick. The ball settled into the hands of fellow lineman Brady Starner, who rumbled 7 yards, thwarting the drive.
"I saw the ball pop up in the air, and I thought, 'Oh my goodness, it's going to fall right to me,'" Starner said. "I caught it and just ran straight as hard as I could. That was the first time I've ever gotten a ball in an actual game."
Amidst all of the joyful celebration with his teammates was some good-natured ribbing about his speed, but Starner was more than happy to take the ribbing.
The Pirates were forced to punt, and this time it would be Zack Bickford who would make the interception for Garaway. Again, the Pirates punted, but Jared Swartzentruber recorded back-to-back sacks for the Pirates, securing the win.
For the Pirates seniors, it was a bit of redemption, as Indian Valley has beaten them in past years, although they were respectful to their opponent and gave credit to the entire team.
"It was a great team win," Starner said. "We have so much respect for that program. They have pounded us, so it felt really good to finally get a win against them."
Bickford, also a senior, said the win was most gratifying because of the way the team played as a whole. The defensive back gave all the credit to the Pirates' interior lines on offense and defense, noting their effort was what set the tone for the night.
"I can't give enough props to our lines," Bickford said. "It feels like on this team nobody has to go out and make big plays all the time because we have a lot of guys who can step up. We definitely didn't have any problem getting up for this game. Our coaches put it on us and said, 'If you want to win, you have to go out and execute,' and we did."
Newsome was just 9-of-19 through the air for 127 yards and a score, but he did much of his damage with his legs, reeling off 164 yards on 27 rushes. Miller added 22 yards and a score on the ground while Jeffery Fehr snared three passes for 57 yards, Jaydon Miller hauled in two for 34 yards, Bickford had two for 18 yards and Young had the 17-yard TD score.
Garrett Hershberger had a monster game on defense, racking up 12 solo tackles, while Logan Yoder added six stops and Jaydon Miller recorded four tackles.
Love went 5-of-13 for 63 yards for the Braves while Bowersock was terrific in the backfield, rushing for 138 yards and a score. Myers added three catches for 43 yards in the loss.