Pitching reigns supreme as Pirates win 3 straight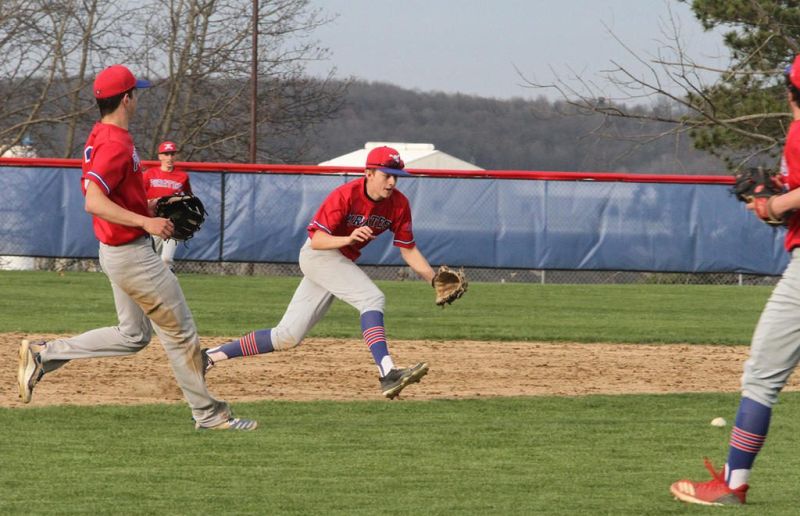 When Garaway hosted Sandy Valley on Friday, April 22 in Sugarcreek during an Inter-Valley Conference baseball affair, it was one of those games that felt dangerous for the Pirates. Despite winning 5-2, it felt like the Pirates had opportunities to pull away and simply couldn't put away a stubborn Cardinals crew.
However, with so many games getting washed away by foul weather, Garaway head coach Justin Elmore was happy to get one in and also was pleased with the team effort in the victory.
"We came into this season green. We've got a lot of guys playing key roles who don't have a lot of varsity experience, and we have had so many games canceled due to weather," Elmore said. "It's been tough fighting the weather, but it's been tough on everybody. I thought overall we played a pretty solid game across the board."
Alexander Roden started on the mound for Garaway and picked up the win, but pitching coach Nick Schwartz said Roden hasn't seen a lot of mound time this season due to all the rainouts and the staff trying to work in a bevy of pitchers who need to find work.
Roden performed well on the mound, but the Pirates did find themselves trailing 1-0 in the second before Roden helped himself in the second, tying the score by inducing a walk and stealing second and third before racing home.
The Cardinals would regain the lead in the third, but Garaway stormed back with a three-spot to claim a lead it would never lose. Payton Keller singled to start the inning, Doran Mast drew a walk and Javin Beachy tied things at 2-2 with a single. A Cameron Coblentz single and an error allowed the Pirates to take a 4-2 lead.
Garaway added a big insurance run in the fifth when Mast walked, Beachy sacrificed him to second and Coblentz doubled Mast home.
After Roden had given the Pirates five strong innings, Andon Keller came on and threw two innings of relief work to earn the save. Keller looked strong in retiring all six hitters he faced, keeping the ball down and pounding the strike zone.
Coblentz and Payton Keller each collected a pair of hits for the Pirates while Roden tossed five innings and allowed four hits while striking out four. Keller struck out three of the six hitters he faced.
"I liked the way Alexander threw the ball," Elmore said. "Outside of a couple of relief appearances, that was his first start of the season. It was good to see him go out and perform."
As for Andon Keller, the senior received high praise from Elmore, who said Keller's versatility to throw in any situation is a nice piece to have.
"He threw a great two innings for us," Elmore said. "He came in, he pounded the zone and came up huge for us."
That was music to the coach's ears after he watched his bullpen implode to allow 10 runs in two innings in a loss to Tusky Valley a game earlier.
"That was a big point for us to have Andon come in and put this one away," Elmore said. "We threw well, we played great defense and it was a great night for us all-around."
With all the make-up games on the schedule over the next three weeks, the Pirates should be able to get their hurlers plenty of time on the mound.
"I don't know if we will get to practice over the next three weeks, but we sure are going to have plenty of opportunities to play games, and it should be challenging but fun for us," Elmore said.
Kaiden Mastri was a tough-luck loser for the Cardinals. He threw well, going five innings, striking out eight.
"We knew runs would be at a premium against Mastri," Elmore said. "He's a tough pitcher. Fortunately, we took advantage of mistakes and did a great job on the bases. Once we got through the order once, we kind of got the offense going."
The Pirates got the busy schedule off to a great start by dialing in and defeating Ridgewood 4-1 on April 25. Brady Roden went the distance on the mound, giving up just four hits while striking out nine. Andon Keller led the offense with two hits and two RBI while Alexander Roden added two singles to help the Pirates improve to 7-4 overall and 3-3 in league play.
Next up was a date with Harrison Central, where Zach Misko tossed a supreme game to propel the Pirates to an 8-1 victory.
Misko went six innings, giving up just one hit while striking out 10. Keller led the Pirates offense with two hits and three RBI. Beachy singled twice and drove in a pair of runs while Brady Roden doubled and singled. With the win Garaway improved to 8-3.