Quartet of STIR participants highlight a busy BDD summer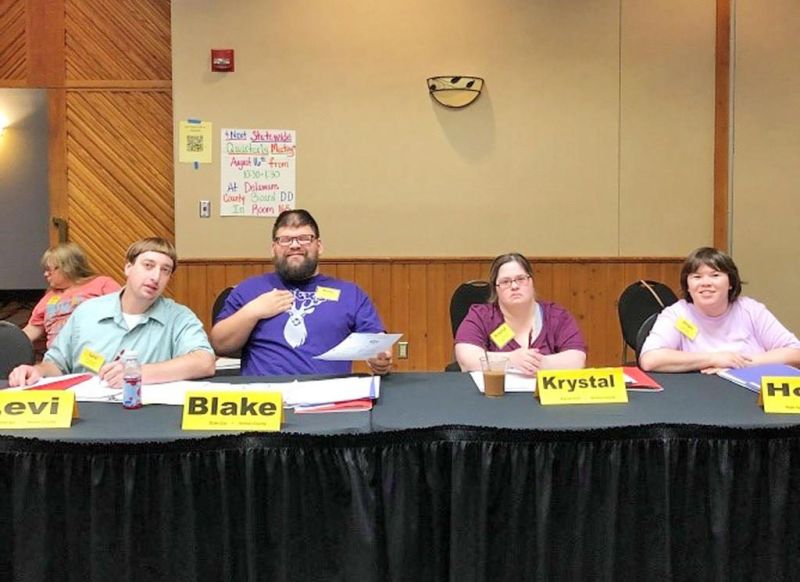 School may be out for the summer at the Holmes County Board of Developmental Disabilities campus, but that doesn't mean everything stops.
The BDD continues to get a great deal accomplished as it winds its way through the summer months in preparation for the new school year.
According to Kathleen Winkler, individuals in Habilitation Center have added some spice to their summer by volunteering at the Holmes County Dog Shelter, Harvest Thrift Shop and by helping distribute lunches at Killbuck Elementary School.
"It is hard to believe that June is gone and July is wrapping up," Winkler said. "Time flies when you are having fun. Harvest Thrift Shop has also been sending us bins of toys which we sort and bag like items. Recreationally folks have been going bowling, shopping and out to eat."
Lynn Hope Industries continues to have a strong partnership with local contracting customers. The busy team of employees at LHI are currently working on orders for JIT, Denco Marketing and Wayne Dalton. The group just completed orders for Centor and Gasser Chairs.
"Now that summer is here and demands have eased up, it has allowed employees to explore new interests and some of their favorites such as fishing, crafts, games, movies, out to eat and shopping," said Sherry Mackey, production manager at LHI. "These are just a few of the things that we are able to explore before our busy season starts in August. Once again, on behalf of Lynn Hope Industries and the employees, we would like to thank all of our customers for the opportunity to be successful."
Another area where the Board of DD continues to make strides is in its Steps Towards Independence and Responsibilities program.
According to STIR director Cindy Boals, team members Hope, Blake, Levi and Krystal attended STIR conference/training at Deer Creek State Park Lodge in Sterling, Ohio. Boals and Rachel Day went as the groups support allies.
"During this conference we learned how to use our voices to stand up for ourselves in a positive manner and that our thoughts and opinions are important," Boals said. "In group activities and role playing, we worked out different problems that we all experience in our lives and came up with different ways to solve these problems. The training helped us to understand that we need to learn to budget our money and to make sure that daily living necessities need to be paid for before we plan to go and spend money on having fun or buying extra."
Boals said the event was all work during the day, but when evening rolled around after the training ended for the day, they got to have lots of fun talking and getting to know their new friends from other counties. She added that this group decided the pool and hot tub were great ways to relax at the end of the day, where they spent much time mingling with other participants.
On June 21 all four of the Holmes County participants received their certificate, showing they are Ohio Leaders.
The Holmes County BDD also saw some old faces finding new areas inside the facility while bidding adieu to two others.
Kim Tish has worked hard over the past few years to earn her degree from University of Akron University in social work. As such she has been promoted to an early intervention specialist position with the organization and will work alongside Renee Spencer and Sharon Allison in that department.
"We are excited to have her in that role and having had the opportunity to help her achieve her professional goals," treasurer Curtis Goehring said.
He said the board also is happy to announce Dawn Speegle has been promoted to fill the vacated lead bus driver position that became available with the resignation of Coreena Johnson. Speegle has been employed by the board for more than 20 years, working as a bus driver, direct-care staff and truck driver.
"We appreciate all that Dawn has done over the years and look forward to her contributions going forward in her new position," Goehring said. "We are also excited that Juli Munson is coming on board to fill the role of occupational therapist for us, beginning this school year. She brings with her a long history in the field and is very knowledgeable."
He said Munson is actually returning to the agency in that she was an owner of a company that provided occupational-therapy services to their adult program for several years in the 1990s.
While some new positions are filled, the board saw two specialists end long tenures with the organization.
Goehring said Lynn Allison has dedicated her career to serving children in both the public school and county board of developmental disability systems, noting she was very passionate and devoted to her work and will be missed. Likewise Lisa Davis, who spent the last two years with the BDD as a speech therapist, has stepped down.
"It was a hard decision for her, but in the end she has accepted a position with another employer who is minutes from her home," Goehring said. "She had been driving an hour to work."
Goehring had reason to celebrate, having recently passed the exam to become a Society for Human Resources Management-Certified Professional.
Marianne Mader, Holmes BDD superintendent, said this credential demonstrates Goehring is an expert and leader in the field of human resources. Goehring was recognized for his accomplishment at the June board meeting.
Coming up later this summer, Mader has planned coffee breaks, where over the next few months she hopes to meet with the public over a cup of coffee. Individuals who receive services from the Holmes County Board of Developmental Disabilities Training Center and their family members are welcome.
"These coffee breaks are an opportunity for people to ask questions, learn about future direction, and share their thoughts and feelings," Mader said.
The coffee breaks will take place Aug. 13 from 6:30-7:30 p.m. at New Grounds Café, 2804 state Route 39, Walnut Creek, and Oct. 16 from 6:30-7:30 p.m. at Buckeye Deli, 124 E. Millersburg Road, Nashville.