Shoup wins, Barr and Schaad also qualify, head to district tennis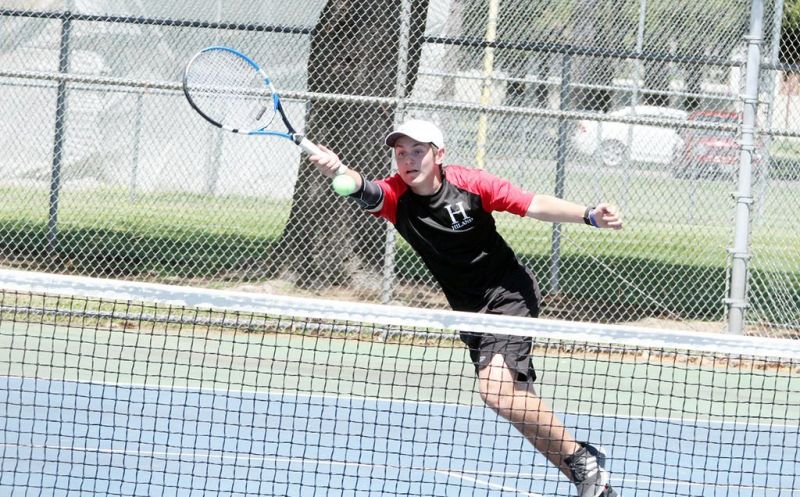 It was a solid but mixed bag of results for West Holmes and Hiland during the Div. II Dover sectional tournament at Dover Park on Monday, May 9. Both teams had some advance to districts, but some close misses made for an up-and-down day.
The good news was Hiland first singles player Garret Shoup, the overall second seed, emerged as the sectional champion while the West Holmes duo of James Barr and Brody Schaad came into the sectionals with the No. 4 seed and made that stand, placing fourth to qualify for district play.
Shoup rolled through the early stages and made the semifinals, ensuring himself of a district berth. He then clobbered No. 4 seed Thomas Kanzelberger of Catholic Central 6-1, 6-1 before posting a solid 6-4, 4-6, 6-1 win over Shane Jackson of St. Clairsville in the championship round.
The tournament was not as kind to West Holmes' first singles player Hunter Ellis, who came in as the tournament's top seed. Ellis drew a bye and then posted a 6-0, 6-0 win over Andrew Damut of Cambridge before running into Jackson.
Jackson dominated their match early, sending Ellis reeling with a 6-1 loss. Ellis seemed to gather himself, taking a 3-2 lead in the second set, but Jackson played consistently and never panicked and handed the top seed a 6-1, 6-4 loss.
Knights' Alex Pringle advanced through round one with an impressive 6-2, 6-0 win over Indian Creek's Kyle Laughery but fell to Kanzelberger 6-0, 6-1. His teammate Marcus Miller couldn't escape the opening round, falling to Maddux Maple of Claymont 6-1, 7-5.
Hiland's Sam Kaufman and Wyatt Freeman both posted solid wins to open the tournament. Kaufman doused Laura Frau of Coshocton 6-0, 6-0 but then dropped a 6-1, 6-2 contest versus Austin Zgurski in round two in a game that was far more competitive than the final score would indicate, with Kaufman creating a host of shots that were just inches outside the line.
Freeman earned a 6-0, 6-0 victory before running into Cambridge's James Gogin. The two engaged in a lengthy opening set, which Gogin won 7-6. His consistent play seemed to wear down Freeman, who eventually fell 7-6, 6-2.
In doubles play, after receiving an early bye, Barr and Schaad went to work in dismantling the team from East Liverpool #2 by handing them a 6-3, 6-3 set-back. Hiland's number-one doubles tandem of Zach Mullet and Caden Howell churned out a 6-3, 6-0 win over Coshocton's number-one team, setting the stage for a Hawks versus Knights showdown for the right to move on to district play. Barr and Schaad did little wrong in taking out Mullet and Howell in a 6-1, 6-1 win.
The duo would move on to fall to No. 2 seed Cambridge 1 by a score of 6-4, 6-1.
West Holmes' number-two doubles team of Trevor Miller and Jacob Millers' day was over before it started, the Knights falling to No. 1 seed East Liverpool tandem Cole Dailey and Preston Dawson 6-0, 6-0. East Liverpool would go on to claim the sectional crown with a tough 6-4, 3-6, 7-5 win over the team from Cambridge 1.
Hiland's second doubles team of Kurt Kaufman and Alex Jones captured an early 6-1, 6-0 victory over St. Clairsville 2 and then tangled with No. 4 seed Cambridge 2. They played well but fell to the district-qualifying team 6-3, 6-1.
District action for Shoup and the Barr/Schaad tandem will take place at Ohio University on Saturday, May 21.