Straits enjoying a banner campaign after a 2-year rehab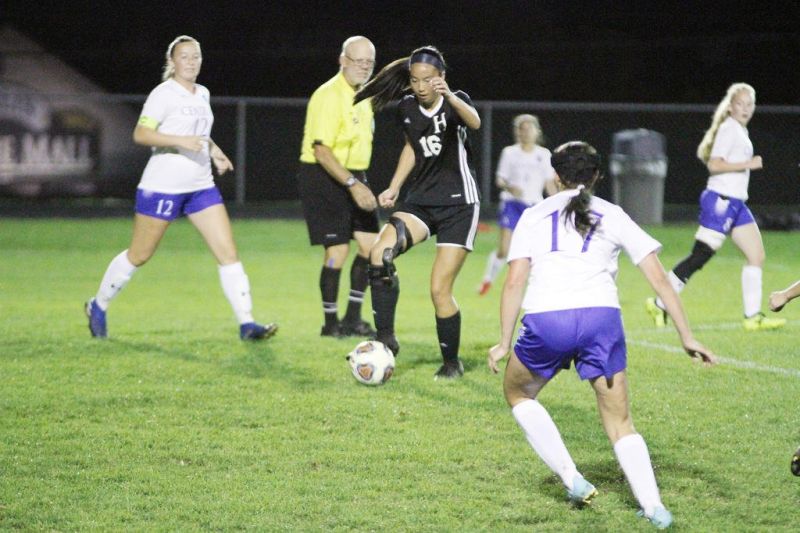 After a strong freshman season for the Hiland Lady Hawks soccer team, Anne Straits had shown promise. But tragedy struck early in her sophomore season, and a knee injury forced her into a rehabilitation process that lasted nearly two years.
Now Straits is back and has shown that commitment, desire and a positive spirit can help overcome long odds.
During the beginning of her sophomore season, Straits suffered a knee injury that robbed her of her sophomore and junior seasons. She felt she might be able to get back to the pitch near the end of last year, but that didn't happen.
Straits never lost faith in herself or her teammates, and she never wavered in her desire to get back on the field. Now in her senior season, she has finally returned, healthy and making a contribution as a midfielder. Her play has helped the Lady Hawks to a 13-2-1 record and the number-one seed in the Div. III East District.
Straits said it felt almost foreign to get back on the playing field after such a long wait, but it was well worth the effort.
"It was a long process for sure," Straits said of dealing with nearly two years of rehabilitating her knee.
She said she knew her ACL and another ligament were torn, but to add to the pain, she found out during her surgery that she also had torn her meniscus. That led to a lengthy and difficult rehab process with physical therapist Sheila Mullet, who helped Straits overcome both the mental and physical aspect of dealing with a major knee injury.
While many players might have thrown in the towel or at least been a rare visitor to practices, Straits was a polar opposite. She may epitomize the term "team player." Throughout her injury she was at every practice and game, continued to encourage her teammates, and never allowed her injury to stop her from being a part of the team.
"She's special," Hiland head coach Conner Lee said. "When you have to endure what she has gone through for almost two full years, to overcome the mental side of having to battle back and overcome the injury is tough."
Straits said her teammates played a huge role in her drive to get back, and her focus on supporting them meant everything to her during her rehab time.
"I think my teammates kept me going and focused on my goal to come back as good as I was when I left," Straits said. "I knew I couldn't help on the field, but I always felt like I could help in other ways, whether it was supporting or encouraging my teammates or doing whatever I could."
As for her play in the midfield for this year's Lady Hawks team, Lee said she has been everything they felt she could be when she first emerged in the program her freshman year.
"She has been a rock," Lee said. "She is playing confidently. She is a great leader and has played an important role in our success."
Now with her team setting all kinds of school records including wins a season, tying for a league title, shutouts in a season and more, it seems as though this is her reward for her diligence and commitment to the program.
"I'm just doing whatever I can to help us win," Straits said. "It felt great to come out and play the entire preseason and season this year. I have to admit I was more than a little nervous my first game back. I think I was just so excited and nervous and ready to just get going. One thing I really felt early on was that my teammates had my back and they were going to support me and be behind me no matter what. The more I played, the more I became surer of myself, and now I don't even think about the knee."