Tall task, big performance ignites Lady Hawks win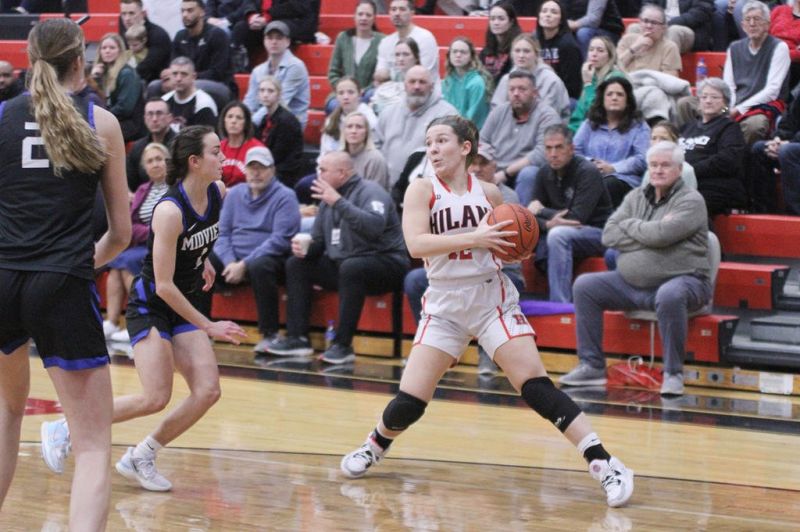 In a weekend full of great basketball at Classic in the Country XX, including several nail-biters, Brady Schlabach's Hiland Lady Hawks saved the most sensory-tingling moment for the weekend's final play on Monday, Jan. 16, and in remarkable fashion, Hiland crafted a come-from-behind 47-44 victory over Div. I Midview that may have been the weekend's most improbable win.
"That was fun," Schlabach said following the win. "I felt like we had the perfect scouting (from David 'Cousy' Borter), and our girls were locked in, and for us to get over the Convoy Crestview game quickly was very important for us. We put that behind us, and we knew what we had to do, and defensively, we executed very well."
Schlabach has said all season his team has been knocking on the door of a signature win, one that would tell the Lady Hawks they can compete with top teams, and they got what he had hoped for in downing a Midview team with great talent including Mary Meng, a 6 foot, 5 inch center bound for Bowling Green State University, along with ultra-talented Olivia DiFranco.
Hiland seemed to be fighting an uphill battle all game long following an evenly matched first quarter that saw Midview take a 14-11 lead.
Six straight points to begin the second period gave the Middies a 20-11 edge, but Mallory Stutzman came through with a layup off an assist from Ashley Mullet and a 3-pointer before Meng's put-back led the Middies into the half with a 22-16 advantage.
That lead quickly grew to 28-18 early in the third quarter, and Midview was on the verge of pulling away again.
This time Mullet capped off an and-one score and fed Stutzman for another trey, but DiFranco and Meng scored inside to end the third quarter with Midview up 32-24.
It was then that the Lady Hawks flashed their potential. In an ultra-quick moment, Stutzman hit two threes, and Mullet, who had struggled mightily from the field the whole game, finally rained down a triple to tie the game at 33.
"I felt like all game we were getting good shots but couldn't put the ball in the hoop," Schlabach said.
Meng hit two free throws. Mullet followed suit. Mullet then made a steal, and somehow the Middies forgot to cover the junior sharpshooter on Hiland's offensive set, and Mullet made them pay by driving home a 3-pointer to give the Lady Hawks their first lead at 38-35 with 4:12 to play.
Meng responded with an and-one to tie things, and after Joplin Yoder, who along with Ellie Habeger was tasked with trying to fend off Meng, split two free throws, Midview regained the lead on a DiFranco drive.
Having caught fire in the fourth quarter, Mullet slashed to the hole for a score with 2:37 left. Meng got two free throws a moment later, but so too did Mullet, who was seizing control of the game.
"The last quarter we started hitting shots, and everyone got excited, and that really helped momentum," Mullet said.
DiFranco pushed Midpark in front 44-43 on a nice drive, but with 90 seconds to play, Mullet found Stutzman, who sliced to the hole for two to return the lead to Hiland at 45-44.
Midview then missed three opportunities on its end before Mullet began doing her best Curly Neal impersonation, chewing clock as she put on a dribbling clinic.
However, with 31 seconds to play, Yoder was whistled for an offensive blocking foul with 31 ticks left and Hiland leading by one. DiFranco drove, and amid contact her shot sailed across the rim, only to see her grab the rebound. She misfired again, and this time Habeger reached up and snared the board among the trees. Schlabach quickly called timeout to set up a play.
That play consisted of getting the ball into the hands of Mullet, who also can shoot free throws with great aplomb.
Stutzman got it to Mullet, who was fouled with 7.6 seconds left. Mullet then capped off a perfect 7-for-7 free throw shooting performance with two bottom-of-the-net efforts to give Hiland a three-point lead.
Midview needed a trey to tie, and DiFranco got a great look, but her shot hit the front iron, caromed to the corner and Hiland was celebrating its stunning victory.
Mullet said it was beyond frustrating the way she shot the ball through three quarters but said it was a matter of keeping her confidence up and trusting she was going to come around.
She did.
"I'm really working hard on my free throws, especially in those big moments when it's really important," Mullet said. "I want the ball in my hands. I'm confident I can make those, and I'm glad I got the chance tonight."
Schlabach called Mullet a super-tough kid who understands the value of the work she's put in, and not only is she a scorer, but also a leader and creator for her teammates.
For Yoder, saddled with the chore of guarding Meng much of the night, it was an exhausting but satisfying win.
"It was hard work I guess," Yoder said. "I worked on pushing her out and keeping her as far away from the hoop as I could. I think this experience will help me in guarding bigger girls."
Stutzman almost single-handedly kept the Lady Hawks in the game through the first three quarters. It was a bit of a comeback game for her, as she rounds into shape after recovering from last season's knee injury.
"I feel like my shots haven't been going in, so it felt good to have them go in, especially against this team," Stutzman said. "I always like the big crowds. It feels amazing. We've been so close, just not quite enough, but we finally got the win."
Schlabach said this type of win is the kind of game that can propel teams to greater heights. He said his hope is this served as an eye-opener for his players to believe they will grow in many ways toward greater things.