The other Highland rules day at Knights Invite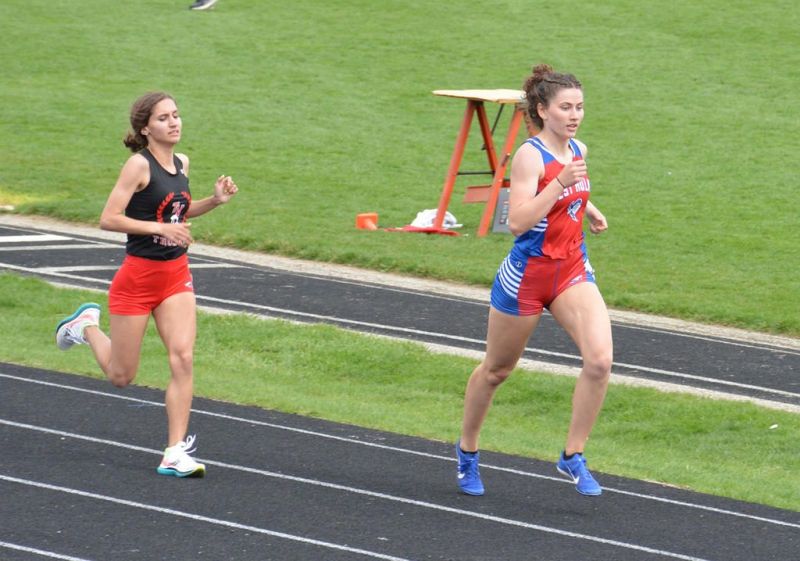 Both the girls and boys teams from Highland took top honors at the Knights Invite at West Holmes High School on Saturday, April 10, but it wasn't the local Hiland Hawks, rather the Medina Highland Hornets who churned out the victories. Meanwhile, the local Hiland boys team did find some rays of sunshine in the invite.
Highland notched 108 points, with West Holmes second with 97.5 and Ridgewood third with 69. Waynedale was seventh with 34, and Hiland ended up 12th in the field of 16 teams with 25 points.
The Knights boys actually had a shot at the title coming into the day's final event, the 4-by-400 relay, trailing Highland by just 4.5 points. However, Highland put a giant exclamation point on its victory by cruising to a win in 3:31 while the Knights' team of Lemon, Pritt, Wagers and Myers posted a sixth-place finish in 3:45.
WHHS had to settle for the runner-up spot and had some fantastic efforts throughout the day.
The Knights quartet of Cade Wagers, Haeden Wolfe, Austin Myers and Zeke Galbraith took fifth in the 4-by-800 relay, and after Highland won the 110-meter hurdles, Hiland Hawk Isaac Slabaugh reeled off an 11.37 in the 100-meters to tear to victory while Brady Taylor finished third in 11.51.
Hiland's quartet of Micah Kuhns, Jaywon Miller, Kendrick Wilson and Slabaugh quickly gained more points for the Hawks by placing second in the 4-by-200 relay, which was won by Ridgewood.
It would be the Knights' turn to take center stage moments later when the foursome of Gavin Freeman, Lane Graham, Emmett Myers and Brady Taylor ran a 45.24 in the 4-by-100 relay to race to victory, just edging Highland. Hiland placed fifth on the wheels of Faybryn Ryan, Jaywon Miller, Kendrick Wilson and Slabaugh. Waynedale's Jeremy Reber placed fifth in the 300-meter hurdles.
West Holmes continued to roll when Taylor hammered the field in the 400-meters, winning in 51.56. Hiland's Wilson finished seventh in 55.26. WHHS's Austin Myers placed seventh in the 300-meter hurdles while Taylor got nipped at the wire in the 200-meters by Tusky Valley's Tyler Stump, the two finishing in 22.55 and 22.87, respectively.
West Holmes' Cade Wagers and Zeke Galbraith placed fourth and sixth in the 3200-meters. Waynedale's Johnathan Varner placed second in 10:00.57, barely getting beaten by Canton Central Catholic's Barrett Scheatzle in 9:59.32. Varner also took fifth in the 1600-meters.
In the field events, Graham had a banner day for the Knights, winning the shot with a heave of 57-02, edging out Tyler Thompson of Rittman at 56-09. Graham then took third in the discus with a throw of 160-07. Ridgewood's J.J. Durr was second at 167-07 while Highland's Owen Wendl won with a monster heave of 181-03.
Clear Forks' Ethan Stanley soared 14-06 to win the pole vault, where Knights' Emmett Myers gave chase, placing second at 14-00. Waynedale's Elijah Yoder placed second in the 100- and 200-meter seated race.
On the girls' side of the ledger, Highland racked up 118 points in victory with Tusky Valley runner-up with 83. West Holmes took third with 66 with Waynedale taking 10th and Hiland placing 16th.
In the 4-by-400 relay, Waynedale's crew of Sydney Reber, Clara Sunberg, Allison Moore and Alyce Yoder placed fourth while Lady Bears Mackenzie Reber and Skye Morris placed seventh and eighth in the 100-meter hurdles.
In the 100-meters, West Holmes' Jasmine Giauque qualified seventh, then roared to fourth in the finals. Giauque continued her strong day by placing second in the 400-meters, where her time of 1:02.00 was just behind winner Arianna Clayton's winning time of 1:01.23. Giauque then went on to take fourth in the 200-meters.
Lady Knight Katie Sprang roared to second in the 800-meters in 2:29.69; however, Tusky Valley's Hannah Wyler finished in a fantastic time of 2:23.07. Reber took sixth in the 300-meter hurdles.
Brenna Myers hung on to grab fifth in the 3200-meters while the Lady Knights foursome of Giauque, Hannah Rohr, Aracaii Kandel and Sprang flew to third in the 4-by-400 relay.
In the field events, Lexi Tucci of Sandy Valley won the long jump with a leap of 16-00.25 while Sprang locked down second at 15-09.25. Ice was third at 15-06.5, and Rohr was fourth at 15-05.5.
West Holmes' Laney Duff placed fifth in the high jump by clearing 4-10 with Waynedale's Emily McCreary also clearing that height and finishing sixth. River View's Kelsey Hartsock won the pole vault, topping 10-06.
Bekah Conrad of Clear Fork won the shot with a throw of 36-11 while West Holmes' Amy Hughes took second at 34-03 and Hiland's Kelsey Swihart was third at 33-10. Hughes would go on to add a fifth in the discus.