There's 'virtually' no stopping this HCHS car show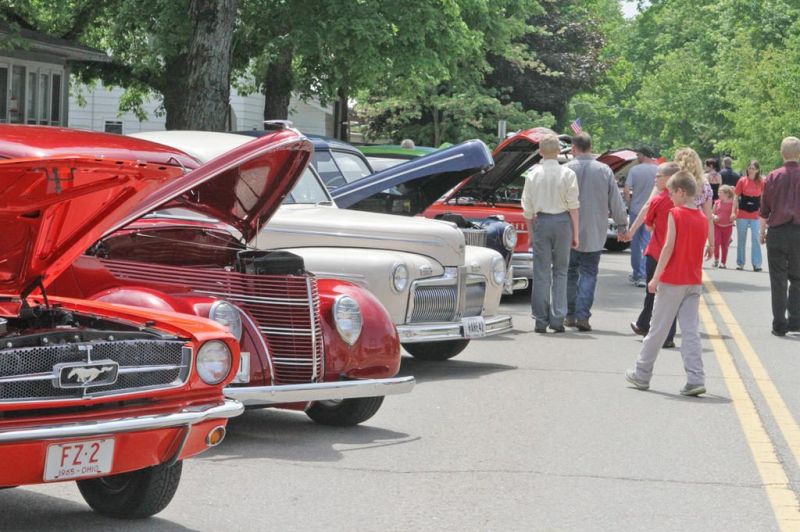 You can't keep a good car aficionado down.
While COVID-19 has put the damper on a number of area car shows already this year, the people who enjoy showcasing their antique and classic cars and talking all things automotive will eventually find a way to share their passion for cars with like-minded others.
One way is to hit the internet and share online, which is exactly what is taking place courtesy of the Holmes County Historical Society.
Whether cars are an absolute passion or a weekend hobby, participating in the upcoming Holmes County Virtual Classic Car Show sponsored by the Holmes County Historical Society is simple and enjoyable.
"This is what happens when you get a bunch of creative people together on your program committee," said Mark Boley, executive director of the Holmes County Historical Society.
With a committee meeting looming, Boley sent out word to each member to put on their thinking caps and come up with some ideas.
"We had to discuss what we could do, what we couldn't do, and come up with some creative, new ideas to spark some interest," Boley said.
Committee member Melissa Patrick was mowing her yard when an idea came to her: Why not create a virtual car show? With many car enthusiasts in the area, it seemed like a great fit, and the virtual car show was born.
Those wishing to participate in the virtual car show may do so by simply making a donation to the Holmes County Historical Society as a registration fee on Eventbrite. This will allow the HCHS to validate someone's participation.
Then it is a matter of uploading a photograph of your classic, vintage, antique or muscle car and emailing it to info@holmeshistory.com to have your car listed among the contest entries.
Photos of entries must be listed no later than May 23, and those entering are asked to include the year, make and model of their vehicle with that information being included when the HCHS posts each entry on its Facebook page.
Then comes phase II of the contest, which will see online voting opened up to the public, where people can cast a vote for their favorite automobiles.
The virtual show and voting will run from May 25 through June 1. Each entrant's classic car photo and description will be posted from May 25 through June 1 on the Facebook page with each entry having a number assigned to it. Everyone gets one comment to vote for their favorite classic car. The votes will be tallied and winner announced on Facebook. While the event is for fun, like most car shows, the winner will be rewarded, earning a prize from the Historical Society.
The winner will receive a $50 cash prize, a one-year family membership to the Holmes County Historical Society and four passes to Holiday at the Mansion later this year.
"It is a way for people to show off their cars online rather than in person," Boley said. "It should be fun, and it will be a very different way of having a car show."
While some planned events have been canceled — including an evening at Keim Lumber that focused on Troyer's Hollow and Doughty Valley and Arlan Heiser's Civil War presentation, which focused on his grandfathers' involvement in the Civil War — others will move ahead, although Boley said they will take great precautions in limiting the number of people. Both events will be rescheduled at a later date next year.
One huge summer favorite is the annual Paranormal Night at the Museum, where patrons can explore things that go bump in the night while having a good time.
Patrons are invited to explore the Victorian House Museum, 484 Wooster Road, Millersburg, on Saturday, Aug. 1. Reservations are required, and this is limited to guests at a cost of $25 per person. (Patrons must be 18 years old or older.)
Visitors are invited to come for an evening of fun and paranormal exploration in a 116-year-old mansion that many say is haunted.
After an orientation next door in the Castle Club, patrons will move to the Victorian House for preinvestigation activities, followed by a tour of the mansion. Afterward, guests will have an hour to explore the house on their own. The evening will conclude with a wrap-up session at 10 p.m., where everyone will have a chance to share their experiences.
People are encouraged to bring ghost-hunting equipment, cameras and hand-held audio recorders. Due to possible battery drain, this tour is not recommended for those who depend upon life-saving battery-operated medical equipment such as defibrillators, pacemakers or insulin pumps.
As the HCHS board continues to come up with new ideas on how to share Holmes County's history, it will keep an eye on ways to promote social distancing and safety in its programs.
"It's very hard for organizations to plan ahead right now because there is so much uncertainty around everything," Boley said. "But we do have some exciting things on the horizon that we are eager to share with the public that should be really interesting."
For more information on these events and current hours of operation, visit the Holmes County Historical Society on Facebook or at www.holmeshistory.com.