West Holmes QB making the most of his senior season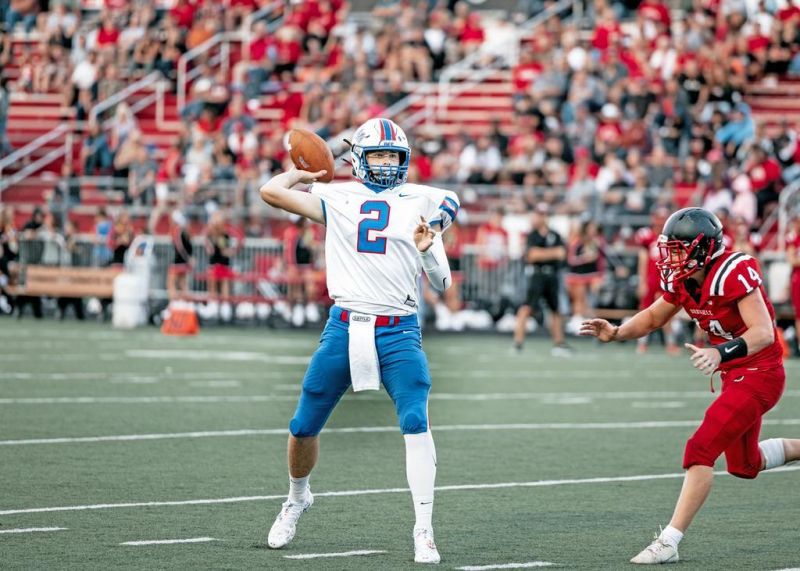 For Mason Wolfe, it's better late than never when it comes to getting a chance to be a full-time starter for the West Holmes football team.
The senior quarterback has made the most of his opportunity to lead the Knights offense after starting just one varsity game before this season.
Through six games Wolfe has completed 78 of 108 passes for 1,571 yards and 18 touchdowns with one interception.
"Last year (quarterback) Noah Clark set a great example for me," Wolfe said. "This off-season I was just working my tail off. All of the coaches around me have helped, and a big shout-out to John Miller at CrossFit. He helped me out. And then just getting out with the boys and throwing as much as possible (helped me develop from last year)."
Wolfe's progression into a proficient quarterback didn't happen by accident. During the off-season he threw passes to several of his teammates any chance they got.
"Any day when it was nice out, we had a group chat and were texting each other," he said. "We were all pushing each other to get out here. We were running one-on-ones to make each other better."
Junior Kyle Maltarich was one of the receivers Wolfe spent a ton of time with during the off-season. Maltarich has been inseparable from Wolfe since transferring back to West Holmes last year.
"We hang out a ton outside the field, and we're all pushing each other on the field — kind of that friendly crap talking," Maltarich said. "Just being best friends off the field I think corresponds to on the field.
"He knows what I like and what I can do, and I know what he likes and can do, so when I know that he has a very beautiful, powerful arm, I know I can run down the field and know that it's going to come to me."
In six games Maltarich has caught 27 balls for 623 yards and 11 scores. Many of his touchdown catches have come on deep passes, a connection built on trusting one another.
"We would go anywhere we could find a turf field during the winter, like indoor facilities, and we worked with college coaches, and we developed our skills more and more," Maltarich said. "We went to trainers. It's definitely paying off.
"Him seeing me running my routes over and over again and me seeing him throwing the ball over and over again, we're definitely getting used to that connection."
Although Wolfe has only started seven games in his varsity career as of Sept. 23, he hasn't played like a varsity newcomer. He routinely moves around the pocket with ease while keeping his eyes downfield to look for the open receiver.
Wolfe is becoming increasingly comfortable under center with each passing week.
"I'm settling in now," he said. "It helps that my offensive line is keeping me clean. My receivers run such great routes, and (running back) Sam (Williams-Dixon) is special. I can read defenses a little better (than at the start of the season). Watching film during the week helps me go out there and identify stuff."
Most players would like to play varsity all four years of their high school careers. That's only a reality for a select few. Having to wait for a chance to play on Friday nights under the lights is commonplace for most players.
For Wolfe, it was well worth the wait.
"It's special, especially because all of these kids I grew up with," he said. "It's awesome. I'm just so happy with the team and the way we're going."