Wolfpack: Knights' defense continues to come up big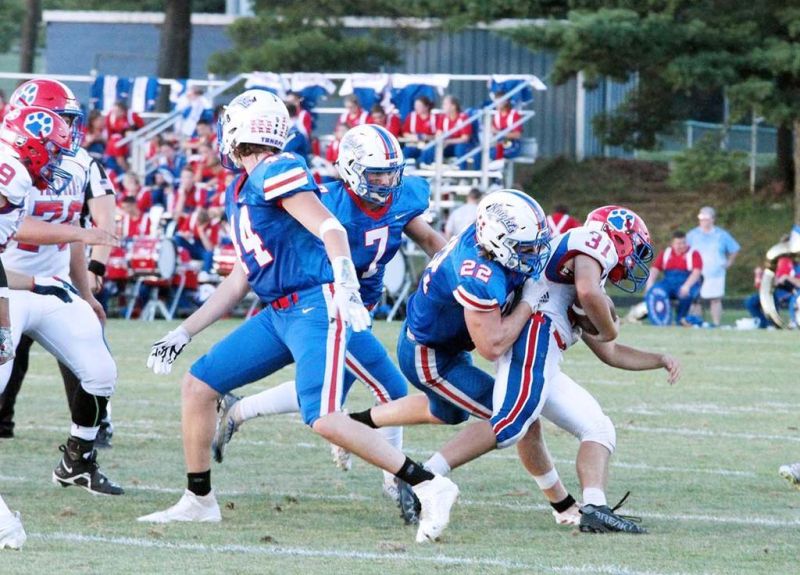 When thinking about the West Holmes football team, what's the first thing that comes to mind?
For most people, it's probably the offense.
Well, people need to start paying closer attention to the other side of the ball because the Knights defense is quietly flying under the radar.
When West Holmes opened Ohio Cardinal Conference play with a 37-7 win over Mansfield Senior on Sept. 9, it was in large part due to its defense coming up with big-time stops in key situations.
It's been a team effort on defense this season for the Knights, who haven't allowed any of their first five opponents to score more than 14 points.
"We've been preaching the one of 11 approach out there," West Holmes coach Zach Gardner said. "There are 11 guys out there. Your story isn't long enough to list the amount of guys that are playing phenomenal on defense right now."
The game plan against the Tygers was simple — make them play left-handed by taking away the things they do well. That started with the defensive staff watching film and ended with the players executing on the field.
"We did what we were taught ," said senior linebacker Elisha Baldridge, an All-Ohio first-team selection in 2021. "We had a good game plan against them, and we just did what we had to do."
Mansfield had several promising drives in the second half that ended with West Holmes getting a stop when it needed it most. Keeping teams out of the end zone is something the defensive players take pride in, especially on their home field.
That was never more evident than when West Holmes held visiting Madison scoreless in a 56-0 beatdown on Sept. 16. The defensive unit held the Rams offense to under 100 total yards, pitching its first shutout since beating Lexington 16-0 on Sept. 18, 2020.
Knights senior linebacker Owen Jeffries referred to their approach in the red zone as a "wolfpack scenario."
"We know when they get down there, we're not going to let anybody in," he said.
"That's one of our strengths," Baldridge said.
What's been the secret to the defense's success this season?
"The key so far has been coming together as a unit and getting to know the new guys and how we play together," Jeffries said.
Obviously, having a solid game plan puts a team in a great position to win each week. The little things — often overlooked by the casual observer — still must be done, though, to have defensive success.
"It doesn't matter what you do defensively," Gardner said. "You have to defeat blocks. You have to destruct blocks. You have to tackle well. You have to run to the football. And you have to make plays.
"That's the type of stuff we're preaching all the time to our kids. Our kids are bought in to what we want to do defensively, and they come out and do it."