Yoder takes over reins as Berlin merchants president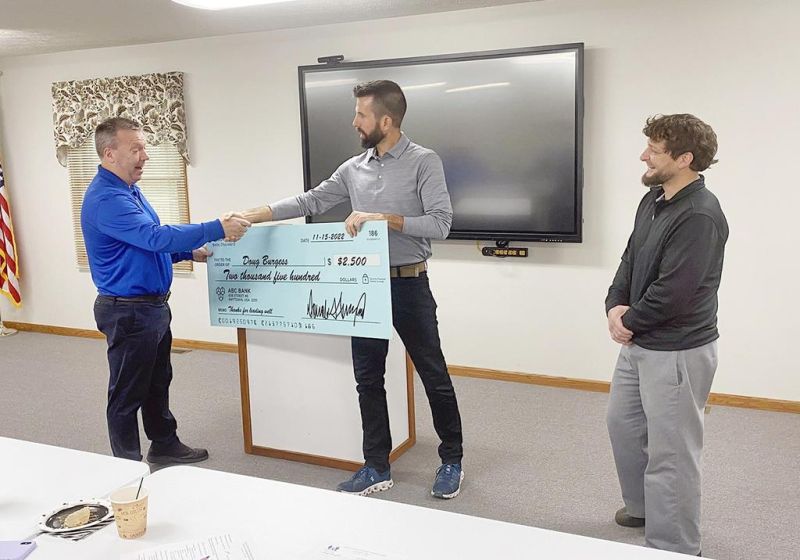 Out with the old, in with the new.
The Berlin Main Street Merchants expressed their gratitude and appreciation to outgoing President Doug Burgess and welcomed incoming replacement Gary Yoder as the merchants' new president.
Burgess was gracious in talking about his time as president and said it was a fun challenge he never regretted taking.
"I want to thank each and every one of you for all the support you gave me as president," Burgess said to the members. "The relationships we have built together have been really cool."
Burgess, who will remain on the merchant board, said when he took over the role from Eli Hochstetler, he stepped in knowing Berlin does things in a unique way, something he said makes Berlin a wonderful place to work and live.
He said he is excited to see where the merchants will go in the future.
"I think with the whole package the merchants bring, Gary is going to take this organization to the next level," Burgess said. "This is about doing things the right way, and Berlin does that, and Gary will do great things."
Merchants' member Kent Miller then presented Burgess with some gifts including a $2,500 check.
Miller said of Burgess' effort, "You have put so much time and energy into the last six years. The merchants are better for the time you've given us with your leadership. I hope it's been as fulfilling for you as it has been for us. You've been a champion at every event, being around, helping and stepping in whenever someone needs something."
Burgess then introduced Yoder and said when they began talking about taking on the role, they wanted the transition to be a smooth one. Burgess said he plans on working with Yoder through the coming months to help him learn the ropes and said he has a gifted and committed group of merchants with whom he can trust and rely on to fulfill the various roles in all the merchants' endeavors.
Yoder said while he doesn't envision himself as the "stand up and talk" leader Burgess is, he does feel a calling to serve his community, the town of Berlin and the merchants.
"The support and encouragement the merchants have shown me was a big part of choosing to do this," said Yoder, who has been involved with the community with his business Dutch Craft Furniture, and he said serving others is something he feels called to do.
"This group is special because they recognize the value of working together," Yoder said of the merchants. "I was a little anxious about this, but they have been so supportive and encouraging that I feel like I just need to show up and be myself. I'm looking forward to it."
In other merchant news, Burgess spoke briefly about the idea of placing cameras in town that would help deter theft and even solve crimes. He said there are several towns in the county that have employed the use of cameras, and it has been well received and useful.
"Both Charm and Mt. Hope have placed cameras, and they have helped area law enforcement solve crimes," Burgess said. "We have been in the works to do this in downtown Berlin."
On Nov. 21 some of the merchants and the Berlin trustees will join members from the Holmes County Sheriff's Office to explore the options and talk about logistics of placing cameras in strategic positions that will be the most beneficial.
Burgess said with all parties on board, Berlin will most likely have cameras in the downtown area within six months.
The merchants also discussed utilizing the money currently in the benevolent fund that was created to aid local families in need.
The group also discussed the ongoing effort of the Berlin Main Street Merchants membership drive. Burgess said the hope is to push the number of businesses involved to 100 members, with the number currently in the high 70s.
"We are working harder to get benefits to the merchants," Burgess said. "We want to make it so people can see the value of becoming a member. We have all these things we're working on, and being a Berlin Main Street Merchants member is going to pay off down the road as we build these activities. There are going to be all sorts of advantages."
The merchants are currently branding a new Main Street logo that can be used on T-shirts and merchandise.
Finally, Kent Miller discussed the idea of creating pole banners in town. He said villages like Millersburg and Loudonville have successfully placed banners on light and utility poles and it has been well received.
"It adds a nice ambiance and theme to a downtown, and we are brainstorming right now with some ideas," Miller said.
He said the hope is by the beginning of the new year, they will have a greater vision to what the banner program will look like, and there will be opportunities for merchants to support the program.