Young Lady Hawks facing a meat-grinder schedule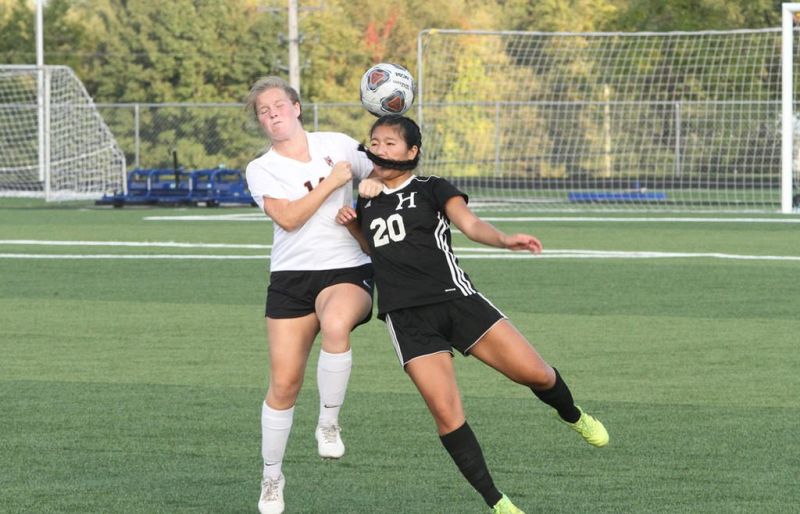 In putting together a schedule this season, Hiland girls head soccer coach Conner Lee wanted to present a challenging slate of games for his youthful Lady Hawks. Hiland had lost all of its defensive unit and a large number of scoring threats from its successful 2019 campaign, so Lee wanted to make sure his group was thrown into the fire and forced to play quality competition.
After knocking off a solid Mt. Vernon team 3-0 on Saturday, Sept. 26 at Hiland High School, the Lady Hawks stand at 4-3-3, not an exciting record, but a closer look reveals the Lady Hawks head coach can be very upbeat about his team's progress.
"I told the girls at the beginning of the season, even before we started, that we had a really tough schedule, and that was on purpose," Lee said. "We felt that would prepare us much better for the postseason. Sitting where we are, our three losses are to two state-ranked teams and another one receiving votes. We feel good about that."
Lee admitted it can become difficult keeping the psyche where it needs to be in terms of confidence when a team doesn't get the results it wants to see, but knowing they are facing some great competition has helped his players work through the season's losses.
"It's only going to make us better and stronger when it comes to postseason," Lee said of the difficult trek through the regular season. "I think our record is very deceiving. Chippewa and Grandview Heights are perennially in regionals. We are playing the type of competition that we expect to see at that level of tournament play if we make it there."
Having graduated nine seniors from last season's team, most of them playing critical roles, Lee said his young players have learned quickly and played well this year. He said defensively they went through a total rebuilding process. He said this group could have really used a strong dose of preseason activity to ease them into the year, but that didn't happen with COVID-19 wrecking those plans.
Even so, he said the girls have made nice strides.
"I have complete confidence in this group," Lee said. "It's a great group of hard-working kids who understand the game."
In the win over the Yellow Jackets (4-5), Hiland got a pair of first-half goals within two minutes of one another and rode that momentum and a strong defensive effort to victory.
Alex Weaver located Paige Gertz in the game's 22nd minute, and Gertz made the nice assist pay off by delivering the Lady Hawks' first goal of the evening. In the 24th minute, Gertz found Kate Kaufman, who knocked in a quick goal, and suddenly Hiland held a 2-0 edge.
With time winding down and the Lady Hawks continuing to nurse the 2-0 lead, Gertz and Kaufman teamed up again in the 79th minute, Kaufman collecting her second goal and Gertz having been involved with all three scores on the night.
"That was a nice win," Lee said. "Our defense had a great game. I was glad to see us get a shut-out and put a few in."
Hiland outshot Mt. Vernon 9-2 and held a 5-3 edge in corner kicks. Hiland keeper Itzelle Guzman wasn't busy, collecting just one save, while Yellow Jackets keeper Madeline Henricksen made six.