Zoe Miller: Hiland's big game hunter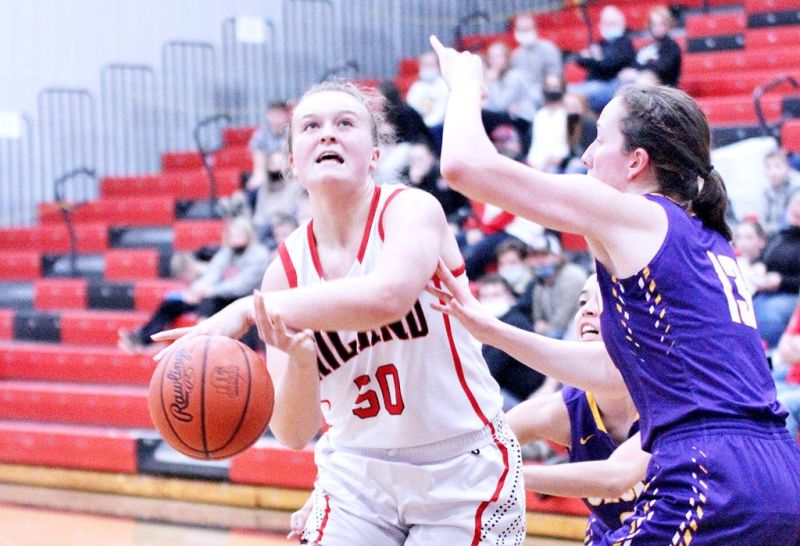 In the world of hunting, hunters will often throw around the term "big game" hunting, which is when they seek out those hard-to-find creatures that provide the biggest challenge.
This season Zoe Miller has been a big game hunter, only her targets haven't been large, crafty animals, but rather the biggest, toughest basketball teams the Lady Hawks can face.
Through 22 games Hiland now boasts a 21-1 record and is currently ranked as Div. III's top team in the state. In those 22 games, Miller has averaged 17.4 points and 10.3 rebounds. Numbers like that are truly significant in their own right, but what has been even more impressive this year has been the way Miller has attacked the upper echelon of teams that head coach Dave Schlabach has assembled as opponents.
There are five truly difficult games on Hiland's slate this season, a list that includes Div. I powers Solon and Pickerington Central, Div. II's top-ranked Napoleon and powerful Laurel, and out-of-state Classic in the Country foe Centennial, a team that has won six-straight state titles in Nevada. Hiland's lone loss came at the hands of Napoleon in an epic battle, and Hiland has played well in all five of these contests.
What has spurred them is the play of Miller, who seems to relish these huge challenges. Miller's average in these five games is 19 points and 15 rebounds per game, a monumental feat considering the level of competition.
Schlabach has watched his powerful forward go from a contributor her freshman year to starting as a sophomore and pulling in All-Ohio honors last year as a junior. This season seems destined to rank her among the finalists for Div. III Player of the Year, and Schlabach believes that honor is something Miller deserves.
"The way she plays in the biggest games is something I'd like the state media to recognize, but I doubt they will ever know," Schlabach said of Miller. "Laurel has a 6-foot, 3-inch kid going to Ohio State, and Zoe goes out and completely dominates her. That is what she has done this year in big games, and it is a great indicator as to just how good she is. I hope she is the Div. III Player of the Year. I haven't seen anybody better than her, not even close."
But what is it that drives Miller in these big games? The challenge of facing the best of the best certainly has brought out the competitor in her.
"It has nothing to do with coaching," Schlabach said. "It is 100% a competitive fire that Zoe has always had. It's a toughness and desire that drives her, and she thrives in the challenge of those big games. She has gotten herself to a whole new level of confidence."
Already the owner of the program's rebounding record, Miller is now zeroing in on all-time scoring leader Jena Stutzman's mark of 1,645 points. The fact she has done that on a team that boasts five players scoring in double digits is impressive.
"It's not like we are coming down the floor and feeding her every time down the floor," Schlabach said. "We have a lot of scorers. She just has a way of finding her shots in the flow of the game and getting her points."
Whether or not she can chase down Stutzman's high-water scoring mark or capture Div. III Player of the Year honors, Schlabach said those types of things are very secondary for Miller. He said her main focus is helping her team get better, winning games and capturing the big prize, a state title.