550 people received health-care services at GuardCare event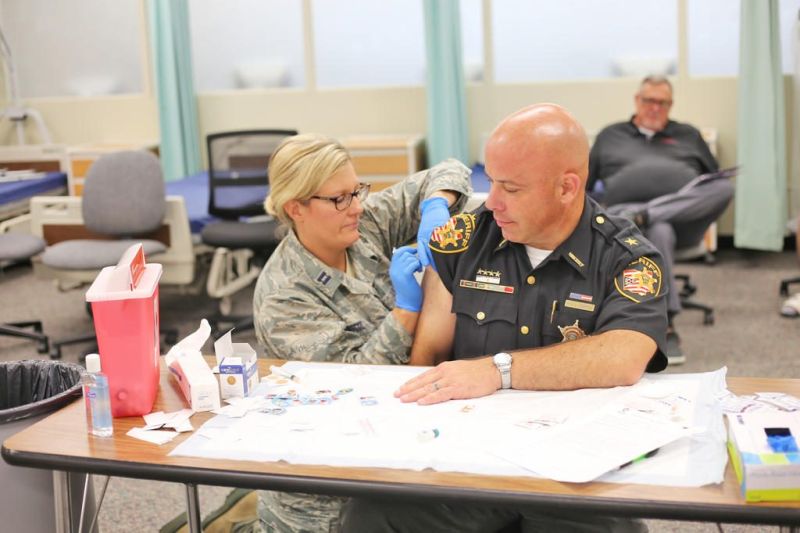 A partnership among the Ohio National Guard, Ohio Department of Health, Tuscarawas County Health Department and Buckeye Career Center resulted in 550 people receiving health-care services over the weekend in Tuscarawas County.
The GuardCare event was held at Buckeye Career Center Aug. 10-11. In total, health-care providers administered 520 vaccines, conducted 250 lab draws, and provided other services such as EKGs, men and women's health screenings, and more, all at no cost to local residents, according to Tuscarawas County health commissioner Katie Seward.
Seward said the advantages for Tuscarawas County residents go beyond the two-day event. "We not only send them their test results, but also information on how they can get linked to care. It's not going to end when the doors close today. It's going to be the follow-up and ensuring that we're linking people to care after this," Seward said.
In addition to health-care officials from many local agencies, 110 National Guard soldiers served as health-care providers and assistants for the event.
Ohio National Guard Maj. Gen. John Harris landed in a Black Hawk helicopter at the Harry Clever Airport in New Philadelphia to witness the event. "I couldn't be more pleased by what I saw," Harris said.
Harris said the annual GuardCare event serves as a training opportunity for Ohio National Guard members who typically provide health-care services to other military members. "They see things [at GuardCare] that they generally don't see when they do those [exams/services] on our own soldier-airman population. During this weekend they caught people who were in the midst of cardiac events and taken by ambulance to the hospital," Harris said.
Harris also appreciates strengthening relationships between the public and the National Guard. "It's the connection between the military and the population. So to be able to come out and participate in events like these, not only to show the skills of the National Guard, but to improve our capabilities and also to strengthen that partnership in our communities, is very important to us," Harris said.
Harris presented Buckeye Career Center Superintendent Bob Alsept with his personal Challenge Coin, a coin he described as a token of excellence given to military personnel.
Ohio Department of Health director Dr. Amy Acton observed many successes and described the Tuscarawas County GuardCare event as one of the most comprehensive she has ever witnessed as a global health doctor.
Acton spoke of a couple attending the event who described themselves as local dairy farmers without health insurance. "They came for the immunizations, so I think there are a lot of folks falling through the cracks in our health-care system," Acton said.
The event was housed in the Buckeye Career Center cafeteria, academic classrooms, Dental Assisting Lab, Introduction to Nursing Lab and other areas.
Over 25 area health-related partners or companies participated in an informational health fair in the cafeteria. Next year's GuardCare event is being planned in Athens.