BCC students donate bikes to Share-A-Christmas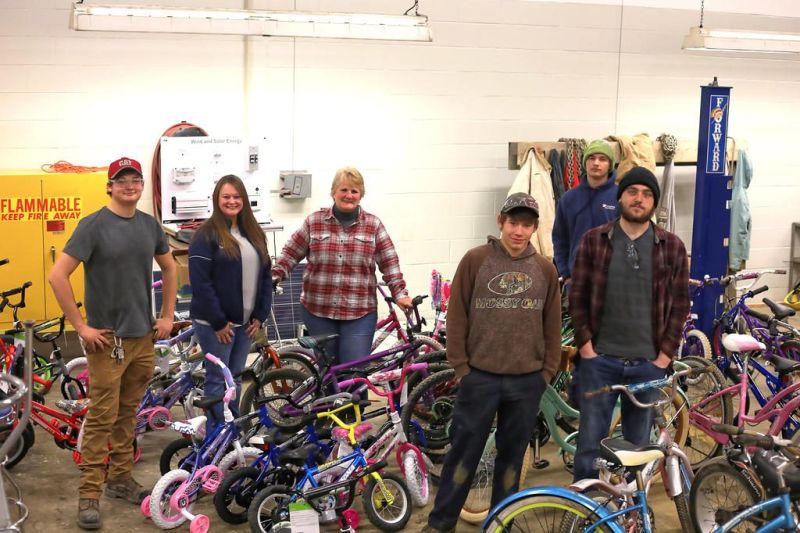 Buckeye Career Center's annual bicycle drive to benefit T-4-C's Share-A-Christmas has received a boost for the 2018 campaign. Community members and students donated 30 used bikes that have been repaired by agriculture and diesel technology and commercial truck technology students, just in time for toy distribution.
New this year was the contribution of 22 brand-new bicycles from the BCC adult education basic and advanced emergency medical technician classes.
EMT instructor Dana Miller, who also has a son in the high school ag and diesel program, said she challenged her basic EMT students to contribute a couple bikes.
"I have a class of 20 students and thought they could put their money together, and then it snowballed," Miller said.
It wasn't long before the basic class asked the advanced class to join. "They either went and bought the bikes on their own or gave us money to make the purchases," Miller said.
Miller said emergency responders typically have caring hearts. "They're in EMS, so they are already givers," she said.
One student stood out the most to Miller as she gave up her daily sweet tea purchase for a month to contribute to the bike drive. "I know it's just sweet tea, but it is something," Miller said. "A lot of these students are single people, struggling and working hard taking this class. I know they don't have the extra money, but they still brought in bikes."
When asked which class won the bike drive, Miller's assistant instructor Becky Amistadi said, "The kids."
As the bike drive comes to a close, students are making final repairs to the donated used bikes, which now await distribution to those benefiting from this year's Share-A-Christmas effort.
In addition BCC students will repair any bikes that were donated during the annual WJER Radio Toy Drive. In total Buckeye students have donated 5,177 nonperishable food items and 437 toys.