Billboard winners receive cash prizes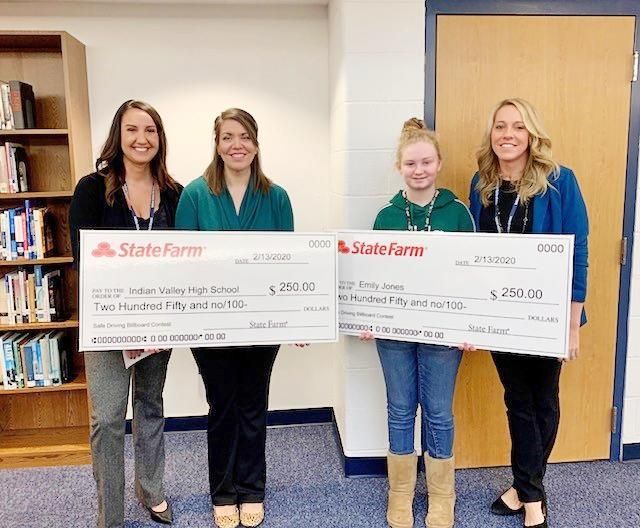 Through the support and partnership of Lisa Hoy and Lindsay Adam of State Farm, Safe Communities of Tuscarawas County and State Farm issued a challenge to area high school students to create a billboard to educate drivers about the dangers of distracted driving.
Students were encouraged to create their own billboard artwork using whatever media they were most comfortable with including graphic design, drawing, painting and photography.
Buckeye Career Center's Cameron Brandt and Ben Williamson and Indian Valley High School's Emily Jones were recognized for designing the winning entries for the Safe Driving Billboard Contest.
State Farm representatives Lisa Hoy and Lindsay Adam, along with Safe Communities representatives Nicole Dorsey, Derrick Jenkins and Kelly Snyder, visited the winners at their respective high schools to present the cash prizes.
A panel of judges from the Tuscarawas County Safe Communities Coalition selected the winning entries based on creativity, originality and how well the importance of not driving distracted was communicated.
The students received $250 per winning entry while their respective schools also received $250. The prize money was donated by Lisa Hoy and Lindsey Adam of State Farm. The billboard displays were funded through a $2,500 State Farm Safe Driving Grant awarded to the Safe Communities program at the Tuscarawas County Health Department.
The winning billboards will be on display for a period of two months near the students' respective high schools.
"Teens have a great influence on their peers," said Kelly Snyder, Safe Communities coordinator and health educator from the Tuscarawas County Health Department. "Hopefully seeing the billboards created by their peers will help raise awareness about the dangers of distracted driving."
Snyder explained the statistics of distracted driving. "According to the National Highway Traffic Safety Administration, dialing a phone number while driving increases your teen's risk of crashing by six times, and texting while driving increases the risk by 23 times," Snyder said. "Unfortunately motor-vehicle crashes remain the leading cause of death to teens age 15-18. That is why we are so passionate about raising the awareness of the dangers of distracted driving with our local youth."