Bolivar Fire Department upgrades to the MARCS communications system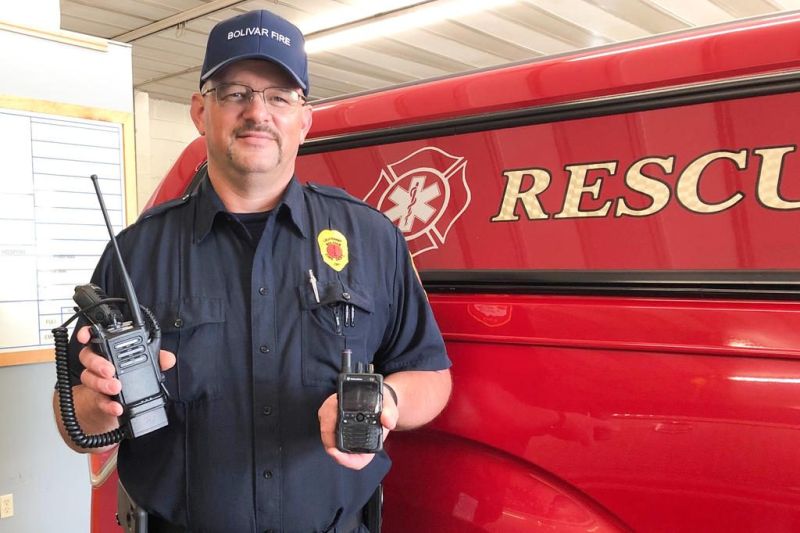 Bolivar Fire Chief Shawn Lynch attended the May 28 meeting of the Lawrence Township trustees to inform them the Bolivar Fire Department received new radios that link the department to the Multi-Agency Radio Communications System. This system places public safety officials and first responders in Ohio on the same communications platform. Lynch said the new system will bring significant benefits to area residents.
"Before this, if we were called to a fire in another county, we could not communicate with the other firefighters via radio," Lynch said. "Now, if there is a major statewide event and we get called out, we'll all be on the same system using the same frequencies, so there will be no delays in communication."
According to the Ohio Department of Administrative Services, MARCS provides mobile voice services, computer-aided dispatch with GPS-based automotive vehicle-location capability, and mobile data services for records management and other operations.
Lynch credits the Tuscarawas County commissioners, the Sheriff's Department and others with making the acquisition of the new equipment possible. The upgrade was made possible through a five-year county sales tax increase of .5%, instituted in 2018.
"We are fortunate to have a great group of people in this county that can make things like this happen," said Lynch, who added he believes there is a channel on the system dedicated to Lawrence Township and equipment available for the trustees.
Business before the board
Road Superintendent Chuck McNutt passed on the only chip-and-seal he received, which was opened at the meeting by board chairman Don Ackerman. The bid, from Twenty Twenty Enterprises Inc. in Somerset, Ohio, was for $2.70 per gallon of asphalt to be covered with gravel provided by the township from Oster Sand and Gravel.
The following township roads are scheduled to receive the chip-and-seal work: French Hill, St. Peter's Church, Russell, GlenPark and Barr Young. Commissioners voted to accept the bid.
McNutt thanked township employees for mowing all week in the rain prior to Memorial Day in preparation for the day of remembrance. He also said he received several calls after the May 24 storm, particularly about water damage and downed trees in Zoar and Wilkshire Hills.
Mike Hauter said he looked into a water problem reported by a township resident. After assessing the issue, Hauter said he told the resident the work that would be required for repairs is outside the township's responsibility. Other trustees agreed with Hauter's assessment.
Basketball hoops may have to come down
Matt Ritterbeck reported he has received several requests for trash cans to be placed at the basketball courts, due to the accumulation of trash on the courts. Ritterbeck pointed out there is a large dumpster approximately 20 yards outside the fence. He also stated that if littering continues to be a problem, he will take down the basketball rims.
2020 U.S. Census
Ackerman urged residents of Lawrence Township to fill out their 2020 United States Census forms. "Federal funding is allocated according to population numbers, so it's really important that people fill out their census forms and get them returned in time," he said.
The next meeting will be Thursday, June 11 at 7 p.m. at Charles E. Lundenberger Hall, 10867 Industrial Parkway NW, Bolivar.