Bolivar Village Council meeting includes swearing in of mayor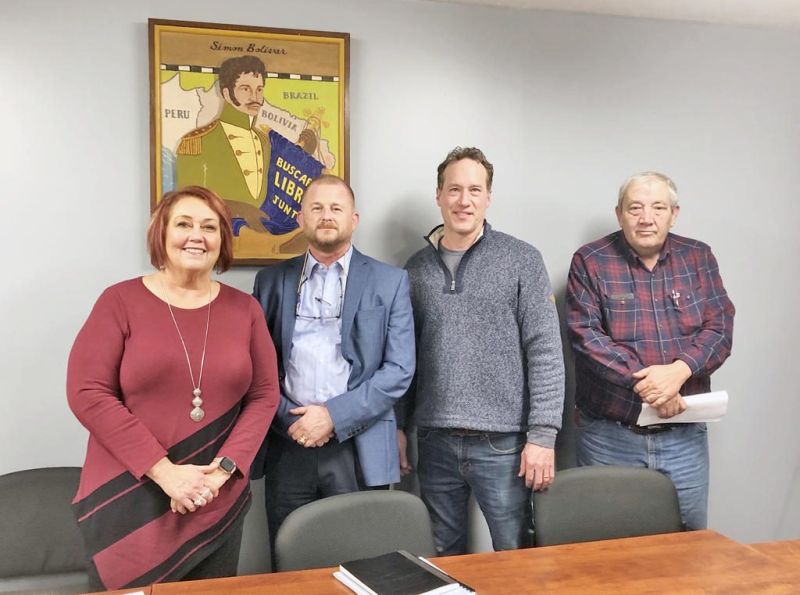 It was a busy start to the new year at the Jan. 6 meeting of Bolivar Village Council. The meeting began with the swearing in of re-elected Mayor Rebecca Hubble for a term ending Dec. 31, 2023.
Others taking the oath of office were Bruce Lawver and Dan Oberlin, both elected to council for terms ending Dec. 31, 2023, and Robert Lloyd, a former council member appointed by Hubble to fulfill the vacancy left by Richard Lebold's resignation on Dec. 13, 2019. The mayor officially read Lebold's letter of resignation, and council accepted the resignation posthumously, as Lebold passed away Dec. 28.
"Dick did so much for the village and our county," Hubble said. "He was an honorable man, a great friend, and he will be missed."
Council welcomed a number of public comments including a request by village resident George Workman to allocate money to repair drainage and sidewalk issues on Sassafras Alley.
They also heard from visiting Tuscarawas County Magistrate Adam Wilgus, who is running for judge of Juvenile/Probate Court in the March 2020 primary election.
Appeals hearing for Dave Franks
Council held a hearing on previous disciplinary action taken by Hubble against Dave Franks, village-employed street supervisor. Franks appealed the action in which Hubble provided a written warning and suspended Franks without pay for 1 1/2 days for failure to keep accurate daily time logs, willful neglect of village property and improper care of village-owned equipment. Evidence presented to council by law director Tara Wright-Timberlake included a written warning from Hubble to Franks, a copy of the mayor's disciplinary action issued on Dec. 9, 2019, and a rebuttal statement from Franks.
In his defense Franks said in the meeting that he was unaware of the intricacies of some of the rules he apparently violated and will strive for greater accuracy in the future.
Following a closed executive session to deliberate whether or not to support the mayor's actions, council resumed and voted to keep the written record in Franks' personnel file but to hold the docked pay for a period of six months. If there are no other disciplinary actions levied against Franks during that six months, the pay will automatically be restored in July 2020.
Committees and appointments announced
Hubble named committees for 2020 including:
—Finance: Bruce Lawver, chair; Robert Lloyd and Dan Oberlin, street and alley; Tim Lang, chair; Megan Gettan and Mary Vincent, safety; Lloyd, chair; Lawver and Oberlin, parks and recreation; Gettan, chair; and Lang and Vincent.
Hubble also announced the following appointments:
—Village administrator: Maria App, street superintendent/regional planning/zoning inspector; Franks, tax administrator; Heather Lecce, zoning chairman; and Megan Gettan, whom council nominated along with Lang for council president. (The vote resulted in a tie, which was broken by Hubble in favor of the election of Lang.)
Legislative action
—Approved payment of December 2019 bills in the amount of $76,906.60.
—Voted to increase contingency appropriations in the general fund by $1,000 and decrease legal by $1,000.
—Approved $30-per-hour pay for Chuck Williams for retroactive and future water main break call-out payments.
—Approved an application by the fiscal officer for a credit card and allowed authorized users of the fiscal officer, mayor, Franks and Police Chief Randy Haugh.
—Approved $7,005.50 for payment to Central Allied.
—Approved change in village insurance carrier, which will save the village $1,741 annually.
—Approved a contract with the Tuscarawas County Public Library in which the library will take on a larger share of monthly expenses.
—Approved an annual contract with the county to house inmates at the Tuscarawas County Jail.
—Approved a plan to establish a shared percentage of employee health insurance at a percentage rate of 80/20, retroactive to Jan. 1, 2020.
—Approved an agreement to purchase bulk water from the county by emergency.
—Voted to change Stephanie Long from an individual contractor to a village employee by emergency at a current pay rate of $14 per hour.
—Approved the purchase of two security cameras for in the mayor's office and the municipal building garage.
—Approved expenses of $650 plus hotel and mileage to send two village employees to a police training seminar on managing property and evidence rooms.
—Held the second reading of an ordinance to amend the municipal income-tax code.
Other council action
—Announced the zoning commission met and will replace an omitted section of the village zoning book regarding downtown resident parking. The issue will be voted on at the February meeting after council has time to review the wording in the section.
—Agreed to hold action on employee pay increases for 2020 after the finance committee meeting later in January.
—Agreed to an ordinance to increase pay to App for additional duties as village administrator. App's salary will now include $4,160 annually, the equivalent to an extra hourly rate of $2.