Businesses in New Philadelphia begin reopening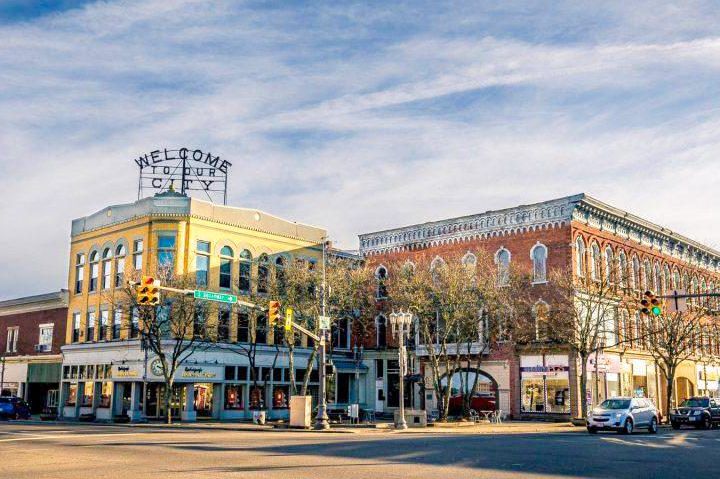 In his report at the May 28 city council meeting, Mayor Joel Day said a number of small businesses have begun to reopen with the help of the Restart Tusc Initiative. What is helping them get back on their feet is funding, in which local contributors raised $107,000, according to the Tuscarawas County Economic Development Corporation. Grants of up to $5,000 may be given to applicants being reviewed.
Day also said applications for round three are being accepted, and those seeking grants should go to the Restart Tusc Facebook page or the website at www.tuscedc.com.
"It's very gratifying to see how local organizations, county government and individuals have partnered to respond to the need to help our small business owners reopen their doors and get up and running again," Day said.
Day also reported on the following items:
Day said Tuscora Park rides cannot be reopened until amusement ride inspectors, furloughed due to deep state budget cuts, are back on the job.
Total cases of COVID-19 in the city of New Philadelphia are 116. Of that, 101 people have recovered, 13 are still sick and two have died from the virus.
The walking track at Woody Hayes Quaker Stadium reopened on Saturday, May 30 but will be closed when it is being used for New Philadelphia High School football practices as required by local health and state regulations.
The Crider Avenue Walking Trail is open dawn to dusk as an alternative to the stadium track. Take along doggie clean-up bags.
All residents need to respond to the U.S. Census. "Accurate census data helps retain and attract businesses in New Philadelphia," Day said. "The data is also used to direct federal dollars back to the city to help fund our safety forces and emergency preparedness."
The mayor's full report can be found on the city's Facebook page.
Other administrative reports
Councilman Ron McAbier reported scheduling conflicts and weather have hampered work at the new Schoenbrunn Meadow Cemetery over the past two weeks. He also reported bids for work on a new office building on the cemetery grounds will be opened on July 11 with a July 29 deadline for receiving bids. Construction is to begin in early July with an estimated completion date of Oct. 1.
A release of funds was just received on May 27 for work on the Poplar Avenue project. The amended timeline includes a June 23 deadline for bids with work to begin approximately July 20.
Seven engineering bids for work on the Southside Community Park were opened on May 20. The lowest and best bid came in at $1,885,408.30. McAbier said because the city had allocated more than $2 million to the project, the savings can be used to add a second restroom at the park while still remaining within the set budget.
"I want to also publicly thank Dan Rice of the Ohio & Erie Canalway Coalition," McAbier said. "We just learned hours ago that they are awarding us a $40,000 grant for work on the trail and park."
The entire waterline and tie-ins have been completed on the Wabash Avenue project. Work has now begun on the storm sewer with the majority of the work to be completed sometime in July.
Councilman Kelly Ricklic reported the fire department received a call for help recently for two police officers who had become seriously ill. The two were placed in quarantine and tested for COVID-19, but those tests were negative, and the officers are now back on the job.
Law director Marvin Fete said it was his birthday, not to receive wishes, but as a way of introducing a personal story of first responders who saved his life when he was hit by a car while riding his bike as a child. He credits the first responders due to their quick and effective work.
"Today their lives are more at risk than ever," Fete said. "In a time when people could have the coronavirus, first responders still have to perform CPR and put themselves at risk. I'm very thankful that the New Philadelphia first responders were there for me that day."
McAbier reported the board met on Tuesday, May 12 to hear five variance requests, granting three and denying two.
Councilman John Zucal reported funding for the PAPI lighting project at Harry Clever Field has been lost, due to state budget cuts. He said the city had already paid in advance for an aerial inspection that was needed for the project and that a number of parts for the lighting system have already been ordered. Zucal said the city will need to reapply for the funds for the new fiscal year, and the committee will find out how they can use the funds allocated for the project, should it not come to fruition.
Councilwoman Aimee May said the park board met on May 20 and that Tuscora Park swimming pool will remain closed this summer due to the coronavirus. She said a decision on whether or not First Town Days will be held should come during the week of June 1.
Ricklic said the board met on May 13 with a focus on COVID-19. He said the city health department is reapplying for reimbursement of costs associated with battling the virus. Ricklic commended the health board for their effectiveness and thanked Drs. Lori Kuehne and Nicholas Varrati for helping the board operate at a high level.
Committee reports
No formal finance report was given, but councilman Rob Maurer asked that council move into executive session before adjourning to discuss pending litigation. Council voted to approve the request.
Councilman Dean Holland said the public works and economic development committee met right before the full council sessions, and they discussed entering into a contract with the Ohio Regional Development Corporation for administrative services for FY2020 for the Community Housing Impact and Preservation program, commonly referred to as the CHIP program. The committee discussed authorizing ORDC to apply for grant funding for the city from the Community Development Block Grant Home and Ohio Housing Trust Fund. Grant money would be used primarily to assist citizens in housing rehabilitation.
The committee also discussed entering into a partnership agreement with the City of Uhrichsville for fiscal year 2020, in which New Philadelphia would be the grantee and Uhrichsville would be the partner. New Philadelphia through ORDC would apply for $650,000 and CDBG funding to be divided $350,000 for New Philadelphia and $300,000 for Uhrichsville. The committee voted to send Resolutions 8-2020 and 9-2020 to full council to be placed on the May 28 agenda for first reading and passage.
Ricklic said the safety, health and services committee met May 28 prior to the full council meeting and discussed recognizing the city health department for their exceptional work in dealing with the COVID-19 pandemic. The committee proposed separate resolutions to recognize each individual in the department and to invite them to be recognized at the June 8 council meeting.
No formal report was given by the salary committee, but Zucal reported they will meet on June 8 at 7:15 p.m. to discuss the fixed-base operator's contract at Harry Clever Field.
Legislative action
Council passed an emergency resolution (8-2020), authorizing the mayor to enter into a partnership agreement with the City of Uhrichsville for the project year 2020 Community (CHIP).
Council comments
Holland encouraged people to watch the video, "We Are All in This Together: COVID-19 Response," produced by the Ezekiel Project. "When you see the vacant, closed buildings and empty streets downtown, it's something that will reach out and grab you," Holland said. "These are friends and neighbors who are eager to go back to work."
Other matters
Holland updated council on a video system being proposed for live streaming of city council meetings. He said he has received one quote and anticipates receiving a second in the next week to make enhancements to the current video system that will improve sound and add extra cameras, among other improvements. Holland said the work will be entirely paid for with grant provisions.
Zucal asked the law director to pursue payment from a local hotel that is delinquent on paying lodging taxes. "We are willing, I'm sure, to continue to work with them as a city, but for them to just ignore all our requests for payment is unfair to all the businesses that, during this struggling time, have made timely payments," Zucal said.
The next meeting will be June 8 at 7:30 p.m. in council chambers at the John Knisely Municipal Centre, 150 E. High Ave., New Philadelphia.