Canal Town Book Festival in downtown Dover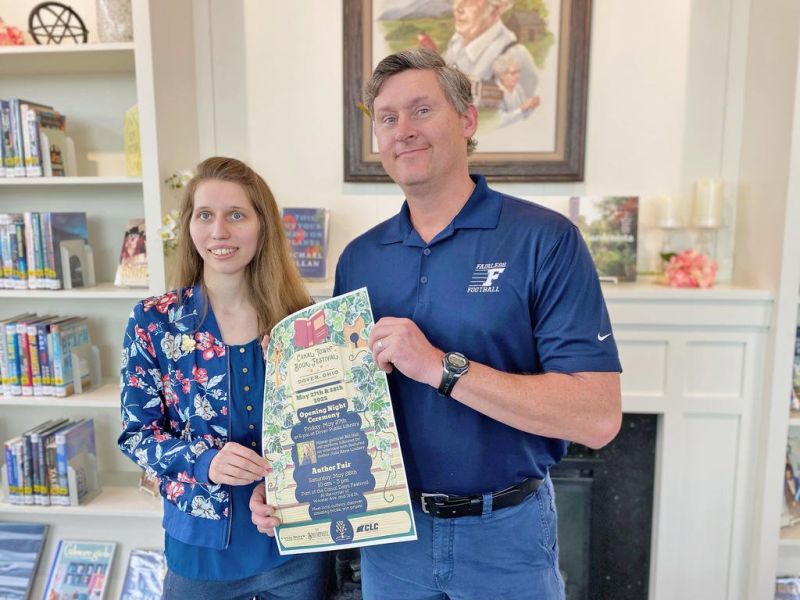 The Canal Town Book Festival will be held Friday, May 27 and Saturday, May 28 with an opening night ceremony at the Dover Public Library at 6 p.m. Saturday's event will take place on the corner of Wooster Avenue and Third Street in downtown Dover.
The festival links writers with published authors and readers with authors and is a general celebration of books, reading and writing in the area.
"The first festival was in 2019, and that was held at the library," said Mallory Thompson, librarian, who has been chairing the event. "We had about 30 authors here that year. The next year, of course, the pandemic began so we had to cancel. Last year we had a virtual festival, and we had a number of authors presenting online about writing, publishing, the accessibility of books, the presentation of books and other topics. This year we're doing our event in conjunction with the Canal Dover Festival, so it will be much bigger and will also be outside and downtown.
"The featured author this year is Julie Anne Lindsey, who will speak Friday night before authors begin offering their books for sale on Saturday. She will talk about the process of getting a book published, and she has published many herself."
Saturday will bring an author fair, where numerous authors will have tables downtown offering signed copies of their work for sale and talking about their books with visitors.
The Dover Public Library is known for encouraging area writers and staying in touch with local authors, and that is how guest authors were gathered for the Canal Town Book Festival. "We have some new authors this year, so that's going to be a lot of fun also," Thompson said.
"The publishing world has kind of exploded with opportunities," said Jim Gill, director at the Dover Public Library. "I'm sure that our past book festivals have helped local authors get their work into the hands of readers. One of our staff members here recently published a book via Amazon, so there are a lot of possibilities for getting a work published. The festival is the place to learn all these things and get going on your own writing projects.
"I know that Julie Anne Lindsey will talk about how to get that idea you have floating around in your head onto paper or a screen, answering questions about whether or not to get an agent or manage the process yourself, creating review copies, marketing and book tours. She is very prolific in the mystery and romantic suspense genres. She's written a ton of books and will be an excellent presenter."
The Canal Town Book Festival isn't just for writers. "It's definitely for the general public," Gill said. "Of course, first we want to support the local writing community, so we also want to have readers attend, the people who buy and enjoy the books. They will find this to be a great resource as well. There are a lot of active and avid readers out there in our community."
Thompson said those who visit the authors downtown will get the chance for a ticket qualifying for a raffle prize put together by local businesses. "We want to encourage people to buy books, so if you buy a book from one of our authors, you'll get a ticket for the raffle."
Events on Friday will begin at 6 p.m. at the Dover Library with live music by guitarist Bill Hall and light refreshments. Author Lindsey will speak that evening and will sign copies of her books.
The author fair will move events to downtown on Saturday. More than 40 local authors will be present. Canal Town Book Festival sponsors include The Bibliophile Bookshop, The Canal Dover Association, Chrysalis Counseling, Friends of the Dover Public Library and the Tuscarawas County Literacy Coalition.
The Dover Public Library is at 525 N. Walnut St. in Dover and at www.doverlibrary.org.