Church youth groups clean up the Towpath Trail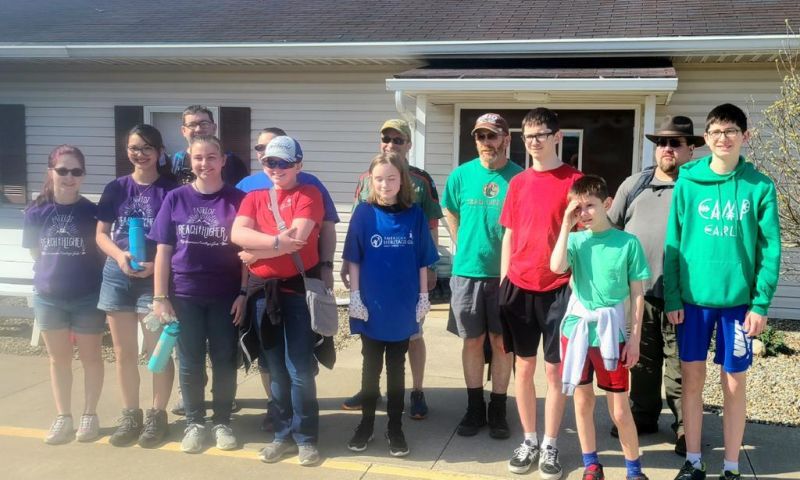 Winter flood waters left behind a deluge of debris when they receded. Now that spring is here and the weather is improving, it's time for cleanup.
Members of two youth groups from Faith Baptist Church of Wilkshire Hills joined forces and cleared the Towpath Trail from Route 800 to the McDonnell Trailhead just outside Bolivar.
The cleanup had to be canceled twice due to foul weather, but skies were perfect on Saturday, April 23 when the groups got together.
Bolivar resident Joe Rinehart has contracted with the Ohio & Erie Canalway Coalition to keep that 4-mile stretch of the Towpath Trail clean.
"The youth groups at Faith Baptist Church Youth Groups were recommended to me for assistance since they often get involved with community-oriented projects," Rinehart said. "When I proposed they help me with a spring cleanup of the trail, they enthusiastically agreed that it would be a nice project to benefit our local Bolivar-Zoar communities."
Tiffany Shanower is one of the leaders of the American Heritage Girls, which meets at the church.
"Our goal was to clear the path so that walkers, bikers and whoever's using the trail are able to do it in a safer way," she said. "Flood waters can bring in trash, so we'll be picking up that, along with logs, twigs, rocks and anything that would be in the way of people trying to bike or walk the trail."
According to Shanower, AHG is a character-development organization for girls. "The big thing about it is it promotes Christian values and encourages a lot of family involvement," she said. "A big part of AHG is about building women of integrity through service to God and service to family, community and country."
Members of AHG are age 5-18, organized into groups by age who work on completing specific tasks to earn badges, also called frontiers, for heritage, family living, arts, science, technology and more. The AHG group at Faith Baptist Church currently has 16 members age 7-16.
Also lending a hand with cleanup were members of Trail Life USA. John Nussbaumer is the leader of the boys group.
"Trail Life USA is an offshoot of the Boy Scouts," he said.
Like the AHG, the focus is on biblically based character development, according to Nussbaumer.
"Flooding brought in so much plastic this year," Nussbaumer said. "Usually the trail doesn't get that bad, but it was all under water earlier this year."
Community service work like cleaning up the trail helps the group's members earn badges for a variety of skills including citizenship, aquatics, emergency preparedness and outdoor life, among others.
"The youth groups made a huge difference and early enough in the season for people to get out and enjoy nature," Rinehart said.
Extra hands are always needed
Rinehart's contract with the Ohio & Erie Canalway Coalition calls for cleanup to be conducted four times a year, but he does it once a month, sometimes on his own.
Extra help is always needed, and Rinehart said there are a number of benefits to doing the work.
"It's a great way to get some exercise. It keeps litter from getting into the river, and you can teach your kids how to give back to the community," he said. "Besides, clean trails and parks are safer for our children and pets."
Those interested in helping can simply show up at the McDonnell Trailhead just outside of Bolivar at 10 a.m. on the last Sunday of the month, weather permitting, or call 330-389-1192 for more information.