Holmes Commissioners pleased with county's state of affairs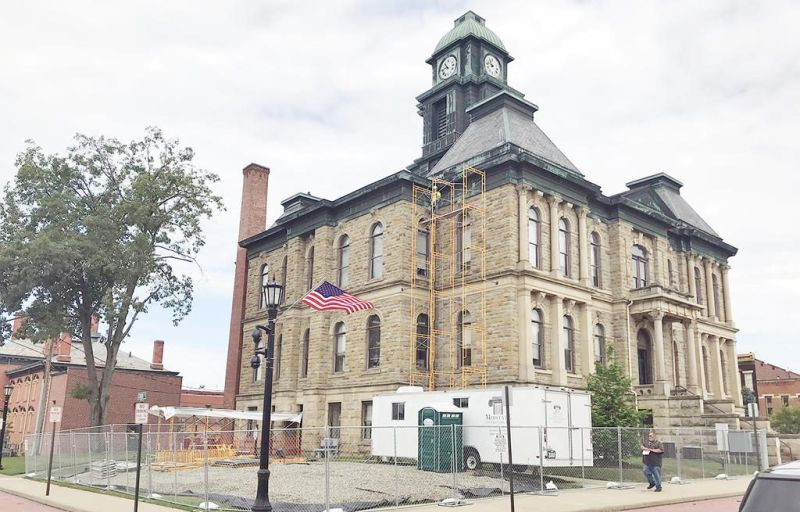 While the world deals with the ongoing COVID-19 pandemic, Holmes County has seemingly continued to roll along with just a minor hiccup.
The Holmes County commissioners met Monday, Aug. 3 at the Old Jail in Millersburg and talked about a number of important aspects of how the county is faring, along with touching on some county projects that continue to go according to plan.
Commissioner Joe Miller said the Holmes County Health Department has done a terrific job of keeping the public abreast of any COVID-19 issues, and he said their website shows encouraging news. The fourth week of July showed 34 reported COVID-19 cases while the fifth week of July was down to just seven reported new cases in the county.
Miller said he hopes that is because people are taking greater precautions in wearing masks and social distancing because even though the numbers are dropping, this is far from over.
"I strongly recommend that if you're in a crowd with a lot of people, wear a mask if you can," Miller said. "Even if you don't know if it helps or not, wear one. It can't hurt. We get a lot of calls from people asking if they have to do it. I wish people would want to do it. We are very fortunate that a lot of people want to come here to Holmes County, and we want to protect those people and ourselves the best we can."
Misty Burns, director of county human resources, said wearing masks and distancing has proven to be a deterrent to the virus, so people of Holmes County should do their best to follow the directives put in place.
With the Holmes County Fair on the horizon and tourism continuing to pick up, Burns said wearing masks is critically important.
"We strongly encourage people who are in crowded areas where they can't practice social distancing to wear masks," Burns said. "Keep Holmes County safe. Keep Holmes County open."
Commissioner Rob Ault added his praise of the local health department. He said they are working hard to adhere to all of the state demands and regulations.
"They are doing the best they can do because they have to follow protocol that comes from the state," Ault said. "If people want to complain, they should call the state department because our county health department has to follow what the state says."
In other commissioner news, Miller said the construction project at the intersection of state Route 39 and County Road 77 near Hiland High School is far ahead of schedule, with traffic now able to flow into County Road 77 to the high school.
"I have never, ever seen that happen before," Miller said, referring to the project wrapping up so far in advance of its intended date. "I want to give all of them a hug. I guess if you want to get something done, get Eclipse to do it."
Miller said the county has now requested a study be done at the intersection of state Routes 557 and 39 west of Berlin.
The Holmes County Courthouse Clock Tower Rehabilitation Project also has gotten under way, with members of Midstate Contractors Inc. beginning to place scaffolding around the courthouse.
Holmes County buildings and grounds supervisor Tim Morris said that project is slated to take place throughout fall, and the hope is that it is finished before cold weather sets in.
Morris said it will take approximately three weeks to put up all of the scaffolding on the project, the company hauling in scaffolding it will utilize on a daily basis so there isn't a lot of extra scaffolding taking up valuable space around the courthouse.
Morris said once Midstate Contractors Inc. begins to do the actual work, they will have six people working on the tower's renovation.
"They are making progress," Morris said. "If it has been like winters past, they will probably push right through the finish line."
Morris also was able to get into the newly purchased future home of the Holmes County Ohio State University Extension Office located beside the courthouse this past week. He said he was able to strip old electrical boxes. He said American Electric Power will have been in to do electrical work on the building the week of Aug. 3, which will propel the renovation project further along and allow the extension office employees to take residence sometime in early September.
Morris has been working with various companies to line up all of the different aspects of that renovation including drywalling and painting crews.
"Right now it is a matter of getting some of the old equipment removed so we can push a lot harder," Morris said. "Mid-Ohio Concrete should be in between Aug. 14-21 to patch up the cement work, so the parking lot will be up to snuff. Everything is going in the right direction, even though everyone is extremely busy right now."
Miller reported the sales tax for June was down 9% from what it was in 2019 while in July it was down 8%. He did note that it is actually slightly above the sales tax the county received in 2018, and even with the many issues going on, the county is actually ahead of its 2019 sales tax pace by more than $100,000 because of the big January and February months.