Council reinstates ordinance allowing Canal Days Festival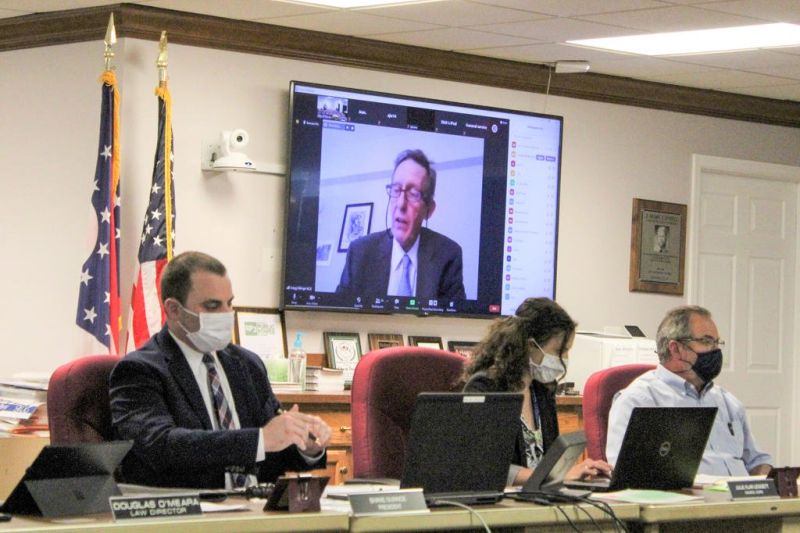 An ordinance (20-21) to repeal ordinance 25-20 and reinstate ordinance 44-05 was approved at the Dover City Council meeting on May 3 with six council members voting yes. Councilman Kevin Korns abstained from the vote.
Council will adopt the continuing COVID-19 orders, stay safe orders, and health orders of the Ohio Department of Health and they encourage the citizens of Dover to abide by the recommendations of the state health department and the governor.
"They couldn't have the Canal Days festival or anything if this wasn't repealed," Councilwoman Sandy Moss said adding the ordinance is based on the guidelines for Ohio Fairs. "They did not have Canal Days last year and there were no block parties."
The Canal Days Festival will be held this year on May 28 – 30.
The ordinance also readopts and enacts section 331.04 allowing block parties, although organizers would need to obtain a permit from the mayor first and follow the safety rules of public health emergencies including pandemics.
More fun may be on the horizon at Dover as Councilman Greg Bair presented a request from the community to construct a Pickleball court in the city. Grants are available to aid in construction and the city of New Philadelphia has a Pickleball court at Tuscora Park.
"It's a big coming thing. New Philadelphia does have one; they converted one of their tennis courts. I drove by there yesterday and there were people playing pickleball, so I present this for consideration," Bair said.
The matter was assigned to the Parks and Recreation Committee and the citizen who made the request will be invited to attend.
Mayor Richard Homrighausen did give a report via Zoom on the parks and recreation departments opening day on May 3 for adult and youth sports. Registration for these activities can be found on the city's website or by calling the park's office.
Another important emergency ordinance, 21-21, will add money to the city's coffers and save them money in the future according to Dave Filippi, superintendent of Dover Light and Power, who attended the meeting to speak about the ordinance. Council voted to accept the ordinance.
The ordinance authorizes the mayor or service director to execute the Dover TR1 delivery point and Dover TR2 delivery point facilities agreements and the Interconnection and Local Delivery Service agreement (ILDSA) between AEP/Ohio Power Company and the City of Dover and to sell the underlying property at the 138 KV asset real estate. Though it was owned by the city of Dover and they were responsible for its upkeep, the substation was always operated by AEP/Ohio Power Company.
AEP will pay the city the net book value of $985,573 for the assets located in at the North Dover AEP KV substation and $28,500 for the property.
New standards are always being implemented for the equipment and its sale will mean Dover is no longer responsible for the upgrades.
"With selling it, we'll have no responsibility for paying for the maintenance of it and no responsibility of complying with the standards we are obligated to uphold," Filippi said. "It's going to be more than just the sale, we're going to save engineering, and we're going to save manpower in the process of compliance."
Filippi said the ordinance was a great deal because standard upgrades will probably be enacted in the near future. Those upgrades could cost anywhere from $500,000 to one million. In general, it can cost as much as $100,000 each year for maintenance and from $130,000 to $180,000 in engineering costs if upgrades are needed.
Gregg Ottinger, of a Washington D.C. firm specializing in power supply planning, served as outside counsel for this ordinance and he spoke to council via Zoom during the meeting.
"As Dave (Philippe) says it also avoids liability to the city under the North American Electric Liability Corporation which can fine cities for operational, cybersecurity and maintenance errors and those fines can be hefty," Ottinger said.
The council is still concerned with issues relating to the job performance of the mayor. Councilman Don Maurer wrote an open letter that he wished to submit along with council's written questions to the mayor's attorney. He read the letter to council to have it entered into the record. Maurer and others on council are frustrated with not being able to ask questions of the mayor and hear his response in person.
A portion of that letter read that with "focusing on the questions, you are missing the point and so is your attorney for that matter. As a council we want to see you in person. There are questions we are not by law allowed to ask and we have no intention of doing that, but we could look and observe. Our last impressions of you were not good ones – a person who does not engage in discussion, who did not speak at all, and you had the look of someone not involved in any sense. We wanted to observe how you responded to the questions, processed it, gathered your thoughts, and then answered. Those actions would have proven far more helpful than even the answers, but you didn't come to council. Zoom and emails are a poor substitute for showing how a person handles interaction and discussions that go back and forth."
Moss fully agreed with Maurer's assessment.
"I have my questions," Moss said. "I'll submit them, I really don't care, and I don't want to hear the answers. Moss alluded to the fact that the mayor has attended other meetings but not council meetings.
"He should be sitting here," Moss concluded as she passed her questions to Gunnoe who will turn them into the mayor's attorney on May 4.
Gunnoe said it is his personal opinion that too much time has been spent trying to get to an interactive discussion and trying to get to the root of what council believes are issues within the city of Dover. The back-and-forth requests that are occurring between the mayor and council have delayed discussing the issues that council believes need addressed within City administration.
"That can only be handled by having a discussion and we never got that. It's unfortunate for the citizens of the city in my opinion," Gunnoe said.
Other ordinances passed include:
Resolution 6-21 recognizing, commending, and thanking Todd Stanley for his years of dedicated public service as an employee with the Dover Fire Department.
Resolution 7-21 recognizing, commending, and thanking Mike Bott for his years of dedicated public service as an employee with the Dover Cemetery department.
An emergency resolution, 8-21, authorizing the mayor and the service director to enter into a partnership with Tuscarawas County Community Housing Impact and Preservation program for 2021.
In addition to the request for a pickleball court, Gunnoe made the following committee assignments:
A request to prepare a resolution authorizing participation in the ODOT winter salt program went to the service committee.
A request for a liquor license transfer from Treva's Roundup to Shenanigans LLC was assigned to the human resources committee.
It was announced that a Committee of the Whole meeting that was scheduled for the May 3 meeting was moved to May 5 at 7 p.m.
Two committee meetings were also scheduled for the next council meeting on May 17, human resources at 7:10 p.m. and finance at 7:15.