Holmes County takes giant step toward new health building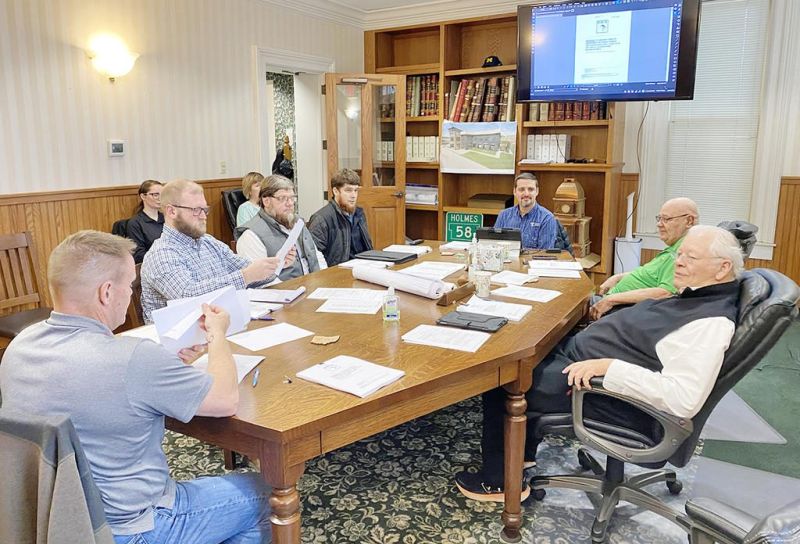 On Thursday, Jan. 19, Holmes County commissioners Ray Eyler and Joe Miller met with a host of county officials and members from Tekton Engineering and Classical Construction to hammer out some final details in the creation of a lengthy document necessary to instigate the process of building the proposed Holmes County Health Department building on Glen Drive in Millersburg.
Building design planner Robert Miller Jr. of Tekton Engineering and his assistant Veronica Gerber, Eddie Miller and Matt Miller of Classical Construction, Holmes County engineer Chris Young, Holmes County treasurer Leslee Mast and Holmes County commissioner clerk Susan Schie were present to dot all the "I"s and cross all the "T"s for the building plan.
While the paperwork is necessary, commissioner Miller said one nice thing about working with local businesses on the project is that there is a large amount of trust that the job will be done correctly.
"We want to get this project done and done the right way," he said. "We have a 79-page document that lawyers drew up, and I know it's necessary, but we went the way we did (with the designer and builder) because we have an engineering firm and a construction company we can trust to do a great job. If we had some shoddy company from somewhere else that we couldn't trust but would work for cheaper, I'd be more concerned, but we have great companies who are making this building happen the proper way."
He went on to state that the purpose of the meeting was to iron out all of the details and work through any questions any of the participating groups might have in starting the project.
There were several questions throughout the proposed document, which was not yet signed because some changes could take place.
One of Miller's main concerns was a portion of the document that stated every time a change was made or Classical Construction wanted to put something in, they needed written permission from the commissioners. Young said he would take on that role and make sure there was nothing missing from a legal standpoint.
Holmes County prosecutor Matt Muzik said the written authorization was a requirement of the law and documentation needed to take place, but with Young's involvement in writing, a general letter preauthorizing any additional trade actions by either Classical Construction or any of its subcontractors would be covered.
Much of the discussion centered around the expenses and payments that would take place throughout the building process. The overall contract price tag on the project came in at approximately $6.5 million, a number that could still change.
Muzik said the guaranteed maximum price of the project is $7,569,371. Young recommended that Mast reserve a small amount of 5% for any change orders that might occur.
Mast inquired how the billing process would work, and Matt Miller said he would bill monthly, with the initial billing coming out around April 20.
He added that each invoice would be due around the 10th of each month and that Classical Construction would keep all of the initial receipts and have them readily available should there be any type of audit inquiry.
The additional discussion had to do with who would take responsibility for any design errors and omissions, which Tekton would cover.
The group also discussed bond issues and covered numerous smaller questions that the group easily fixed and moved on through the document.
Outlining the initial construction estimates of the new health building, there are two separate scopes the project will take on, including the civil and building expenses, which could change as prices on material change over the coming months.
Under the civil portion of the project is a concrete parking lot by Zook Concrete, excavation costs by J Miller & Son, exterior signage and landscaping expenses, and Albatross Asphalt will create the parking blocks and parking lot striping.
That expense in the 100% plan pricing is estimated at $953,000.
The building portion of the project will include Aluminum doors and windows by Wooster Glass, anchor bolts from Zeigler bolt, concrete interior from Zook Concrete, concrete floor polish from Creative Concepts, Diamond Kote siding and soffits from MRV Siding, drywall from Bryan Siding, Dover Tank Plate will install IMP, Insulation from NCI Insulation, Lumber from Carter Jones, doors from Lincdor, JW Masonry will perform the masonry work, Holmes Lumber will install overhead doors, Dover Tank & Plate will install the pre-engineered metal building, Carter Lumber will place the perimeter foam, poured walls from Sugarcreek Concrete, Rubber roofing from West Holmes Roofing, stone masonry from Stonewall Design and waterproofing by EcoSeal.
The building portion of the expenses will cost $2.948 million.
Electrical work including a sprinkler system, H-VAC, plumbing and electrical wiring will cost $1.466 million. It will be put in place by Millersburg Electric, Kidron Plumbing, Trail Plumbing and Holmes Fire Security.
Finishing expenses include cabinetry, ceiling tiles, fire extinguishers, flooring, furniture, an interior casework package, paint, railings and stairs, toilet partitions and window shades at a combined cost of $540,517.
Specialty items will come in at an estimated cost of $325,977 and will include access control, an audio system, camera system, elevator, fire alarm system, lift, low voltage capabilities, permit expenses, a roof railing and steel studs.