Dover City Schools seek much-needed funds to maintain current operations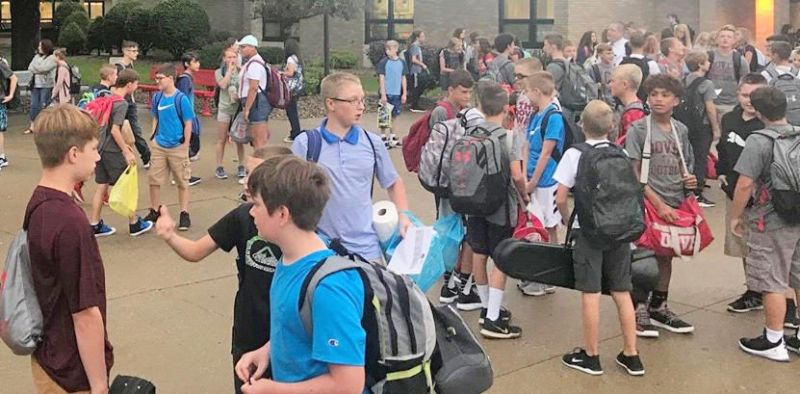 At the Dover City Schools board of education meeting on Oct. 8, the board and members of the administration further reviewed a plan that details what will happen if an 8.9-mill operating levy is not approved by voters on Nov. 6.
Property owners would see an additional $27 per month in taxes for each $100,000 of property value for five years. The last operating tax levy passed was in 2008.
"Dover City Schools is a high-quality school district that provides a well-rounded education to our students at a great value to our taxpayers," said Steve Mastin, board of education president. "This November our community has a choice about the future of our district. Without additional funding, changes will have to be made that will impact what we are able to offer to our students and families."
The board of education placed the levy on the ballot in an effort to preserve and maintain programs and opportunities that students and families have become accustomed to including preparing students for college and careers, ensuring classrooms have the most up-to-date technology, and improved safety in the school district.
This is an operational levy and is different from the new high school construction project, which is funded by a 4.4-mill bond levy approved by voters in 2016. Bond funds cannot be used for day-to-day operating needs, which include teacher salaries, technology, utilities or transportation.
"We have been able to stretch the levy cycle for new operating funds for 10 years, despite the loss of the tangible personal property tax," Treasurer Marsha Clark said. "We have now reached a point where additional funding is needed. If the Nov. 6 ballot issue is not successful, the district will have to implement changes and reductions to maintain a balanced budget."
These changes include the reconfiguration of the elementary buildings for pre-k to first grade as well as the grade 2-3 and grade 4-5 schools. Grades 6-8 and 9-12 would be maintained in their current buildings.
Families would see elementary class sizes increase to 25-30 students per class, the elimination of seven to 10 teaching positions would be necessary along with the implementation of pay-to-participate fees for middle school and high school sports and activities, and senior citizen passes to school activities would be eliminated.
"We are working to share this information with all stakeholders," Mastin said. "The State of Ohio requires a balanced budget for all schools. If the Nov. 6 ballot issue fails, we will have to take action so that our expenses remain in line with our revenues. We owe it to the community to let them know what could change and how important this ballot issue is to maintain our schools."
The Dover City Schools board of education is seeking support through consistent communication with families in the district including newsletters, mailers and an active online campaign through social media to better educate voters about the levy.
For more information on the ballot issue, visit: www.dovertornadoes.com/UpcomingBallotIssueforDoverCitySchools.aspx.