Dover Council shares good news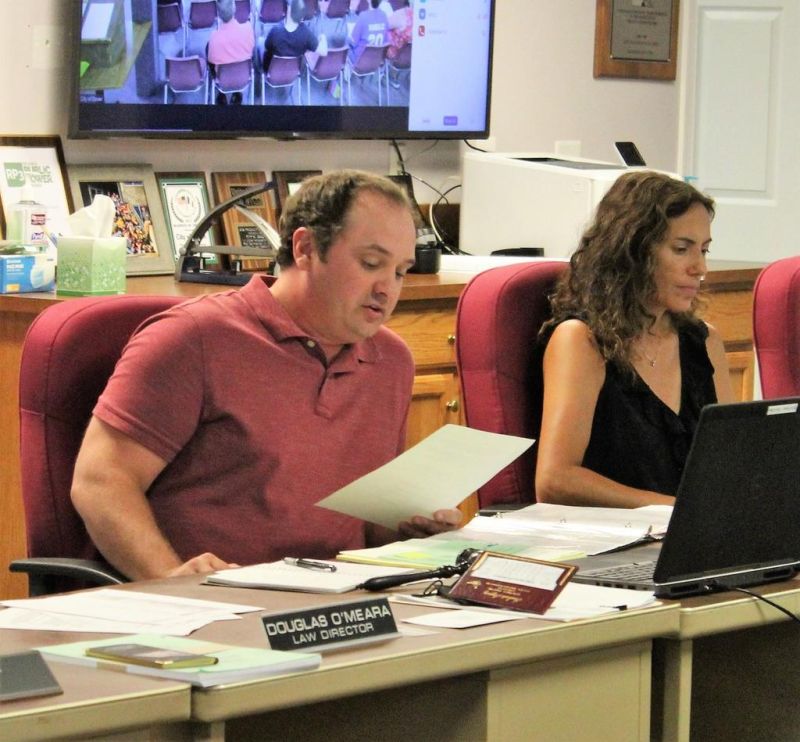 Interim Mayor Shane Gunnoe began his mayor's report with good news at the Dover City Council meeting on Monday June 20. Due to changes implemented by council costs for welding services from RCR Services decreased from an average of $175,000 over the last few years annually to $12,388.99 for 2022.
Another company, IMC has submitted invoices totaling approximately $42,000 and is expected to stay within the $50,000 budget for services during the 2022 shutdown. In previous years costs were about $200,000 annually. Gunnoe was pleased that the changes amounted to an expected savings of about $288,000.
Gunnoe also commended the electric workers for their handling of recent events.
"I would like to thank the Electric Field Department for their hard work and prompt response to the power outages resulting from last week's storms," Gunnoe said. "Our residents were fortunate to have a disruption of power while other communities suffered for much longer periods."
Dover residents are reminded in the event of a power outage contact the power plant at 330-343-3442. For water line issues, call the water plant at 330-343-3443.
Electric department officials are finding more ways to save.
"With increased demand for electricity last week, our power plant ran its additional gas and diesel generation for two days for peaking power," Gunnoe said. "This prevented the city from having to purchase that power off the grid at a cost of $500 and $3,000 per megawatt, resulting in substantial savings to Dover taxpayers."
The plant is expected to run the extra generation again this week for about two days.
Gunnoe asked for the public's help to complete an update and redesign of the city website.
"We would like to invite anyone who wishes to provide photographs that you believe demonstrate the beauty of our town," Gunnoe said.
The photos may be used on the website or other city publications. The photos, along with your name and contact information for photo credit can be submitted to photos@doverohio.com, put "website photo submission" in the subject line.
Ryan Armstrong, the father of Olympic gold medal winner Hunter Armstrong, attended the meeting to witness council pass resolution 11-22. The resolution commended Hunter Armstrong for becoming the fastest swimmer in world history in the 50-meter backstroke with a record time of 23.71 seconds and qualifying for the world championship in the 50 meter and 100-meter backstroke and the 400-meter relay.
Armstrong is currently in Budapest, Hungary competing in the 2022 FINA World Aquatics Championships. Ryan Armstrong is keeping up with competition from afar and said events are available for viewing on the Olympic Channel, Peacock streaming service and NBC Sports. More information about the event can also be found on swimswam.com.
"Ohio State just gave him the Male Athlete of the Year award for 2022. He is the first male swimmer ever to receive that award. I think that's a pretty cool award myself because there's Ohio State football and Ohio State basketball and they give it to a swimmer. So that was awesome," Ryan Armstrong said.
Residents may get the opportunity to congratulate Hunter Armstrong in person as he will be coming home sometime the end of June and will spend a few weeks in the area before moving to California to train with Ryan Murphy. Hunter Armstrong is then leaving NCAA competition and will turn pro.
Also in attendance at the meeting was Mary Jo Monte-Kaser who announced the return of the Tuscarawas River Canoe and Kayak race. The race will be held on Saturday July 16 at Canal Dover Park, where Poplar Street meets East Front Street in Dover. The race is sanctioned by the U.S. Canoe Association and USCA rules apply.
"It's been four years, the last one was 2017 and it's just time to bring it back," Monte-Kaser said. "I thought I'd let you know about it. I talked to our interim mayor about it to make sure that our park was looking its best for us to showcase it during the race."
People from all walks of canoeing and kayaking experience will be attending the event.
Monte-Kaser is also looking for a food truck or two for event, food truck operators are encouraged to contact her if they are interested in setting up.
Registration for the event opens at 8 a.m., cost is $25 the day of event and $15 for age 17 and under. There are two courses, 3-mile and 10-mile; both are up/down river loops. Proceeds benefit a very essential item, the park porta potty service.
Monte-Kaser is the race director, she can be contacted at 330-340-5180 or by email at tuscriverrace@gmail.com. Information is also on Facebook at Tuscarawas River Canoe & Kayak Race.
Other items in Interim Mayor Gunnoe's lengthy mayors report included the news that at the direction of council following a special meeting on June 16, Gunnoe executed an agreement with Omni Fiber, a new company which provides a 100% fiber optic internet and streaming service alternative provider for residents and businesses. A meeting has been scheduled for Wednesday June 22 to discuss design plans and next steps.
Site preparation for the new Veterans Memorial in downtown Dover is expected to begin soon. Two new employees were hired – Anthony Pellegrino joined the police department and Nathan Gee joined the water department.
The Dover City Pool will be closed Friday June 24 due to staffing issues. The pool will remain open for swim lessons and pool rentals. Dover is still accepting applications for summer employment as lifeguards.
Registrations for camps offered through Dover City Park continues and information is available on the website or by calling the park office.
Gunnoe thanked Susan Hunt for agreeing to serve on the Architectural Review Board.
The Dominic Greco Concert Band will perform on June 30 at 7 p.m. as part of the Lions Club Summer in the Park concert series. Check the city's website for the complete schedule.
The 43rd annual Dover City Farmers Market begins Thursday July 14 from 7:30 a.m. to 10:30 a.m.
The Dover City Planning Commission has been reviewing plans presented by Dover Land Development for a planned community development on the north end of Dover.
Gunnoe requested a committee assignment for the new agreement between the City of Dover and Dover Township related to Fire and EMS services. The proposed contract will be a five-year agreement with increased township contributions towards city staffing and equipment expenses. It was assigned to a committee of the whole.
Emergency Ordinance 31-22 authorizing the service director to advertise for bids and enter into a contract for the purchase and installation of switchgear #4 for the Dover Municipal Light plant in an amount not to exceed $950,000 was held.
The next Dover council meeting will be held on July 5.