Dover Council works quickly to save money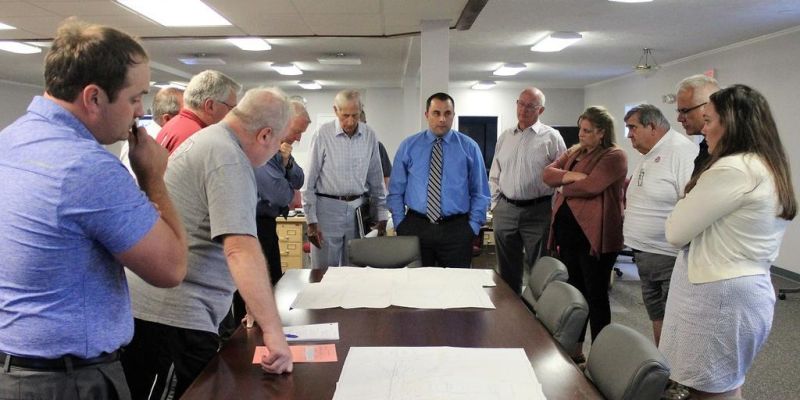 The members of Dover Council worked quickly in an attempt to save money on equipment needed by the city. With the rules requiring three readings suspended, council passed Emergency Resolution 19-22 authorizing Dover's participation in an ODOT contract to purchase a new Vacall for the city's wastewater department. The Vacall is being built at Gradall in New Philadelphia. The cost of the new Vacall is $500,282.41.
Vacall units are used to clear sewer lines, catch basin cleaning and for street sweeping.
Service Director Dave Douglas said the Vacall the city purchased 10 years ago has worked out well. The unit has a Freightliner chassis and is heavy duty.
"We were pleasantly surprised how good this Vacall was," Douglas said. "It's still in very good shape, but we want to pass it to the water department."
Interim Mayor Shane Gunnoe said there is a Vacall unit in production now that is available, but it won't last long.
"Should we miss this opportunity, the price will increase roughly $30,000. And the lead time will be delayed about nine months to get that next year. We would obviously be first in line and save the taxpayers $30,000, which is part of the reason we need to get that passed tonight," Gunnoe said, adding he is pleased the unit is being made locally and some of the money would stay local.
Emergency Ordinance 40-22 also was quickly passed by suspending the rules and voting to pass the ordinance authorizing the purchase of a new ambulance for the fire department through an Ohio State Term schedule contract. The cost of the project is not to exceed $329,257.
The new unit will take about 24 months to receive after it is ordered. The new ambulance will provide an estimated eight years of front-line service and eight years second-line service, according to Fire Chief Russ Volkert.
Council passed Emergency Resolution 18-22 to establish a fund for the receipt of monies from the national opioid settlement. Council had passed Ordinance 19-21 last year to be part of the settlement.
"From that we got one disbursement of $3,600, and we're getting that for 18 consecutive months. So we needed to establish its own funds to track it. There's a detailed description of what those funds can be used for. I have a meeting set up for tomorrow with the administration to see what kind of use we can have for those funds," city auditor Nicole Stoldt said.
Other ordinances and resolutions passed at the meeting were as follows:
—20-22, an emergency resolution authorizing the distribution of bed tax money of $5,000 to Warther Museum for the Warther pliers sculpture.
—42-22, an emergency ordinance authorizing the service director to advertise for bids and enter into a contract for the Deeds to Crown Road 12-inch diameter water line project in an amount not to exceed $676,000. According to an estimate prepared by George A. Fiedler & Associates, the project begins at the end of the existing 14-inch diameter water line 300 feet north of Deeds Drive on the east side of the R.J. Corman Railroad tracks. At this location the line will be reduced to a 12-inch diameter line and will proceed 2,500 feet along the east side of the R.J. Corman Railroad tracks until it reaches Crown Road, where it will connect to the existing 8-inch diameter water line. Hydrants are planned at approximately 600 feet.
—43-22, an emergency ordinance authorizing the service director to advertise for bids and enter into a contract for the construction and installation of a 12-inch water line connecting the Route 39 Industrial Park to the intersection of Hargar Street and Mooreville Road. The cost of the project is not to exceed $918,000.
In the audience participation portion of the meeting, Rev. John Wallace of Dover, who said he was attending the meeting as a citizen, complimented council on a recent paving project.
"Downtown has never looked better," Wallace said. "I have lived here for 13 years. And I was so pleased to see how everything came together. We are very grateful for what you do. As leaders in the city, I encourage you to remain focused, diligent in your tasks at hand as you pull and peel or bite away at the plate full of projects still on the docket for the city. Know that your work, your care makes a difference in the community I call home."
In his report Gunnoe said Dover City Schools approved the resource officer agreement, and officer Josh Roach has been appointed as the school resource officer.
"He is already meeting with school employees and acclimating himself to his new position," Gunnoe said.
Paving is nearly complete in downtown Dover. Other streets slated to be paved soon include Race Street between Fourth and Slingluff, Walnut Street between 23rd and 15th streets, 27-29th streets, and the approaches to the Wooster Avenue Bridge.
The Wooster Avenue Bridge will close for a day in the near future when the approaches to the bridge are graded and repaved. The date will be announced as soon as it is confirmed with the contractor.
"This project will be done after the completion of the ODOT/city paving project on Tuscarawas Avenue," Gunnoe said.
Gunnoe said the annual Dover Car Show on Aug. 5 at the Tuscarawas County Fairgrounds was a success, and the city has met with organizers to discuss a possible return to downtown Dover next year.
A purchase agreement has been executed for 8 acres of land contiguous to Riverfront Park with Lauren International, contingent upon a successful application for Clean Ohio grant funding.
Omni Fiber planned to start initial build-out operations this week in the city.
"IT administrator Arnett and myself are pursuing a promising opportunity with Omni regarding free Wi-Fi in the downtown area and the city park," Gunnoe said.
Gunnoe encouraged all Dover residents to attend the city's End of Summer Celebration at Dover City Park on Sunday, Sept. 4. Activities will start at 1:05 p.m. with a vintage base ball game featuring the Dover City Sluggers vs. the Canal Dover Redlegs.
At 3 p.m. the Dover High School Marching Tornadoes will perform. A car and motorcycle show is scheduled to begin at 5 p.m. with registration beginning at 3 p.m. There will be food vendors onsite, free train rides for kids from 4-7 p.m. and free swimming at Dover City Pool.
Live music will take place with Greg & Shayne from 1:30-3 p.m., Moonlyterz from 4-5:30 p.m. and Absolute Queen, a Queen tribute band, from 7-8:30 p.m. Fireworks will begin immediately following the last song by Absolute Queen.
Sponsors for the End of Summer Celebration are Chuck Nicholson's Auto Super Stores, Kimble, First Federal Community Bank, Subway, BellStores, Atwood Trailer Sales and Service, Dover Hydraulics Inc., WJER, and Krugliak, Wilkins, Griffiths & Dougherty Co.