Dover hoping the end of uncertainty is near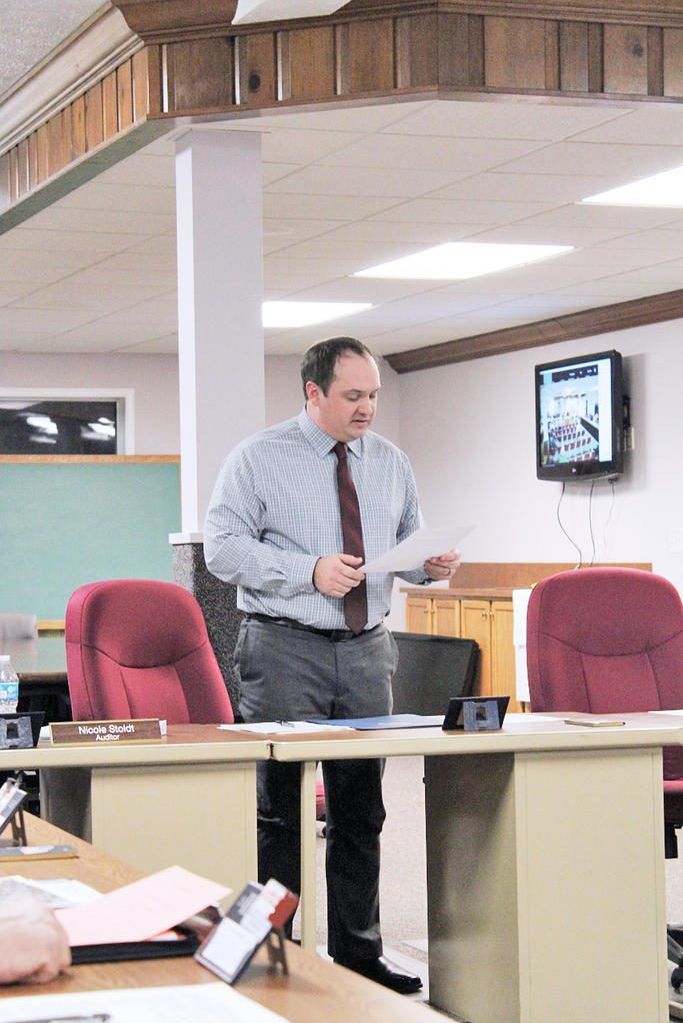 For the first time in about 15 years, former council president and former interim mayor Shane Gunnoe sat in the section reserved for visitors at the Dover Council meeting on Feb. 6. The Tuscarawas County Republican Central Committee will select a candidate to fill the remainder of the term of the former Mayor Rick Homrighausen, and Council President Justin Perkowski has stepped into the role of acting mayor.
Perkowski gave the mayor's report at the Feb. 6 meeting.
"I would like to thank the Dover residents, city council, and Dover administration and staff for your patience during the transition and appointment of a new mayor," Perkowski said. "I appreciate the hard work of all the department heads and staff who continued city functions uninterrupted while I have served as acting mayor."
It's a job he doesn't want to keep.
"The provision of acting mayor exists so that the City of Dover will have continuity of services while a mayor is unavailable or unable to perform, whether due to illness or as a result of a transition," Perkowski said. "In this instance, with thanks to the Dover city staff, the provision functioned exactly as it is intended. I look forward to returning to my chair as council president and to work in the best interests of the citizens of Dover."
Homrighausen was sentenced Jan. 17 on charges including theft in office that disqualifies him from public office. Gunnoe was able to finish that week as interim mayor until the judge journalized the verdict. He and Perkowski were notified by an email that resulted in their change of positions on Friday, Jan. 20.
If Gunnoe is selected to fill the remaining time on Homrighausen's term, which runs until Dec. 31, 2023, he could be back in the mayor's office soon.
Dover auditor Nicole Stoldt presented a financial report comparing total expenditures from 2021 to the expenses in 2022 and where that leaves the city for 2023.
"2020-21 were tough years due to COVID, but 2022 had its own set of challenges," Stoldt said. "The general fund ended with a carryover balance of just over $1.7 million. This is down about $650,000 from 2021. This was due to a number of items such as paying $65,000 extra in mayor salary and benefits, $100,000 in attorney fees for the former mayor's court cases, increase in wages of $275,000 and increased health insurance costs of $150,000. Despite these extra expenses, we are seeing an increase in property taxes, local government, interest savings and lodging tax, which is a sign the economy is hopefully rebounding."
Stoldt reported income taxes are starting to go back up.
"We received over $9 million in income taxes in 2022, which is $1.1 million more than we received in 2021," Stoldt said. "We were able to continue the higher percent allocation to master capital, which did take away some general fund revenue. Nonetheless, we were still able to distribute over $4.5 million to the general fund, $2.9 million to master capital, $525,000 to street maintenance and repair, $375,000 to cemetery, and $600,000 to police and fire pension. For 2023 we bumped the master capital percentage back to 30% to help recover the general fund balance."
The street maintenance and repair fund balance increased from 2021-22 by $175,000. This was due to total expenditures being down from 2021 and an increase in interest and the yard waste grant revenue.
"This money will continue to help fund street projects in the future," Stoldt said. "We are hoping the increased gas tax will continue to help keep this fund solid, as well as complete projects that are needed."
Master capital fund balances were about the same from 2021-22, but there was an increase in revenue from the higher allocation, which meant an increase in expenditures.
"Some of the projects we completed with the extra money included purchasing a new backhoe, riverfront projects, GIS mapping, new police cars, ball-field upgrades, new roof on Memorial Hall, a storm sewer project, various equipment purchases and over $1.2 million in paving of city streets — more than we have ever done," Stoldt said.
In other departments, revenue increased in the cemetery fund about $90,000 from 2021-22, the water fund increased about $50,000, and the water surplus fund decreased by about $200,000 and is currently carrying a $1.8 million fund balance. The sewer fund decreased about $400,000 due to a decrease in sewer sales revenue and a couple of large projects.
The surplus fund for the sewer department is carrying a balance of about $2.3 million. The electric fund balance is down about $275,000 but has a balance of about $5.5 million. The electric surplus fund has risen about $1.2 million and has a balance of about $2.4 million.
The city's health insurance trust fund decreased this year as expenses were up about $245,000, which was mostly attributed to prescription costs.
"As always, I want to express my gratitude for the great work the department heads and employees have done to keep the city moving along despite significant challenges during the past two years," Stoldt said. "Department heads and administration were cognizant of their expenses and stayed within budget to make sure the city continues to be strong financially."
Emergency Ordinance 4-23 was passed. The ordinance authorizes the mayor or the service director as the local officials with the authority to execute the project agreement known as TUS Dover 20th Street Bridge. Council authorized the expenditure of $246,090 for design and acquisition costs.
Held for a second reading was Ordinance 5-23, which pertains to the rezoning of several parcels on West Fifth Street from M-2 to B-3 for the purpose of allowing a triplex to be built. A public hearing on the ordinance is scheduled for March 20 at 7:25 p.m.
In anticipation of the selection of a new mayor, council scheduled a Committee of the Whole meeting.