Faith Build kickoff in Orrville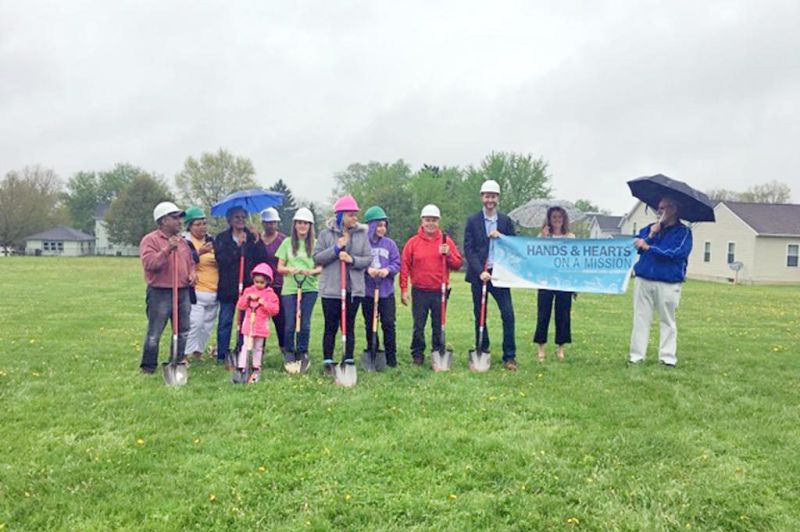 Habitat for Humanity Wayne County broke ground on the Tarpley family Faith Build home on Friday, May 3. Friends, family, community members, Habitat volunteers and staff gathered around the land on West Oak Street in Orrville to show support and join the celebration.
A Faith Build project is when churches come together to build a Habitat for Humanity home. They raise money and provide labor and prayer support to build a house in partnership with a local family.
The Tarpley family home is being supported by a 50 percent matching grant provided by Thrivent Financial, a Christian nonprofit financial services organization, leaving the remaining 50 percent to be raised by Habitat for Humanity Wayne County through Wayne County churches, businesses and individuals.
Despite a little rain, everyone in attendance was ready to turn over some dirt as a blessing prayer was given by Pastor Mike Bone.
"Upon first filing an application for a house, Delphine Tarpley was not approved," said Beth Weaver, executive director of Habitat for Humanity Wayne County. "She did not give up. She used the denial as motivation to continue to grow her faith and improve her life for herself and her family. This house is a sign of hope for a world that needs it most."
With hard hats, shovels and smiles, the family and church members broke ground to officially start the project to be completed by the end of 2019.
The celebration continued on Saturday, May 4 as members of Orrville's Christ United Church of Christ joined in to assist Habitat for Humanity in bringing the walls for the Tarpley family home to the build site. Bone and his wife Billie provided the group with lunch at the current Habitat for Humanity Wayne County home in Orrville being finished on Church Street.
"Even though the rain trickled on, it was a beautiful day for the volunteers and Habitat," said Renee Collins, Habitat for Humanity Wayne County community outreach specialist.
Anyone interested in forming a group or individuals wishing to participate in the Faith Build can call Habitat for Humanity Wayne County at 330-263-1713.